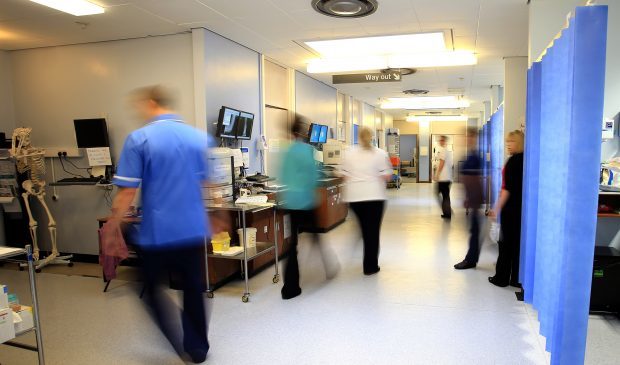 Five members of Tayside's health board have stepped down within three months, it has emerged.
All of those departures involve non-executive personnel, who are appointed by the Scottish Government to hold NHS bosses to account.
The Health Secretary is making a ministerial statement to the Scottish Parliament on Thursday following the resignation of whistleblowing champion Munwar Hussain, who quit claiming major concerns he had raised were not being taken seriously.
NHS Tayside, which says the departures will not prevent "effective corporate governance", has been lurching between financial crises since it emerged in April that members suspended their own rules to sanction the use of public donations to pay for IT systems.
Scottish Labour have demanded Health Secretary Jeane Freeman reveals what those issues highlighted by Mr Hussain were.
Anas Sarwar, the Labour MS, said: "The people of Tayside have a right to know what concerns a senior member of the health board raised and subsequently resigned over after he felt they were not addressed."
It emerged over the weekend that Mr Hussain and two other board members were standing down.
On top of those departures, Dr Andrew Cowie, a Dundee GP, is not longer on the board saying he "chose not to seek re-election" as chairman of the area clinical forum.
Derek Wann, an Angus councillor, has also left saying his new role in the council's cabinet meant he "would not be able to give the attention to the position on NHST board that this important position deserves".
That means a third of the non-executive contingent of the board have moved on or confirmed their departure since the board meeting of June 28.
John Brown, the NHS Tayside chairman, said: "Tayside NHS Board can continue to provide effective corporate governance.
"The full board consists of 20 members and under NHS Tayside's corporate code of governance, only one third of these are required for the board to be quorate.
"Arrangements have been put in place to ensure that the board's standing committees will continue to operate as usual."
Ahead of Thursday's ministerial statement, a spokesman for the Scottish Government said: "The new leadership team at NHS Tayside is currently reviewing a range of areas to ensure patient care continues to be of the highest standard, now and in the future.
"NHS Tayside's resource budget has increased by 9.% in real terms between 2010-11 and 2018-19, as well as rising in cash terms by around £218 million (42.1%) from 2006 07 to 2018-19."