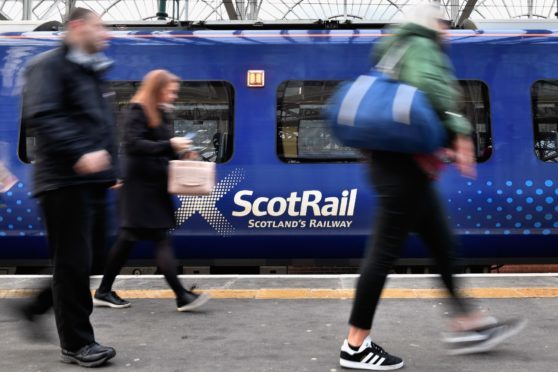 A Perth-bound train is the most overcrowded in the country, new figures reveal.
The 4.34pm service from Edinburgh has run at 136% capacity, according to a Transport Scotland league table of the worst offenders.
A journey from the capital to Glenrothes at 6.25pm ranked fourth busiest, forcing commuters to squeeze into carriages that are overloaded by 17%.
Lib Dem MSP Mike Rumbles said drivers will never be tempted out of their cars when the alternative is being "packed in like sardines" on public transport.
The North East MSP said: "Commuters and tourists are shelling out more of their hard-earned money than ever before to perch in corridors on overcrowded trains.
"Extra capacity is desperately needed but we know that the new trains which are supposed to provide this won't now be delivered in full until April 2019. This is well behind the original schedule."
The statistics are based on a mix of snapshots and automated passenger counts and exclude trains where the level of overcrowding is for under 10 minutes.
The figures used for each service represents the highest passenger load in the study, which was based on data from December.
Transport Scotland and ScotRail say extra capacity is being introduced.
The two-carriage 4.34pm service between Edinburgh and Perth carried 234 passengers at peak periods, despite its official capacity being 172 seated and standing.
The Transport Scotland report said: "New high speed trains to/from Inverness will be introduced from May 2018, which will provide additional capacity for this route, along with enhanced services through Revolution in Rail from 2019."
The Edinburgh to Glenrothes with Thornton service at 6.25pm should run with a planned loading of 172 passengers, but it peaked at 201.
Services on that route will be "provided with up to six carriages, cascaded from 2019", the government agency said.
A ScotRail spokesman said: "The work we are doing to introduce brand new and upgraded trains will significantly boost the number of seats available to our customers across the country.
"Customers across the network are already benefitting from the considerable investment in our trains and we are working round the clock to deliver even more."