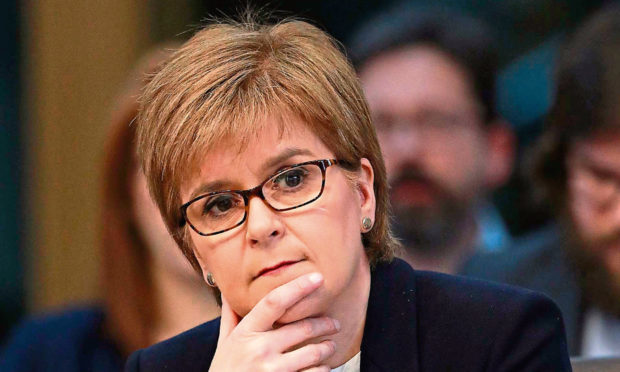 Nicola Sturgeon dangled the prospect of holding an independence referendum by spring 2021 as pressure mounted on her at the SNP conference to strike early.
One of her MPs told the First Minister not to "dither" on Indyref2 when Brexit provides the "here and now" opportunity to break away.
And Scottish Government frontbencher Michael Russell called for a debate on how to secure independence other than through a sanctioned referendum.
Ms Sturgeon said she will update the country on her plans for a second vote on independence when the terms of Brexit are clearer, which she had expected to be in the autumn.
The SNP leader said a vote before the next Holyrood election in May 2021 is "still possible".
"Of course, the other point that should be made, and I will make, is that there is a mandate for that within this parliament," she told STV.
The First Minister delivers her speech on Tuesday to SNP activists, many of whom are restless for another breakaway poll.
She is expected to tell them that the SNP will offer "optimism and hope" to the "unfolding calamity" of the UK Government.
"Just think how much more hope will be possible when we take Scotland's future into Scotland's hands and become an independent country," the FM will say.
In a clear warning to Ms Sturgeon, the SNP MP Angus MacNeil was cheered as he said the chance of securing independence through Brexit must not be lost.
"We cannot dither at this point," the Western Isles representative said.
"We cannot be like the Jacobites in Derby and let the opportunity pass as they did in 1745 and 1746."
And he said that if the Conservative Government refuse to sanction an official referendum, they will have to "make it another way".
It followed comments by Joanna Cherry, the Nationalist MP, who said independence could be won through a general election rather than Indyref2.
Mr Russell, the Brexit Secretary, was asked at a fringe event whether a mandate to hold a legally-binding secession vote could be achieved via a general election.
"The SNP's view of this is there should be a referendum," he replied.
"That's been our policy for a long time.
"But if the Unionist parties then say 'you can't have a referendum', which is what the debate has been in the last few weeks, then there has to be discussions about what happens next."
Mr Russell faced demands from SNP members at the UK Changing in the EU fringe meeting to pull the trigger on the plebiscite.
He told them: "We can't have a second independence referendum in which we do not win that referendum, that would be the utterly wrong thing to do and there are many, many great memorable Scottish heroic defeats.
"We are not in that business, we are only in the business of a heroic victory."