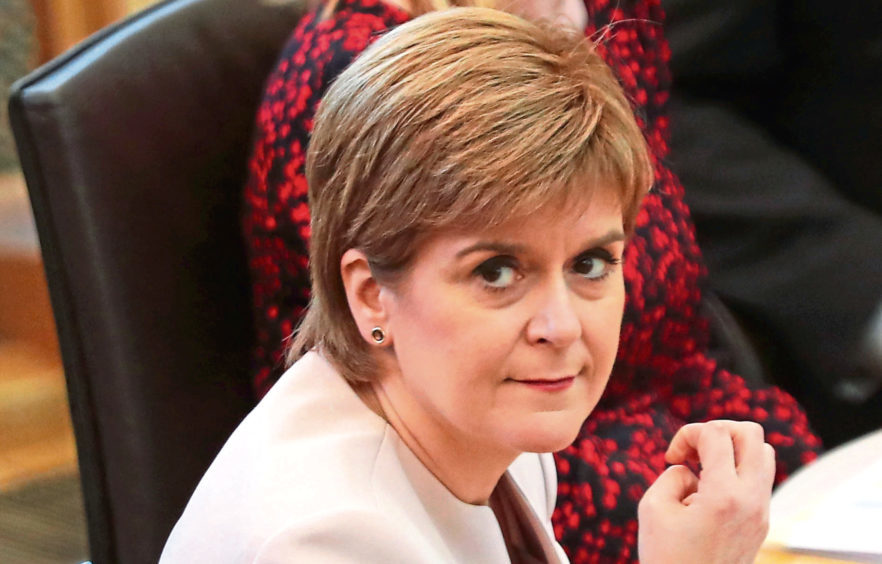 Nicola Sturgeon has pleaded with SNP members to be patient on independence while the "fog of Brexit" clears.
The First Minister used her conference speech to lay out a longer term strategy to securing a breakaway that involves gently persuading No voters and waiting for the "disastrous" impact of the UK leaving the EU to hit home.
But critics accused her of dwelling on the constitution in Tuesday's speech and barely mentioning education, which she has stated as the defining mission of her premiership.
The SNP leader claimed that independence is "clearly in sight", while at the same time lowering expectations that a secession poll would happen in the short term.
She told the Glasgow conference: "To those who say there is no demand for Scotland to have a choice over our future, I say – the polls and the people are telling a different story.
"Our job is to take that passion and blend it with pragmatism, perseverance and patience to persuade those not yet persuaded.
"If we do that, then believe me – the momentum for independence will be unstoppable."
Acknowledging rank-and-file restlessness on Indyref2, she added: "As we wait – impatiently, at times, I know – for this phase of negotiations to conclude and for the fog of Brexit to clear, be in no doubt about this.
"The last two years have shown why Scotland needs to be independent.
"And I am more confident than ever that Scotland will be independent."
Ms Sturgeon, who earlier this week described a referendum before 2021 as "still possible", has said she will update the country on her independence plans when the terms of Brexit are clearer, which was originally expected to be in October.
The Glasgow gathering has been marked by suggestions from senior SNP figures for the party to consider ways of achieving independence other than the Westminster-sanctioned model from 2014.
Ms Sturgeon appeared to bolster those calls by telling UK parties they "will not deny" Scotland a referendum, although her official spokesman played down those suggestions after her address.
The Glasgow MSP told delegates: "We have Tory and Labour politicians queuing up to tell us that the decision about Scotland's future belongs, not to the people, but to Westminster.
"That they will decide if and when we can choose to be independent.
"Well, let us send this message today.
"You can oppose independence – that is your democratic right.
"But you cannot – and you will not – deny Scotland's right to choose."
Scottish Conservative MSP Annie Wells said: "Nicola Sturgeon asked her supporters to stay patient – the truth is that most people lost patience with the SNP a long time ago.
"Astonishingly, in a speech littered with references to independence, there was just a glancing reference to education.
"It was a staggering omission and it tells you all you need to know.
"Education isn't her number one priority – the only priority the SNP has is separating our country in two."