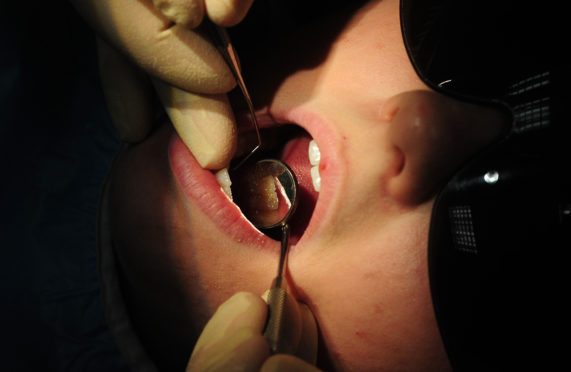 Thousands of children from the poorest communities in Tayside and Fife are not registered with an NHS dentist.
Most of those are in Dundee, Angus and Perthshire, where one in eight youngsters living in the most deprived areas are not signed up to a service practice.
A Lib Dem MSP has demanded improvements to tackle the widening gap in dental health between well-off children and their less affluent peers.
Across Courier Country, there are 3,102 unregistered youngsters from the bottom one-fifth of the deprivation index, as of September last year.
Fife's 93% sign-up rate is the best in the country, the Scottish Government figures published on Tuesday show.
Deprivation in Dundee so extreme that entire families are sharing one toothbrush
But the kingdom still has up to 1,248 young people in that category slipping through the net.
In Tayside, the figure is 88%, which means 1,854 are unregistered.
---
>> Keep up to date with the latest news with The Courier newsletter
---
In October, it was revealed that 335 P1 pupils in Tayside required "immediate dental care on account of severe decay or abscess" in 2017-18.
Derek Richards, a consultant in dental public health, said: "In Tayside, our oral health improvement team puts extra effort and Childsmile resources into areas where children have a greater burden of disease and it is clearly paying off as the dental health of children in Tayside continues to improve.
"It is important that all Tayside residents visit the dentist regularly to ensure that any issue is identified at an early age.
"Most dental practices across Tayside are accepting new NHS patients and we would encourage parents and young people to register with a local dentist."
Alex Cole-Hamilton, for the Scottish Liberal Democrats, said: "There needs to be quality dental care available in every community, alongside information on how parents can help children have a healthy diet and look after their teeth."
A Scottish Government spokesman said oral health has improved significantly, with the Childsmile programme delivering "real progress".
"This programme has now been expanded from August 2018 to include all children in the most deprived areas of Scotland, and means that children will receive regular tooth-brushing instruction and fluoride varnish application," the spokesman said.