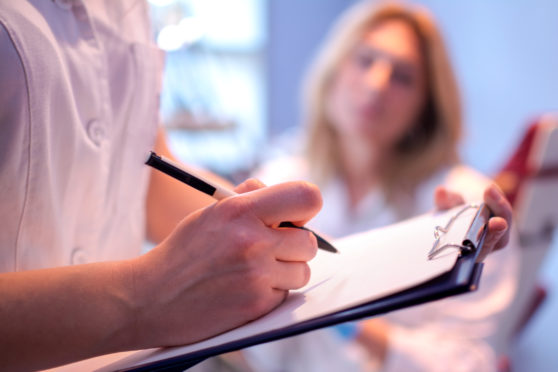 Health chiefs in Tayside are increasing chemotherapy doses for breast cancer patients after treatment was found to be out of step with other boards.
The Scottish Government's chief medical officer admitted that patients could have been negatively affected, although she said the chance of that was "very small".
NHS Tayside is offering all patients who have received chemotherapy for breast cancer since December 1, 2016, an appointment with an oncologist.
A report from Healthcare Improvement Scotland published on Monday found that cancer doctors reduced the dosages of FEC-T from 100mg, which was the standard level adopted in other parts of the UK, to as low as 75mg.
Responding to the investigation, which HIS opened following concerns raised by a whistleblowing pharmacist, NHS Tayside said they would bring their treatment in line with other health boards.
Professor Peter Stonebridge, the acting medical director of the health board, said: "We understand that the HIS Report published today (Monday) may cause patients some concern and even distress and we are very sorry for that.
"We have written to all patients who received chemotherapy as part of their breast cancer care from December 1, 2016, and we have offered them an appointment with an oncologist for further discussion about their treatment.
"We have taken assurance from the expert panel who has said that the risk of any negative impact to patients arising from the change in chemotherapy was very small.
"However, patient safety is always our number one priority and that is why we have taken action to rapidly change our approach to breast cancer chemotherapy, ensuring it is in line with practice across the rest of Scotland."
The health board said the original decision to lower dosage had been made with the "sole aim of reducing some of the worst side effects" of the drug.
In a joint statement, chief medical officer Dr Catherine Calderwood and chief pharmaceutical Officer Dr Rose Marie Parr said NHS Tayside has been asked to make "any relevant changes to variations in clinical practice with immediate effect".
They said "the risk of a negative impact on the health of anyone treated for breast cancer in NHS Tayside since 2016 is very small".
"However, patient safety is our number one priority and we therefore take the findings and recommendations of this report seriously," they added.
"They will be immediately considered by both the Scottish Government and NHS Tayside."
In its report, the HIS referred to comments made by members of Tayside's multi-professional team, who said the decision to decrease doses was based on "differing interpretation of existing evidence, or selective consideration of the evidence".