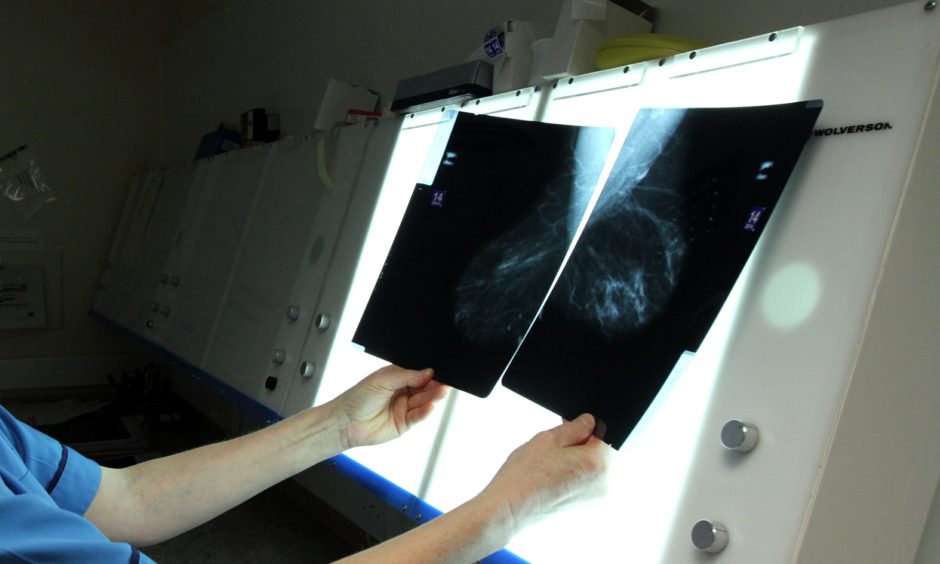 A cancer patient who was given lower chemotherapy doses than standard says she has lost trust in NHS Tayside.
The 73-year-old was one of 300 breast cancer patients in Tayside told this week that they were treated with weaker levels of the drug Docetaxel than those in other parts of Britain.
NHS Tayside have asked an independent expert to review the treatment of 14 patients who died between December 1, 2016 and March 31, 2019 after the dosage discrepancy was revealed on Monday.
Health bosses earlier said there is a "very small" chance that patients were negatively affected.
Speaking to the Courier, a Perthshire resident, who has "nagging" fears her recovery is under threat, criticised the health board for failing to tell patients about the variation and for not providing convincing reasons why it was done when it finally came to light.
She said: "When you have a cancer diagnosis like that it is pretty devastating, so two years down the line I'm really just psychologically and emotionally picking myself up, getting on with life being as positive as possible.
"And then you get this letter, totally unannounced which arrived on Tuesday.
https://www.thecourier.co.uk/news/scotland/861226/breast-cancer-patients-given-lower-doses-of-chemotherapy-in-tayside/
"It just intensifies that little nagging question mark that is obviously there right from the start after you've had chemotherapy because nobody's saying that you are 'cured'."
Insisting she had "nothing but praise" for the staff who treated her, the patient added: "I did trust the professionals and now I feel very uneasy. I feel I have lost trust because of the lack of consultation."
NHS Tayside said they are offering patients who have received chemotherapy for breast cancer since December 1, 2016, an appointment with an oncologist.
She said she had not been called, adding: "I realise it's within the same week but nevertheless I think I would be treating it with urgency to placate people's fears."
Liz Smith, the Tory MSP in Perthshire who raised the issue at First Minister's Questions on Thursday, said: "This case raises an issue of very serious concern about cancer treatment within NHS Tayside but also the way in which the affected patients have received communication about the problem.
"The patient for whom I've taken up this case clearly wants and needs to have specialist medical advice from an oncologist.
"That's something of crucial importance, and it needs to happen quickly."
Professor Peter Stonebridge, from NHS Tayside, said: "We have already started contacting patients by phone to arrange appointments with an oncologist to ensure they can be seen at a time to suit them.
"Additional clinics will be running from next Tuesday to ensure that patients will be seen as soon as possible. Some patients have already been seen by their oncologist at their routine appointment this week."
Prof Stonebridge added: "Patients should be assured that patients know that we are taking this issue extremely seriously and putting in place all the necessary changes to ensure we provide a high-quality breast cancer service in Tayside."
Speaking at FMQs, Nicola Sturgeon said: "NHS Tayside has already announced that it will make changes to its breast cancer chemotherapy treatment, to bring it into line with the rest of Scotland.
"I hope that that gives some assurance on the particular issue."
Have you been affected by this week's news regarding breast cancer patients in Tayside? Contact 01382 575290 or e-mail news@thecourier.co.uk