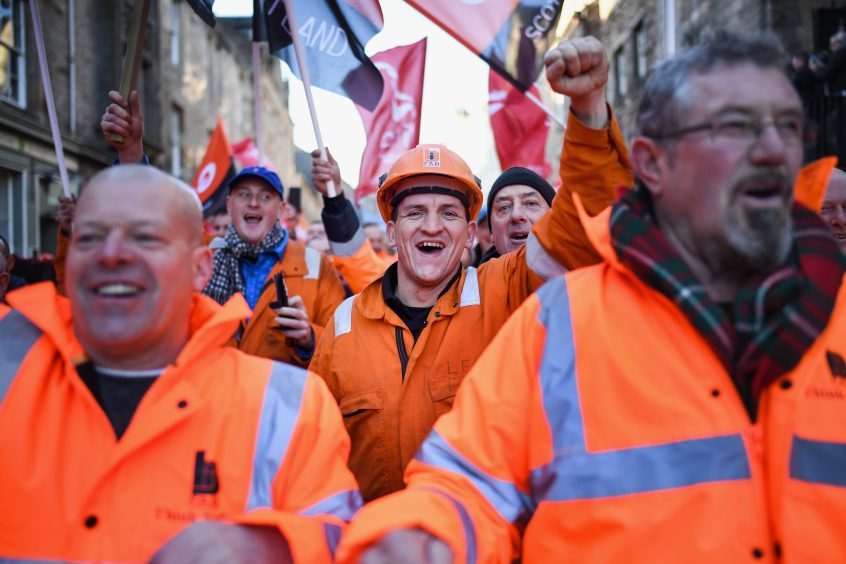 The lack of wind turbine contracts coming to manufacturing yards in Fife will be raised in talks between governments, trade unions and developers.
In a rare political ceasefire, the UK and Scottish administrations are staging a summit on May 2 to make sure British firms get their fair share of work from wind farms based in domestic waters.
The Scottish Government says it will look at what powers it has to ensure more engineering projects are won on these shores.
Nicola Sturgeon has vented her frustration to the Scottish Parliament at BiFab missing out on renewables contracts for Scottish developments.
Nearly £3 billion worth of work for the Moray East Offshore Windfarm and the Kincardine Floating Offshore projects were won overseas, in what unions say is an unlevel playing field for Scots firms.
Finance Secretary Derek Mackay will co-host the summit with UK Energy Minister Claire Perry in Edinburgh.
Mr Mackay said: "Scotland has all the natural resources required to make it an ideal location for offshore wind but we need to ensure our economy isn't missing out from key contracts going overseas.
"We are committed to maximising the sector in Scotland but we cannot do it alone – we need the whole industry to work together.
"This summit will allow us to talk directly with the key developers and suppliers to establish what more we can do to help.
"The Scottish Government will be examining the consent process to ensure we use the powers at our disposal to keep work on these shores."
BiFab owners DF Barnes and the Scottish Government are trying to secure contracts but face a "spaghetti bowl of vested interest groups with established supply chains of preference", say unions.
GMB and Unite said the firm is up against foreign-based firms that have state backing, which allows them more to be more competitive.
BiFab has yards in Burntisland, Methil and Lewis and employed 1,400 staff at its peak.
It was rescued from administration by the Scottish Government before Canada-based DF Barnes bought it in April last year.
But the Fife yards have not had any work since then, with their survival depending on new contracts.
WWF Scotland director Lang Banks welcomed the summit.
"Over recent years Scotland has already reaped many benefits by positively embracing renewables in a big way, including the creation of thousands of jobs across the country and the dramatic reduction in carbon pollution," he said.
"However, if we are to see a just transition for people and nature to zero carbon future, it's vital action is taken to ensure we maximise the opportunities in sectors like offshore wind to grow further the jobs and economic benefits to Scotland."
Scottish Liberal Democrat leader Willie Rennie, the Fife MSP, said: "The then SNP Economy Secretary Keith Brown proclaimed the takeover of BiFab by Canadian firm DF Barnes "a very good day" for employees and assured Parliament the firm had no intention of shedding further staff.
"Only 21 days later the new Scottish Government endorsed owners announced staff cuts.
"Scotland has enormous offshore wind potential but too often this SNP Government blow hot and cold and the sector suffers.
"This summit offers a chance to open up new frontiers for renewable energy in Scotland and ensure that this fledgling industry gets the support that it needs to flourish."