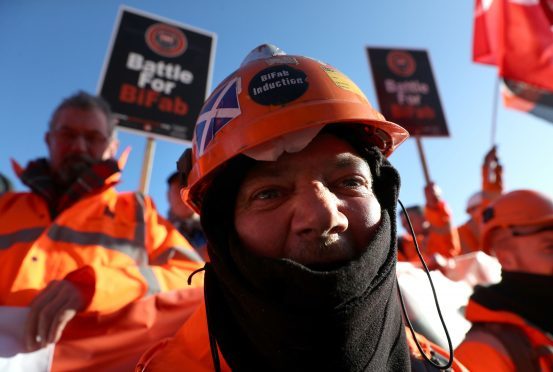 BiFab bosses say manufacturing jobs would return to Fife if new rules were brought in to ban companies that flout state aid rules.
Director Bill Elkington told MSPs that the engineering firm cannot compete with state-backed rivals abroad that are free to run up huge losses, as he warned that Scottish industry will be "hollowed out" without reform.
Burntisland Fabrications has lost contracts for Sottish renewable projects to companies like Navantia, whose Spanish Government owners have allowed it to rack up £350 million of debt over four years.
The shipbuilding firm's annual losses are worth more than a third of their revenue, Holyrood's economy committee was told on Wednesday.
Mr Elkington, who is chairman of JV Driver, which acquired BiFab though its DF Barnes subsidiary in April last year, said: "We are competing against companies that are allowed to lose 35% of their revenue.
"We are not going to be able to commercially compete with that."
Offering a bleak assessment of the future without intervention, he added: "As time goes on the Scottish industrial complex will be hollowed out and it will mean that work keeps having to go offshore."
BiFab's fabrication yards in Methil and Burntisland have been mothballed since last summer as the firm struggles to find work.
DF Barnes is hopeful a 1,400-strong workforce can return to Fife and its Arnish yard in the Western Isles.
That will not happen until new regulations are brought in to ban companies that break state aid rules from bidding, Mr Elkington said, and that Marine Scotland "lives up" to its commitments to BiFab.
Scottish Labour's Jackie Baillie questioned why governments in the UK do not do "the same as happens in Spain to create that level playing field".
Warning that matching subsidies would be "going down the rabbit hole", Mr Elkington said: "I'd recommend on the flipside, controlling who's bidding and if they are not living up to the requirements of state aid they should be excluded.
"Then I think we would have a bunch of people back to work."
In February, Kincardine Offshore Windfarm awarded a contract to build five offshore wind floating foundations to Navantia.
Pat Rafferty, of Unite the union, said they need to make sure companies like DF Barnes do not feel like they are "flogging a dead horse".
"It does feel like we're pitting Hamilton Accies up against Barcelona with some of this, so we need to get ourselves into shape and fit for purpose so we can compete for these contracts."
Nick Sharpe, of Scottish Renewables, said historic under-investment in UK yards compared with Europe had enabled the continent to provide round-the-clock fabricated steel manufacturing to a quality and cost "that at the moment … we are just not capable of, by and large."