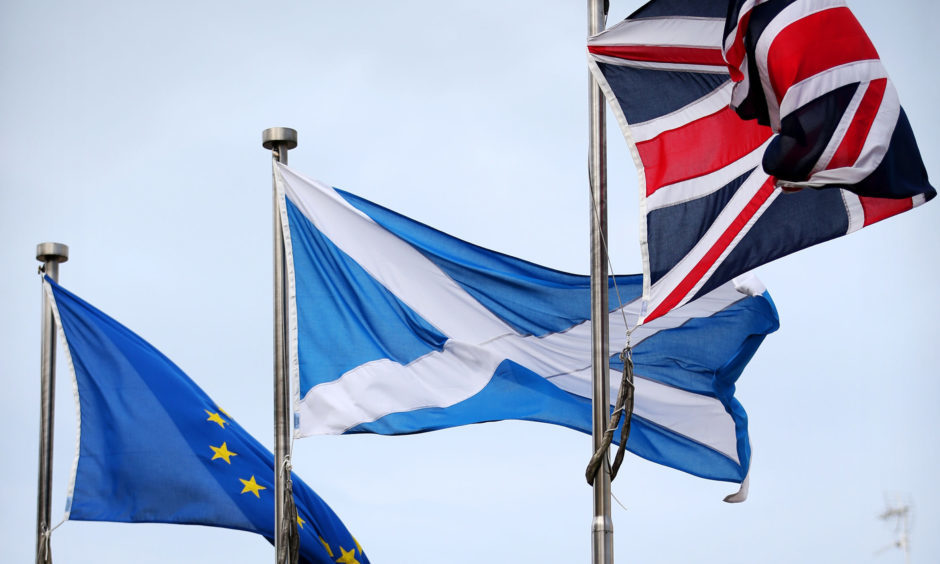 Scots would reject Nicola Sturgeon's timetable for another referendum, according to a poll that shows support for independence at below 40%.
The Survation survey for the pro-UK organisation Scotland in Union published last night found only a fifth want to see Indyref2 within the next two years.
It follows the First Minister's declaration she will take Scotland back to the ballot box for an independence vote by 2021 to free Scots from Brexit.
The poll was carried out before Ms Sturgeon's Wednesday update on her independence plans and comes ahead of the SNP's spring conference, this weekend where delegates will vote on the party's referendum blueprint.
Speaking after First Minister's Questions, Ms Sturgeon said that there would be a positive debate about how independence "will allow us to emulate the success of other small, independent countries".
The first minister added: "Independence is normal. Twelve of the countries in the European Union that have more influence over our future right now than we do are the same size as or smaller than Scotland.
"Nobody is going to force them out of the EU against their will and nobody should force Scotland out of the EU against our will."
The Survation poll was conducted online between April 18-23 with a sample of 1,012.
It asked respondents whether they wanted to leave the UK or remain, rather than the 2014 Yes/No format used for other polls.
In response, 61% said remain and 39% backed leave when don't knows were excluded.
Asked if there should be an independence referendum within two years, 21% agreed.
But 66% believed there should be another referendum at some point.
Pamela Nash, chief executive of Scotland in Union, said: "This bombshell poll proves that Nicola Sturgeon is refusing to listen to the people of Scotland."
The survey also reveals the Nationalists have a 19% lead over the Tories in Scotland at Westminster.
Keith Brown, the SNP's deputy leader, said: "This poll shows that almost two thirds of people back another referendum and that a majority think Scotland would be better off or no worse off with independence."
Earlier at FMQs, the SNP's independence allies in Holyrood tore into the party's breakaway model.
Patrick Harvie, co-leader of the Scottish Greens, said the "business as usual" vision to SNP conference this weekend will not deliver "genuine economic independence" for Scotland.
Speaking in Glasgow on Thursday, Theresa May's effective deputy David Lidington confirmed the UK Government's position of rejecting a request for Indyref2 before 2021.