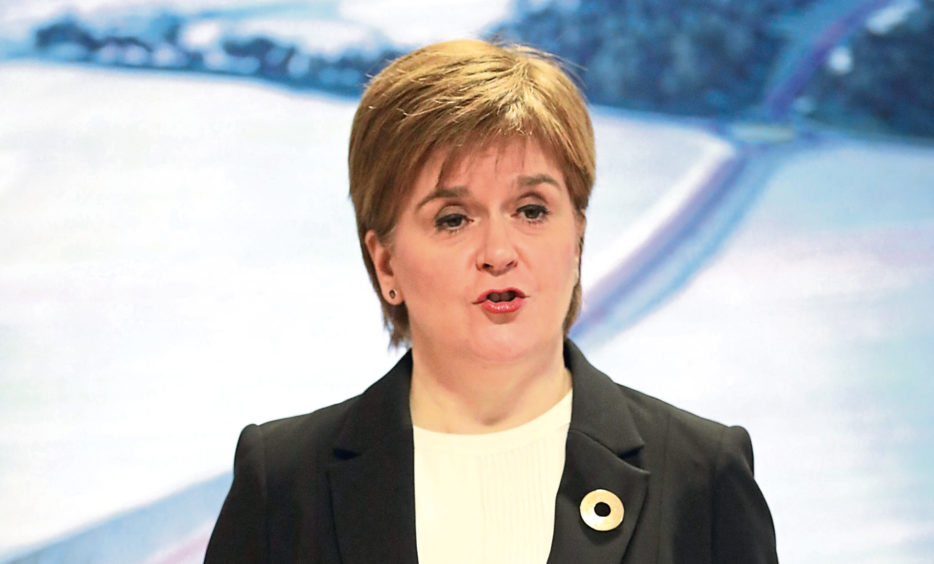 Nicola Sturgeon told activists to sell their currency plan to fellow Scots as she launched the "biggest campaign on the economics of independence" in the party's history.
The First Minister ordered delegates at SNP conference to "get your jackets on" in the push to get public support for a breakaway over the line, which includes distributing millions of leaflets to households.
Members forced the SNP leader to adopt an accelerated timetable to ditch the pound when she suffered a conference vote defeat on official policy on Saturday.
In her speech in Edinburgh on Sunday, Ms Sturgeon announced plans to make child benefits more generous and to offer more support to first-time home buyers. She also declared a climate change emergency and vowed to do more.
Ms Sturgeon, who earlier this week revealed her desire to hold Indyref2 by 2021, told delegates that the economy is the key to winning independence.
"If we can now show what is possible with the economic powers of independence, we will win a referendum," she said.
"We have set out an ambitious, optimistic and realistic way forward for these new times.
"And so I can announce today that we will now launch the biggest campaign on the economics of independence in our party's history.
"From this summer, we aim to get information on Scotland's potential into the hands of every voter.
"Our plan is to distribute 'An independent Scotland – a household guide' to every home across the country – all 2.4 million of them.
"So friends, you know what that means. It is time to get your jackets on."
As well as sending information packs to homes, Ms Sturgeon said she would set up a Social Justice and Fairness Commission, which will set out how to distribute wealth more fairly when Holyrood receives independence powers.
She said legislation to set the rules for another poll will be brought forward next month with the aim of passing it by the end of the year.
Issuing another call to arms, she said: "Our job now is to get support for independence surging.
"And make sure that no Westminster government can ever stand in the way of Scotland's right to choose.
"Conference, I am setting out today our strategy to win our country's independence.
"We must recognise that these are different times and new circumstances.
"This isn't a re-running of 2014. The UK that existed then does not exist any more."
Unionist parties in Holyrood reacted to the speech by warning the currency plan will damage Scotland.
Adam Tomkins, for the Scottish Conservatives, said: "With her chaotic plan to dump the pound and push ahead with an unwanted referendum, Nicola Sturgeon has made it clear this weekend that she is more interested in her party's narrow priorities, not those of the majority in Scotland."
Scottish Labour leader Richard Leonard said: "Nicola Sturgeon is more interested in uniting her party than uniting our country.
"There was no attempt justify the SNP's new policy to scrap the pound as soon as possible, a move which would ramp up austerity and force hundreds of thousands of families with mortgages to gamble their house, pensions and savings on an untested new currency."
During her speech to Edinburgh International Conference Centre, Ms Sturgeon vowed to lead the way in tackling the climate change crisis.
She said: "As First Minister of Scotland, I am declaring that there is a climate emergency.
"And Scotland will live up to our responsibility to tackle it."
She promised to act on new scientific advice due to published this week, pledging to "go further and faster" if that is what the Committee on Climate Change recommends.
The Greens expressed their approval of the first minister's declaration on climate change, but questioned the government's record.
Patrick Harvie, co-leader of the Scottish Greens, said: "It's welcome to hear the first minister declare a climate emergency, even though her MSPs all voted against our calls to tackle it and watered down our Green New Deal proposals in the past few weeks because they can't bring themselves to stop backing the airlines and the oil and gas industry."