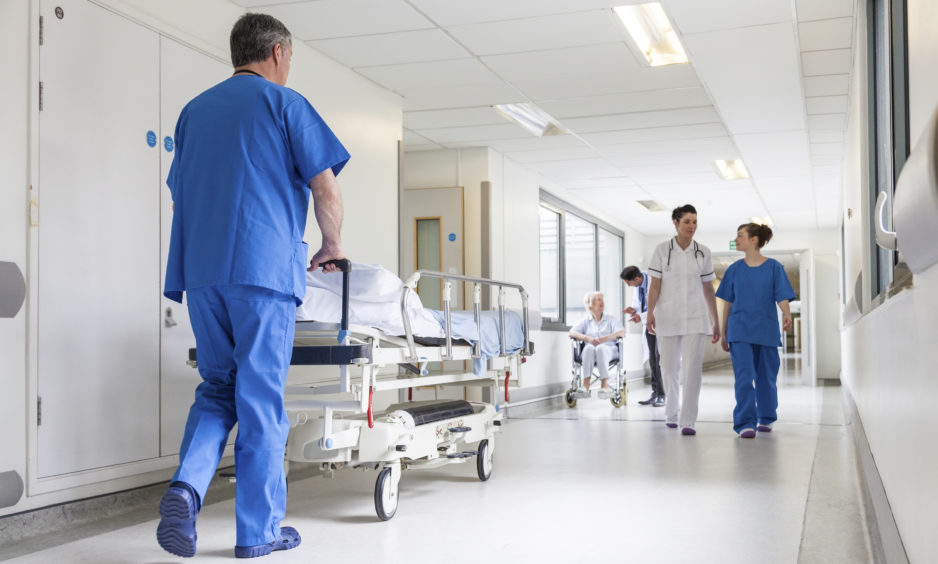 Some of Scotland's leading medical experts have called on the Scottish Government to "stop playing catch-up" with emergency stroke treatment.
The Royal College of Physicians, Chest Heart and Stroke Scotland and other leading stoke campaigners claimed Scottish patients "are paying the price" for a lack of progress in emergency treatment.
Mechanical thrombectomy treatment – which removes stroke causing blood clots from blood vessels – are not routinely available to patients in Scotland, unlike in England and Wales.
The procedure has been shown to "greatly improve" outcomes for stroke patients.
Demand for mechanical thrombectomy to be implemented across Scotland comes as the NHS revealed their latest stroke audit stats.
In 2018, 9,641 patients were admitted to hospital with a final diagnosis of stroke.
The Scottish Stroke Care Audit 2018 revealed performance improved from 65% in 2017 to 68% in 2018 but only one health board – NHS Ayrshire and Arran – was close to the 80% target.
Significant improvements were recorded at three health boards – Lanarkshire, Tayside and Dumfries and Galloway
Last year, Tayside and Fife had a combined 1,582 confirmed strokes – 865 in the Kingdom and 717 in Tayside.
The average age of a male stroke sufferer was 71 in Tayside, while the average age of women sufferers is 77.
In Fife, this was also 71 for men and 76 for females, which is the same as the national average.
Fife had the highest rate of stroke in the country, with a rate of 233 residents in every 100,000 afflicted by the often-fatal condition.
Door to needle time – how long it takes for doctors to administer the thrombolectomy or thrombolysis medication (which does not remove the clot, but "dissolves" it) from the patient first walking through the door – has also been shown in the latest stats.
Perth Royal Infirmary (PRI) had one of the best times in the country, with 12 patients being given treatment within 40 minutes of coming through the door.
In Ninewells, 23 patients seen during peak hours (9am – 5pm Monday to Friday) received treatment within 54 minutes – with the 25 seen during non peak times being administered within 52 minutes.
Both Fife and Tayside had below the Scottish average 90 Day mortality rate of 17.8%, with 17.5% and 14.4% of those presenting with stroke dying within the time frame respectively.
Chief executive at Chest Heart & Stroke Scotland, Jane-Claire Judson, said: "Stroke patients and their families are frustrated and fed up of the delays on thrombectomy – and we've fallen badly behind the rest of the UK and Europe.
"The benefits of thrombectomy have been known since 2015.  England and most of Europe has a service in place and is growing it.  We can't wait several years. It will mean thousands of people will be more disabled by their stroke simply because they live in Scotland.
"The cabinet secretary can and should show renewed leadership on this.  By announcing a deadline by which she wants to see a Thrombectomy service launched, a clear plan for growth and how much money she wants to invest, both families and health service colleagues can be assured progress will be made.  This needs momentum from the very top of government.
"It's time that the Scottish Government stopped playing catch-up on stroke care."
Professor Derek Bell, president of the Royal College of Physicians of Edinburgh, said: "The report shows continuing improvement in the delivery of many aspects of stroke care in Scotland."
"However, we believe a full range of effective treatments should be available to Scottish patients.
"It is therefore disappointing a key treatment – mechanical thrombectomy – is still not available in Scotland.
"Mechanical thrombectomy is an emergency treatment which can prevent significant life-changing disability in selected patients with severe strokes.
"There is inequality of provision of this service between Scotland and other countries worldwide – and even between England and Scotland.
"We are pleased that the Scottish Government have started the process of planning a thrombectomy service.
"However, we would urge that resources are made available to ensure there are no avoidable delays in its implementation."
Scottish Conservative MSP for the North East region, Bill Bowman, said: "NHS Tayside and all of Scotland's health boards have performed below the Scottish Stroke Care Audit's target for appropriate care.
"There is some praise for Scotland's first hyper acute stroke care model, which is in this region.
"Mechanical thrombectomy is proven to boost recovery and can get patients back on their feet much more quickly.
"But while England and Wales benefit from a thrombectomy centre, the SNP Scottish Government is yet to create one.
"It is a postcode lottery which fails stroke patients."
The Scottish Goverment has been approached for comment.