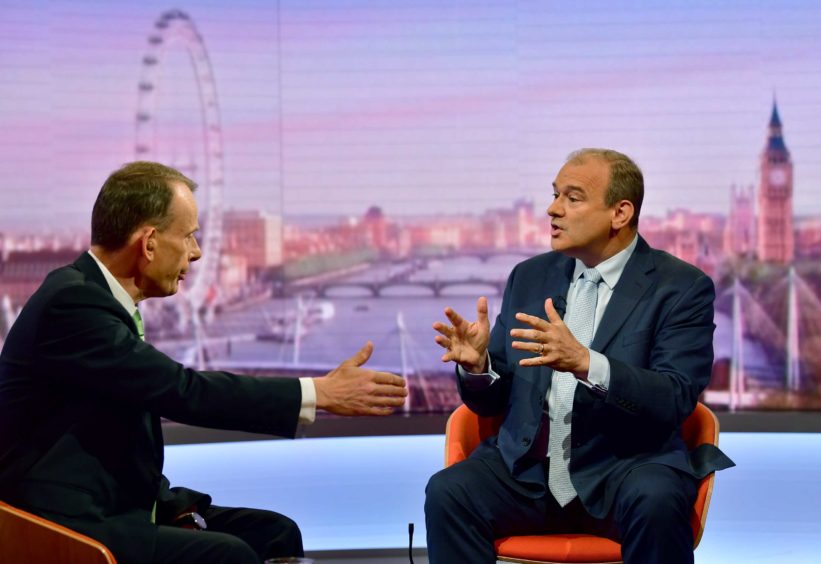 One of the contenders to lead the Liberal Democrat party has come under fire for continuing to back calls to scrap domestic flights.
Sir Ed Davey, who served as secretary of state for energy and climate change under David Cameron's coalition government, said if he was to be elected leader and then prime minister, he would still consider cancelling internal flights.
The SNP derided Sir Ed's comments as "out of touch" with Scotland's interests.
Sir Ed won support however from the Scottish Green party, who slammed plans to add additional flights from Dundee.
The Lib Dem hopeful, who is currently contesting to be Lib Dem leader with Scottish MP Jo Swinson, said during an interview with Andrew Marr on Sunday morning, he would also cancel the construction of a third runway at Heathrow.
He said: "When there are alternatives we can end domestic flights. There (aren't the alternatives) inside the UK that we need there to be.
"We need a lot more train capacity, a lot more investment in public transport and while it's not working, of course you couldn't end domestic flights, but when you do then we can.
"The first thing I would do is cancel the third runway at Heathrow.
"That would allow far more flights to happen. If we invest in things like the trans Penine railways it would really power the north (of England).
Na h-Eileanan an Iar MSP Alasdair Allan said: "The Liberal Democrats are so out of touch with Scotland that they fail to consider how their plans to tackle climate change could in fact isolate Scotland's islands.
"Many people and businesses in island communities like Shetland, Orkney and Na h-Eileanan an Iar rely on domestic flights as a lifeline for access to services, work and their families.
"While the SNP has led the way on tackling the climate crisis, by declaring a climate emergency in Scotland and introducing world-leading climate legislation, this work cannot be at the cost of our islands.
"It's everyone's responsibility to play their part in the fight against climate change, but a blanket approach like this would seriously harm Scotland's islands' economy and communities. They need representatives who will fight for their interests and understand their needs."
A spokesperson for the Scottish Greens said: "Claiming to recognise a climate emergency while simultaneously leading calls for an increase in short haul flights will leave some politicians open to accusations of hypocrisy.
"The Scottish Government would be better served investing in faster rail connections to and from Dundee, and delivering on promises to roll-out superfast broadband, both measures which would support business and allow practical alternatives to regular short flights."