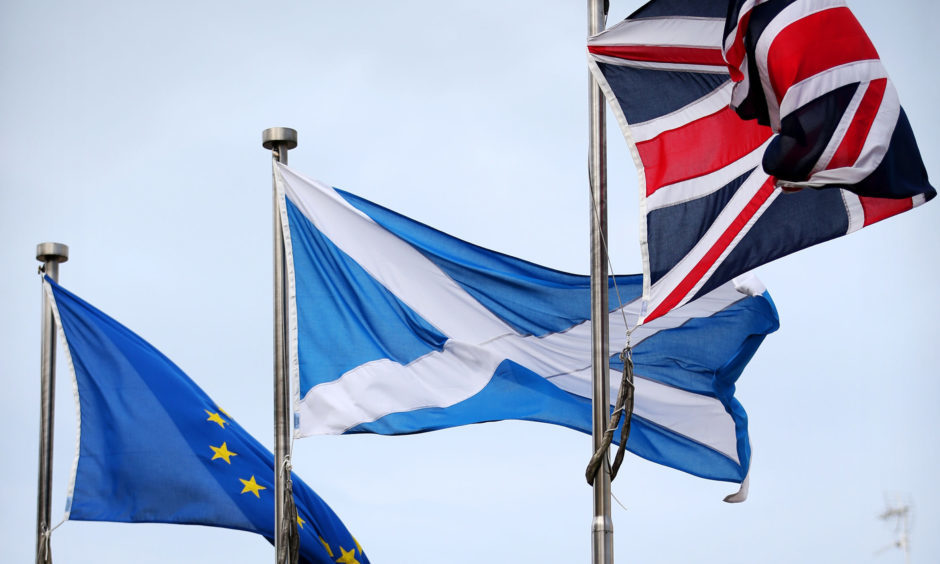 A majority of Scots would vote for independence from the United Kingdom, a poll taken following Boris Johnson's ascension to Prime Minister has revealed.
Surveys taken by Conservative party chairman Lord Ashcroft asking if Scotland should be an independent country saw 46% of respondents say they would vote yes to separate from the UK, the first time a major poll has found in favour of independence in two years.
Once the "don't knows" were excluded, this rose to 52% in favour of independence and 48% against.
Lord Ashcroft's poll found 47% of all Scots believe there should be a second independence referendum and 45% believe there should not.
A whopping 91% of Conservatives questioned are against a second referendum, while 84% of SNP voters want a re-run of 2014.
More than 35% of Labour voters are in favour of a second referendum, according to the poll.
A fifth of those who voted No in 2014 believe now Scotland should be independent, while 12% of those who voted for separation at the last referendum now wish to stay part of the UK.
The online poll questioned 1,019 adults in Scotland between July 30 and August 2.
Dundee East MP Stewart Hosie said the poll was not a "surprise", arguing the unpopularity of Mr Johnson was evidence enough Scots have had "enough" of the union.
He said : "This is an incredible poll and confirms what we have known for some time – the people of Scotland do not want the hard no-deal Brexit Prime Minister Boris is set to impose upon us.
"It is no surprise this is the case. Boris Johnson is one of the most unpopular Prime Minister's in recent history here in Scotland, evident by the welcome he received at Bute House from hundreds of protesters last week and the Tories consistently abysmal polling record.
"His party's tired rhetoric about the people of Scotland not wanting another referendum is evidently plain rubbish and shows just how out of touch Ruth Davidson and Boris Johnson really are.
"The chaos created by this out-of-touch Tory Government has outlined exactly why Scotland should be independent – because the decisions that will affect the people of Scotland should be made by the people who work and live here, not Boris Johnson.
"Polls in recent months have consistently shown the people of Scotland would prefer independence over any form of Brexit. Now, with a majority of people saying they would vote yes, the UK Government must take note and end their opposition to a second vote.
"If Boris Johnson can change his mind on Theresa May's withdrawal deal, voting both for and against, the people of Scotland should be allowed, five-years later, to change their minds on independence."
Scottish Labour leader Richard Leonard said: "Labour is not a party that stands for the status quo in the UK: economically, politically or constitutionally.
"We recognise that the UK is still too centralised a state.
"People want to see more decisions being made in Scotland and our plans to redistribute power across regions and nations within the UK are tapping into the feeling that the UK state needs to be reformed.
"Only Labour is campaigning to remain in and reform both the UK and the EU.
"But the real change we need to see in society is also a shift away from austerity to one of investing in our people, our communities and our public services."
Kirstene Hair, Scottish Conservative MP for Angus, said: "We have seen fluctuations in polling before, most notably after the 2016 EU referendum result.
"However, the Scottish Conservative position has not changed at all.
"We do not believe Scotland needs another divisive referendum.
"We want to see the SNP government focus on the things that matter, our NHS, schools and the economy."
Scottish Liberal Democrat Leader Willie Rennie said: "The apparent rise in support for independence has occurred on the Conservatives' watch.
"Some people seem to be tempted by independence to escape Brexit and the Conservatives cannot be trusted to win them back.
"Boris Johnson's reckless pursuit of a no-deal Brexit has caused great anxiety even though independence would add more chaos onto an already chaotic situation.
"The Conservatives are playing fast and loose with the future of our country. The best way to keep the United Kingdom together is to stop Brexit and it is the Liberal Democrats who alone stand up for the most popular position – remaining in the UK and the EU."
Scottish Greens co-leader Patrick Harvie MSP said: "It's time the people of Scotland were given a choice over their future.
"We didn't vote for Brexit, we didn't vote for a Tory government and I'm certain given the choice we wouldn't have voted for Boris Johnson either, yet we are being dragged along with the ever increasing Brexit catastrophe,
"So it's no wonder that a majority of Scots now recognise the need for us to make an exit from Boris Johnson's Brexit Britain.
"We already have a mandate to hold an independence referendum, yet the Tory government has threatened to block a request.
"This would be an affront to democracy and is wholly untenable in the face of public support for a vote.
"It's time for Scotland to retake our place as an independent European nation."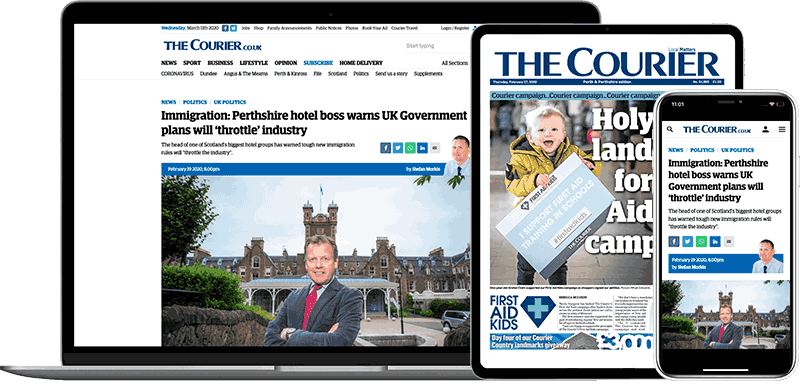 Help support quality local journalism … become a digital subscriber to The Courier
For as little as £5.99 a month you can access all of our content, including Premium articles.
Subscribe