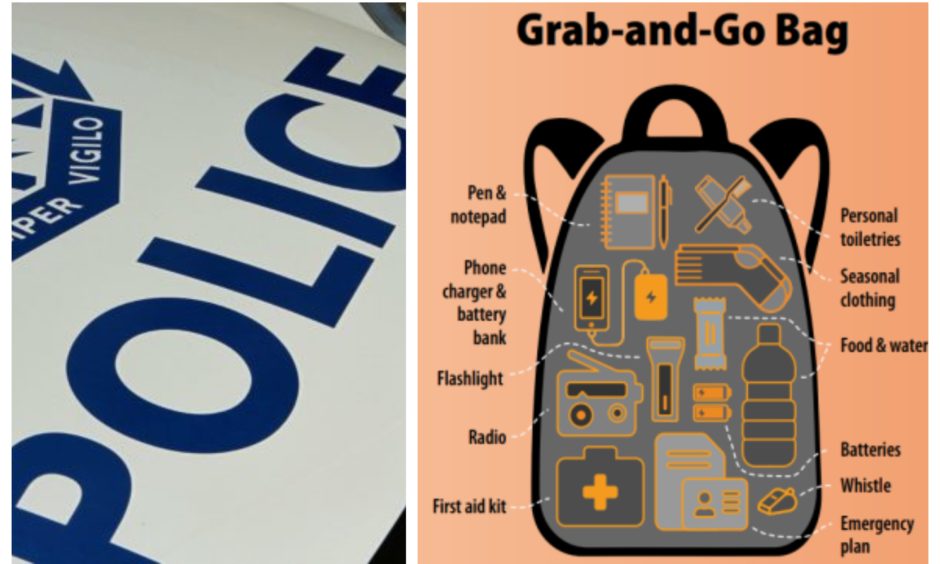 The police and Scottish Government have been accused scaring a tense public after recommending the public pack a "grab-and-go" bag of essentials this month.
Tweeting from the verified control room Twitter account, Police Scotland sent a message recommending households prepare for emergencies and unexpected events during September – so-called "preparedness month" – by having a the bag at home at all times.
September is preparedness month. Emergencies can happen at any time and it's recommended to have a #GrabBag ready containing essential items including medication, copies of important documents, food/water, torch, radio and other personal items #30Days30WaysUK #BePrepared pic.twitter.com/7ZtQlVJ7Yr

— Police Scotland Control Rooms (@polscotcontrol) September 8, 2019
Scottish Conservative justice spokesman Liam Kerr called the advice "ill timed", given the "current atmosphere" in the UK.
The advice came just 53 days before the date the UK is due to leave the EU with or without a deal.
Some experts say the latter scenario will involve food and medicine shortages.
Top doctors have said there is an expectation the death rate could rise and stockpiling of body bags has been discussed.
In the Grab-and-Go bag, it is advised members of the public stash a pen and notepad, torch, phone charger and battery bank, batteries, a wind-up radio, first aid kit, food and water, seasonal clothing and an "emergency plan".
The government recommends adding copies of personal documents like insurance details and birth certificates.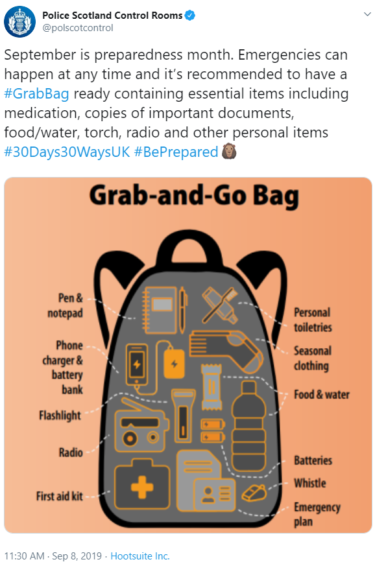 The tweet then links to a Scottish Government website called Ready Scotland.
It states: "September is preparedness month. Emergencies can happen at any time and it's recommended to have a #GrabBag ready.
"Thirty Days 30 Ways UK is a month-long social media campaign looking at emergency response and personal preparedness providing practical advice on a range of subjects."
On the website, further details are provided on what the "emergency plan".
The first request is to pick a friend or relative "who lives outside the area", to call following an emergency or incident.
It is recommended the emergency list contains landline numbers of local radio stations, the radio station frequency, school numbers, contact details for insurance companies, vet practices, the local council and doctor, among others.
Mr Kerr said: "While I have no doubt this tweet was well-intentioned, its timing seems extremely ill-advised.
"It's difficult to understand why September requires people to prepare an emergency grab bag.
"Given the current atmosphere in the UK the timing of this tweet should, perhaps, have been reconsidered."
The Scottish Government was approached for comment.
Police Scotland's tweet received a backlash on social media, with some commentators comparing the recommendations to the "American Prepper" movement.
Also known as survivalists, preppers are a movement of individuals or groups  who actively prepare for emergencies, including possible disruptions in social or political order, on scales from local to international.
Thousands of videos on websites like YouTube show how survivalists organise and believe one day society will crumble.
The movement was spawned during the Cold War, when the threat of nuclear annihilation threatened the world.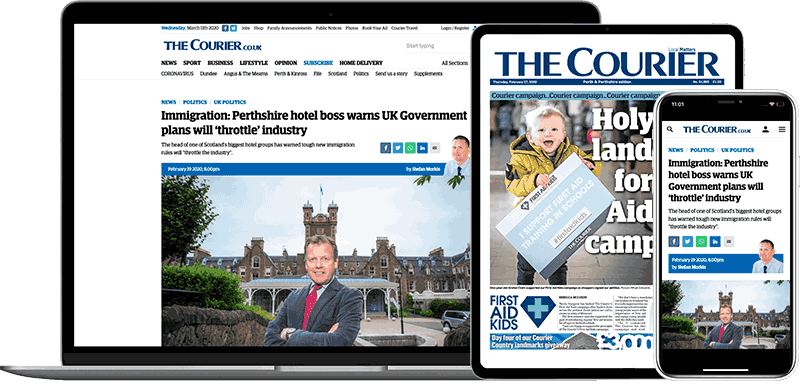 Help support quality local journalism … become a digital subscriber to The Courier
For as little as £5.99 a month you can access all of our content, including Premium articles.
Subscribe