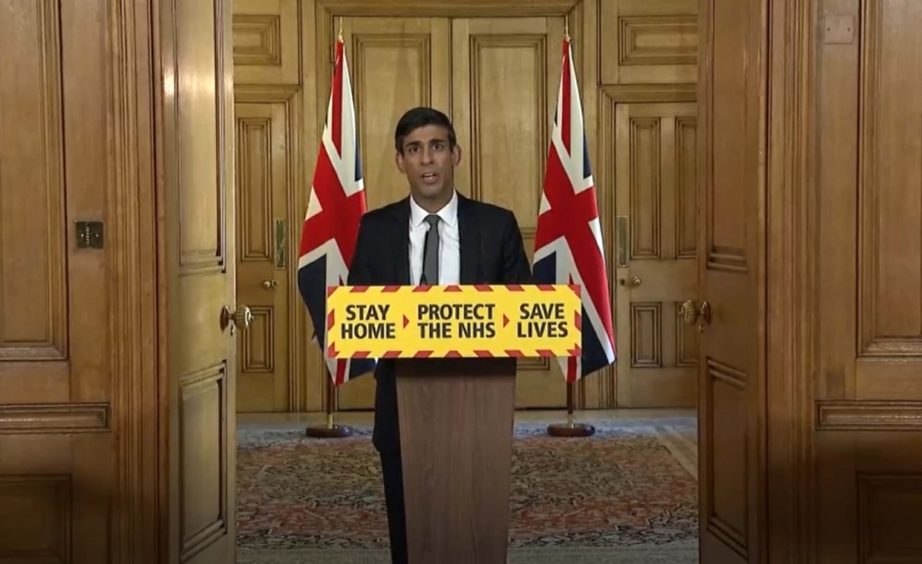 Chancellor Rishi Sunak has opened the nation's cheque book to more than 140,000 firms struggling to pay workers due to the coronavirus lockdown.
More than a million workers were signed on to the Treasury's job retention scheme in little over eight hours yesterday, with as many as 10 million expected to be signed on by the end of the week.
The scheme, first announced last month, allows businesses to apply for a Treasury grant to cover 80% of each of their employee's wages, up to £2,500 per month. This allows companies to hold on to their staff rather than make them redundant.
The Treasury says the system can process up to 450,000 applications an hour and that successful applicants will receive the cash within six working days.
The announcement came as the number of hospital deaths in the UK rose by 449, bringing the total number of deaths in hospitals to 16,509.
Mr Sunak, speaking at the daily Downing Street press briefing, said: "We have never seen an economic crisis like this one.
"Times like this demand that we put aside ideology and orthodoxy. Times like this demand that the state turns to its most immediate purpose – the protection and support of its people.
"The goal of the schemes we have developed is to maintain as many people as possible in their existing jobs, to support viable businesses to stay afloat and to protect the incomes of the self-employed to allow them to trade again.
"To maintain, in other words, our economy's productive capacity so that we can bridge through this crisis. That is what we have done."
He went on to warn, however: "This will be a challenge, we're not going to be able to save every single job or every single business, but I am confident the measures we put in place will allow us to come out of this and get back to normal as quickly as possible."
Mr Sunak went on to explain that lifting lockdown restrictions was still some way off, saying "we are not there yet".
"At this stage of the crisis we are absolutely focused on sticking to the guidance", he said.
Referring to the UK Government's five tests for lifting the lockdown, he said: "We are not there yet and it is very clear that, for now, what we should focus on is following the guidance, staying home to protect the NHS.
"Anything else that people might be speculating on is wrong, we are crystal clear on that message."
Approximately 5,000 HMRC staff are operating the scheme, intended to assist thousands of UK firms, a statement from the Treasury said.
Phone lines and web-chat services will be available to help answer applicants' questions, with the scheme launching 10 days ahead of schedule, it added.
The Chancellor earlier announced the scheme will be extended for a further month until the end of June, in light of the ongoing countrywide Covid-19 lockdown.
Adam Marshall, director general at the British Chambers of Commerce (BCC), said: "Our research indicates that two-thirds of firms have furloughed some portion of their workforce.
"With April's payday approaching, it is essential that the application process is smooth and that payments are made as soon as possible. Any delay would exacerbate the cash crisis many companies are facing and could threaten jobs and businesses."
Jim Harra, chief executive of HMRC, said he was "very confident" the system would work after it had been "tested at volume".
He said: "Of course, there is a limit to the capacity of the system, so if every employer tries to use it at 8am some will be asked to queue or come back later; that doesn't mean the system has crashed, it simply means that it's full.
"But employers can claim any time over the few days, between now and Wednesday, and we will have the money in their bank account by April 30."
He added: "I'm confident that if employers are patient, use the system, it's available 24/7, and as I say, if your payroll date is April 30 you can claim any time today, tomorrow or Wednesday and we will get that money into your account."
Mike Cherry, the national chairman for the Federation of Small Businesses, said the system had "held up" under the weight of applications, adding that employers had generally found it straightforward to submit the information required.
"Of course, this is only day one," he said.
"The real mark of success for this scheme will be money in employer bank accounts by the end of the month."
The scheme's launch came as researchers at the Centre for Economics and Business Research forecast British households would have £43bn less cash available for essential spending between April and June, as the UK slides into its deepest recession in decades.
Disposable income earned by UK households, once it has been adjusted for tax and benefits, will be 17% lower in the second quarter of this year, according to the forecasters.
The CEBR calculated the monthly hit to disposable incomes will reach £14.2bn per month, meaning a monthly fall of £515 per household as workers lose their jobs, accept reduced pay or hours, or are placed on the job retention scheme.