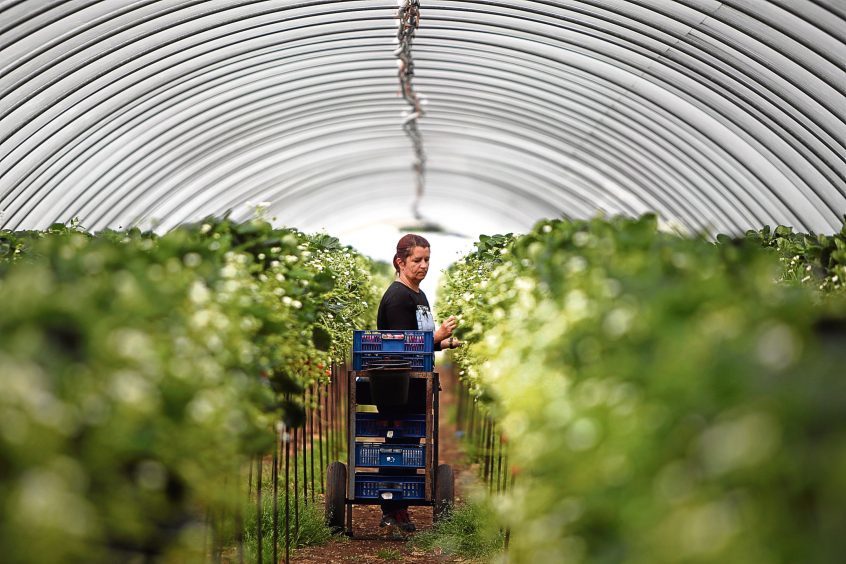 The UK environment secretary has called on furloughed workers to take up second jobs on the country's farms.
Speaking at a Downing Street press briefing on Tuesday, MP George Eustice said fruit and vegetable growers across the country will be unable to rely on foreign workers during 2020 as a result of the coronavirus pandemic.
It comes a month after Tayside and Fife farmers kick-started a recruitment drive for a "land army" of laid-off workers to help harvest fruit and vegetables this summer. Many have already started work.
Speaking at the press conference, environment secretary Mr Eustice called for furloughed workers to take a second job picking fruit or harvesting crops.
"Every year large numbers of people come from countries such as Romania or Bulgaria to take part in the harvest, harvesting crops such as strawberries and salads and vegetable," he said.
"We estimate that probably only about a third of the people that would normally come are already here, and small numbers may continue to travel.
"But one thing is clear and that is that this year we will need to rely on British workers to lend a hand to help bring that harvest home."
Mr Eustice said that furloughed workers "may be getting to the point that they want to lend a hand and play their part, they may be wanting to get out and they may be wanting to supplement their income".
It comes on the same day the UK Government, backed by the Duke of Rothesay, launched its Pick for Britain initiative to support the country's farmers.
Students are also being urged to join furloughed workers in applying for seasonal farm work.
Scottish Secretary Alister Jack said: "I am in no doubt British workers and students will seize the opportunity to feed the UK and help the economy in these most challenging of times.
"Together the UK Government, industry and workers will save the Scottish strawberry and our other delicious produce."
People can take on farm work while still receiving 80% of their salaries through the government's furlough scheme.
Job opportunities are being posted on the Pick for Britain website.