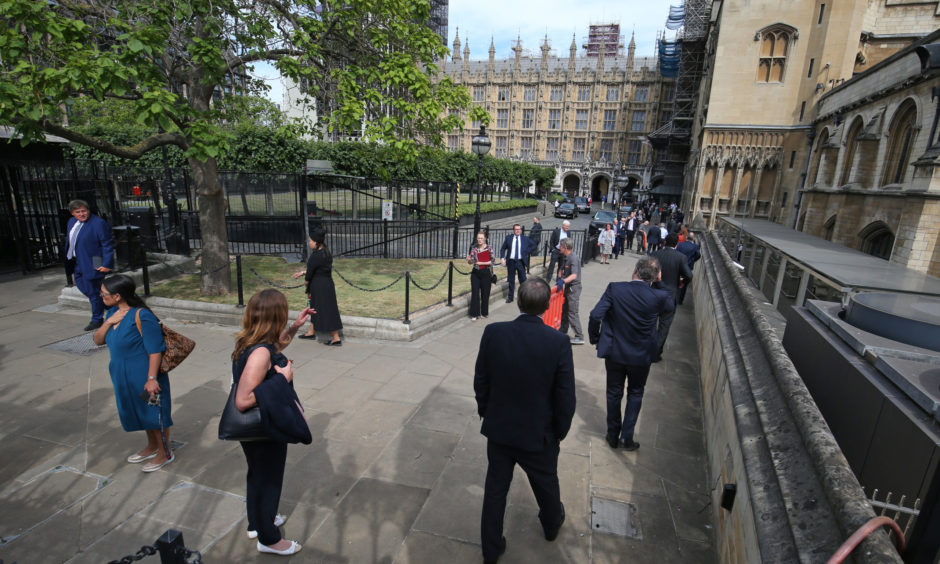 'Crazy, madness, deranged', screamed the headlines at the sight of yet another mile-long queue.
Many took to social media to share their disbelief as hundreds of people were photographed lining up in the sun, not to buy Swedish flat pack furniture, but to vote in "the mother of parliaments".
If Boris Johnson "united the nation in condemnation" with his defence of Dominic Cummings last week, Jacob Rees-Mogg united us in laughter with his wheeze to fully reopen the House of Commons this week.
Mr Rees-Mogg, who is a stickler for tradition and arcane parliamentary rules, decided technology was encroaching too far and too fast into Commons life.
This is a farce. I should think we will be back to remote voting before we are all much older. pic.twitter.com/n4vcOKGidb

— Steve Baker MP (@SteveBakerHW) June 2, 2020
The pandemic had forced the Commons leader to agree to swift changes to procedure on remote voting and virtual debates in order to allow parliamentary scrutiny to continue while also allowing MPs to 'Stay Home, Protect the NHS, Save Lives'.
Gone is that slogan in England, however, and so too now is the virtual House of Commons.
In two votes, which took one hour and 25 minutes, Mr Rees-Mogg succeeded in reopening his favourite members' club.
The concerns of MPs, who, unlike Mr Rees-Mogg, do not live in a £5 million mansion a short walk from the Commons chamber, or those who are shielding with underlying health conditions, went unheard.
I can't actually believe this is happening… #farce #conga pic.twitter.com/ROs48X3BKt

— Tonia Antoniazzi MP #BlackLivesMatter 🌈 (@ToniaAntoniazzi) June 2, 2020
Questions about whether MPs in the devolved nations would be able to travel if lockdown restrictions were lifted or tightened at different rates across the UK, were also rebuffed.
"There must always be an exemption for members to attend parliament", Mr Rees-Mogg told MPs.
Worries over how it would be possible to socially distance in the chamber were likewise parried away.
"We are 6ft away from each other so that we are socially distanced", Mr Rees-Mogg told MPs, before being photographed standing a metre away from a colleague an hour later.
'We are 6ft away from each other so that we are socially distanced, so if one member has the coronavirus in the track and tracing process you would not be notifying them about the people you are 6ft away from', Rees-Mogg 2.40pm… https://t.co/WBWbItLHcr

— Dan O'Donoghue (@MrDanDonoghue) June 2, 2020
This is an experiment that surely can't last.