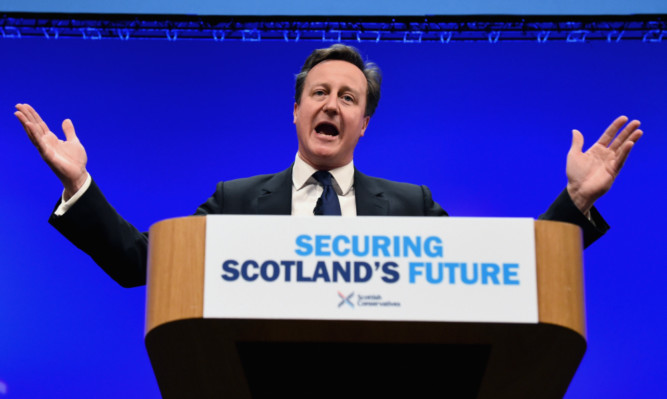 David Cameron declared "I don't care," about Scotland immediately after the independence referendum, according to a former UK Cabinet Secretary.
A source close to the Prime Minister poured scorn over the claims, which were published in ex-Liberal Democrat MP David Laws' account of the coalition government at Westminster.
Mr Laws, who had a cross-departmental role working on the dual party agreement and government policy as a Cabinet Office minister, claimed the conversation between the Conservative leader and former Lib Dem boss Nick Clegg took place days after Scotland voted No.
He wrote: "Over the weekend, Nick Clegg spoke to David Cameron. It was a tense conversation. Nick Clegg warned that the referendum aftermath was in danger of becoming a complete disaster.
"He said bluntly that the Prime Minister was in danger of guaranteeing the break-up of the UK, with the only beneficiaries being the SNP.
"'Look, Nick,' said David Cameron impatiently, 'I just don't care. We've only got one Conservative MP north of the border. Let Labour sort it out. It's now their problem.'
"Nick Clegg and Danny Alexander were both furious. 'I used to disagree with the Conservatives but at least respect them,' Nick Clegg told me a week later.
"'But now I have contempt for what they have done. It is all so bloody short-termist and short-sighted.'"
A senior Conservative insider dismissed the account.
He added: "It's this Conservative majority government that has delivered the Scotland Act, created one of the most powerful devolved Parliaments in the world and created the space for this to be the first election where what we do with the powers is the issue, not which powers there should be. Actions speak louder than alleged words."
A Liberal Democrat spokeswoman said the comments "blew apart" Scottish Tory leader Ruth Davidson's claims that her party stands up for the Union.
An SNP spokesman added: "These comments lay bare the Tories' contempt for Scotland, as well as exposing David Cameron's empty rhetoric at the time of the independence referendum."
A Scottish Labour spokesman added: "Ruth Davidson claims to be the defender of the Union but these alleged comments make clear that the Tories don't care about keeping our country together – they are only interested in what's best for the Tory Party."