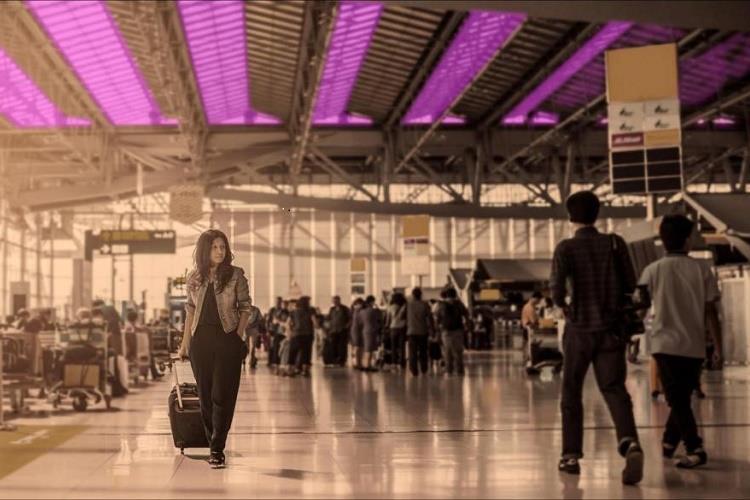 England health secretary Matt Hancock has vowed to discuss new "potentially game changing" Covid-19 research carried out jointly at St Andrews University and Ninewells Hospital in Dundee.
The research, which focuses on how a particular type of ultraviolet light known as far-UVC could be safely used for air disinfection in public places without harming people, was raised in the House of Commons on Monday.
In a question to the health secretary, Conservative MP for Keighley Robbie Moore said: "It has been demonstrated that far ultraviolet C light emitted by krypton chlorine lamps inactivates Covid-19 on surfaces as well as when coronavirus is airborne.
"Some fantastic research is currently being undertaken to look at this, notably by St Andrews University in Fife, Ninewells Hospital in Dundee, but also a business in my constituency of Keighley.
"As a potentially game changing mechanism for inactivating the virus, could the health secretary explain how this is being explored at a government level?"
Mr Hancock replied: "Yes I have seen this research and I'd be very happy to meet my honourable friend to discuss how it might be applied."
The Courier told in May how in the research, accepted for publication in the journal Photodermatology, Photoimmunology and Photomedicine, the St Andrews-Ninewells team used computer simulations to study the impact of far-UVC lamps on human skin and have shown the wavelengths that do not cause the kind of problems typically associated with ultraviolet light.
There are three types of ultraviolet light – UVA, UVB and UVC – all of which have the potential to damage human skin.
Using their computer model, they have shown that longer UVC wavelengths can damage the skin whilst wavelengths shorter than 230nm had much more limited penetration in the skin.
UVC light from special germicidal lamps with wavelengths in the range 200nm to 280nm kills germs such as bacteria and viruses and has been used as a means of disinfecting hospital wards and operating theatres for decades.
However, the wards must be empty of people because the germicidal lamps operate mainly at a wavelength of 254nm that can penetrate the eyes and skin, causing inflammation and pain.
Far-UVC lamps that emit at wavelengths around 222nm may be safer because proteins in the skin efficiently absorb this light and provide a natural protective barrier.
The computer codes at the heart of this work were originally developed by St Andrews astrophysicist Dr Kenny Wood and have been adapted to help treat patients.
Dr Wood said: "Over the last decade we have built an interdisciplinary collaboration with photobiologists at Ninewells.
Together, we have a strong track record in using computer simulations for testing optical and ultraviolet lamps and optimising light-based therapies for skin cancer and other diseases."
Dr Ewan Eadie of the Photobiology Unit at Ninewells Hospital said: "Our new simulations provide further support for existing laboratory research showing that the upper layers of the skin provide a natural protection against shorter-wavelength-UVC."
Lamps that emit at the shorter 222nm wavelength are now being investigated worldwide as a means to help eliminate the virus responsible for the current Covid-19 global pandemic.
The St Andrews-Ninewells team has been working with several other groups developing far-UVC lamps and their computer simulations are being used to ensure they are safe for human skin.