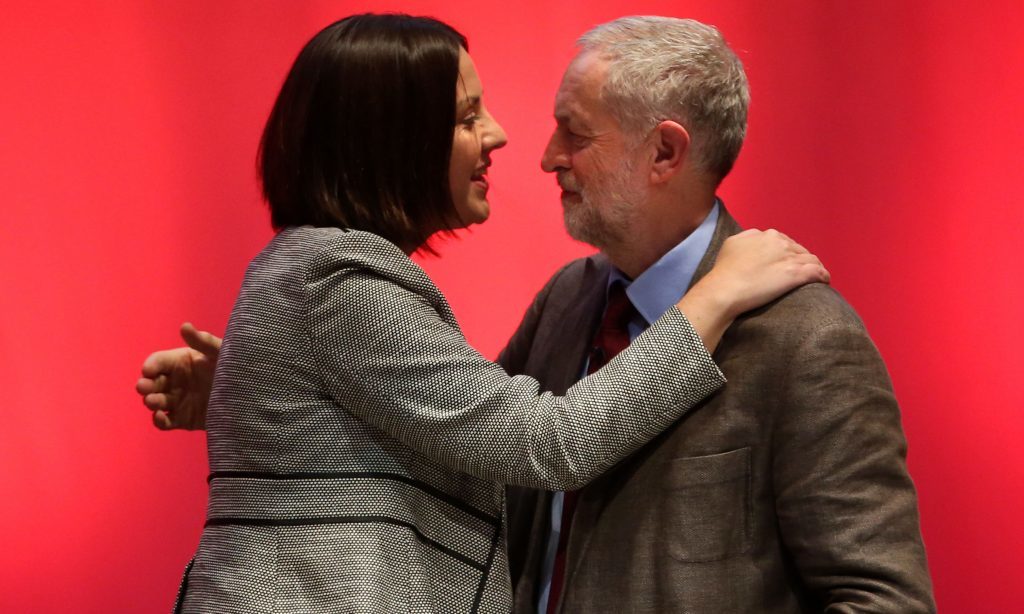 A string of rebel Labour MPs who quit Jeremy Corbyn's shadow cabinet in a bid to oust him as leader are refusing to return to the front bench, The Courier has learned.
And the deeply divided party was plunged into further infighting as Kezia Dugdale, its Scottish leader, accused the re-elected UK boss of trying to undermine her.
A reshuffle is expected imminently following Mr Corbyn's re-election to the top job within the UK party – but it is unlikely anyone other than his tight inner circle will be granted a vote on the make-up of the top team.
MPs voted overwhelmingly earlier this month to restore elections, in order to give the parliamentary party more control over the choice of shadow ministers.
But the party's ruling National Executive Committee agreed to put off a decision on shadow cabinet elections until an "away day" on November 22, with a consultation process to follow before reforms are approved at a special conference.
This infuriated a many of those who stepped down, and tensions were pushed towards breaking point when Mr Corbyn attempted to kick plans to make the Scottish party more autonomous into the long grass just hours after his victory over Owen Smith.
Ms Dugdale and Welsh Labour leader Owen Smith will be able to nominate representatives to sit on the ruling National Executive Committee but Mr Corbyn believes local party members should elect them instead and has the backing of some trade union leaders on the issue.
He called for a vote on the changes to be delayed until next year's Labour conference instead of on Tuesday as planned.
During a fiery behind closed doors exchange, a furious Ms Dugdale blasted: "How dare you preach unity and then try to undermine me as Scottish leader."
And she delivered a public barb at Mr Corbyn's election chances during a speech at a Progress rally at the party's conference at Liverpool.
Ms Dugdale said: "Our opponents are not invincible. They can be beaten but only if we get our act together as a party, only if we show a desire to move from a party of protest to a party that's serious about power."
A Scottish Labour source said: "We do not comment on internal party meetings."
Mr Corbyn has spent the last week speaking to key Labour MPs in an apparent effort to lure some back into his frontbench team, where a number of posts remain unfilled after the mass resignations in June.
"I'm reaching out to all our MPs, having lots of discussions with them," he told the BBC's Andrew Marr show.
But asked whether he would welcome Hilary Benn – who he sacked as shadow foreign secretary – back into the shadow cabinet, Mr Corbyn only said: "He wants to become the chair of the select committee on Brexit."
And former shadow health secretary Heidi Alexander said centrists in the party would continue "fighting" to make it electable while Angela Eagle, who briefly mounted a bid for the leadership, declined to say whether she could envisage returning to the shadow cabinet.
"Corbyn has completely ****** this up," said a senior source. "Not a single person who quit is going to go back."
The insider said the only way this would change would be through internal shadow cabinet elections, which were scrapped by Ed Miliband.
Corbyn: 'I want more power for members and supporters' #marr #Lab16 https://t.co/Uk3PMvN8Lw

— The Andrew Marr Show (@MarrShow) September 25, 2016
Mr Corbyn, meanwhile, moved to calm MPs' anxiety over the threat of deselection, insisting that the "vast majority" will have no problems as local parties choose candidates but he stopped short of ruling out members being axed.
MPs who opposed Mr Corbyn's leadership have urged him to rule out such moves as an olive branch.