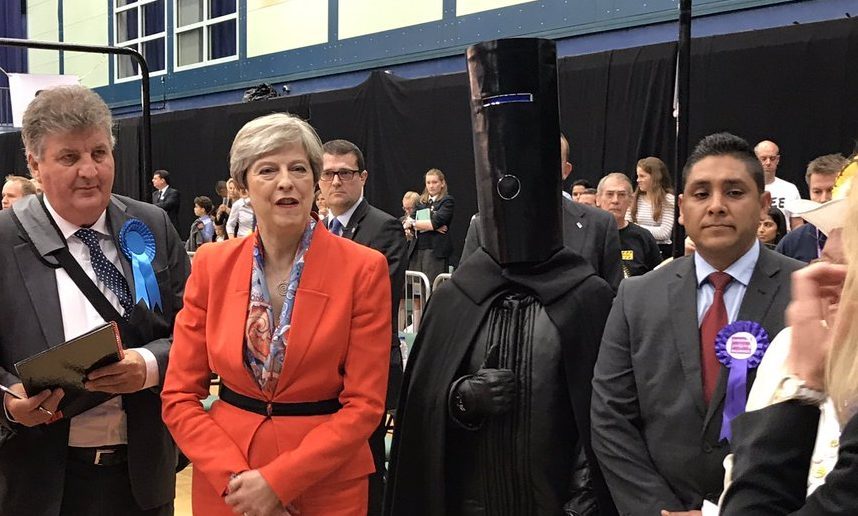 In probably the most bizarre thing to come out of the 2017 General Election, a Sesame Street character and a candidate known only as "Lord Buckethead" contested the same seat as Theresa May.
The Prime Minister and leader of the Conservative party was on the podium next to the "intergalactic space lord", Lord Buckethead, and Elmo as they both fought against her to be elected in the Maidenhead constituency.
249! A new Buckethead record! Something to celebrate, eh? #GeneralElection17 pic.twitter.com/cCx7Utc8EL

— Lord Buckethead (@LordBuckethead) June 9, 2017
Lord Buckethead had tweeted about hopes for a "swing to Buckethead" prior to the announcement, which saw Mrs May emerge victorious with 37,718 votes.
However the memorable candidate came 7th in Maidenhead, having managed to nab 249 votes – "a new Buckethead record".
Lord Buckethead's Twitter profile biography states: "Intergalactic space lord, running to be an independent Member of Parliament for Maidenhead. Enjoys planet-conquering, dominating inferior species, and Lovejoy."
Inside the Elmo suit is father's rights campaigner, Bobby Smith, of the one-man Give Me Back Elmo party.
https://twitter.com/dubblyoot/status/873001328783618048
LORD BUCKETHEAD ?? pic.twitter.com/xIhzBz90We

— jardie d (@dylojardie) June 9, 2017
"Prime Minister Teresa May standing next to Lord Buckethead of the Monster Raving Loony Party" – this is what US politics needs

— Phill Hunt (@britishphill) June 9, 2017
Lord Buckethead https://t.co/cngcBTH5k4

— Paul Berger (@pdberger) June 9, 2017