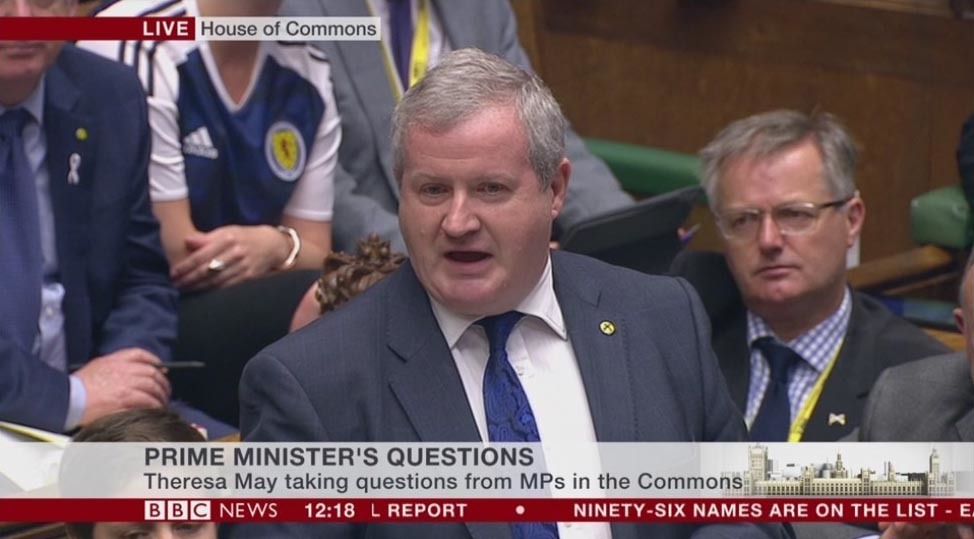 The House of Commons is trying to shed some of its stuffy image, with clerks no longer expected to wear wigs while great matters of state take place.
However, an SNP MP has tested the more relaxed mood by turning up to this morning's Scottish Questions and Prime Minister's Questions sessions wearing a Scotland football top!
There's @HannahB4LiviMP showing her support for the Scotland women's national team in Westminster today #SWNT pic.twitter.com/BDETCVkEHT

— Patrick McPartlin (@p_mcpartlin) July 19, 2017
Livingston MP Hannah Bardell had earlier enjoyed a kickabout on Parliament Green to help to promote tonight's Euro 2017 Women's Football Championship match between Scotland and England.
The women MPs prove they are winners at football skills tho. @HannahB4LiviMP @DrRosena @tracey_crouch pic.twitter.com/6JYioFqHOn

— Paul Waugh (@paulwaugh) July 19, 2017
Wishing the very best of luck to @ScotWFootball in tonight's game. We're all cheering you on! #EURO2017 https://t.co/zJmFVmkmgh

— Hannah Bardell (@HannahB4LiviMP) July 19, 2017
Speaker John Bercow last month hinted that male MPs may no longer be expected to wear neckties in the House, but football tops are likely to prove a step too far even for him.
There are no firm rules on what MPs are expected to wear, but the Parliament's "Rules of behaviour and courtesies in the House" (PDF) says their dress should "demonstrate respect for the House and for its central position in the life of the nation."
England v Scotland, from Utrecht, is live on Channel 4 tonight from 7pm