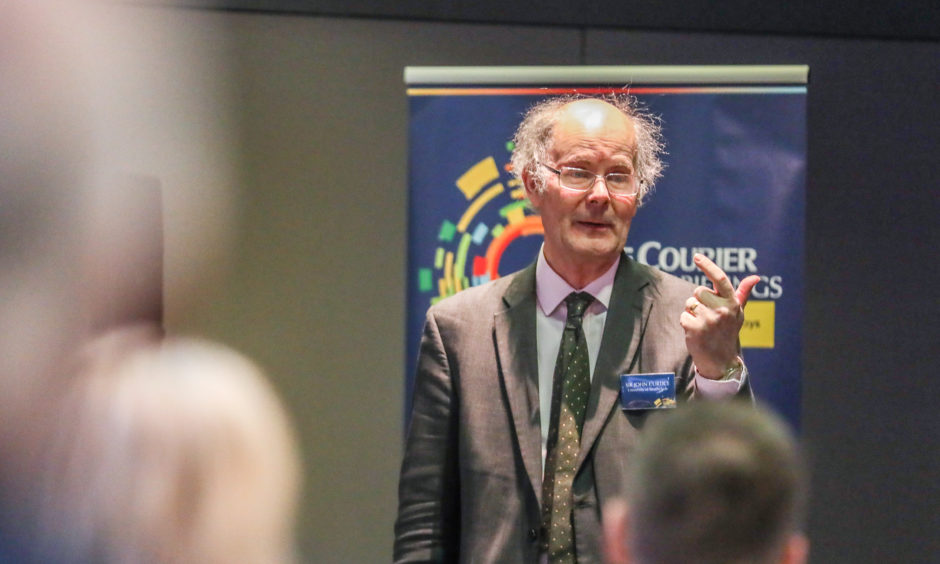 Sir John Curtice, one of the UK's top political forecasters, shared his views on the UK's impending exit from the European Union, the "polarised" state of the nation and the case for Scottish independence during a visit to Dundee.
In an interview with Courier business reporter Rob McLaren, Sir John answered a series of questions on Brexit.
---
What is your view on public opinion on the Brexit negotiations so far?
---
The professor of politics at the University of Strathclyde was in the city for The Courier's latest Business Briefing marking 50 days until Britain leaves the EU.
After giving a presentation on the UK's post-EU referendum political landscape, which compiled data from the latest polls and research on Brexit, he fielded questions from the 80-strong audience.
He was later joined by panellists Andrew Stirling, Caroline Millar and Ian Collins.
---
You're renowned for your political predictions. Will Theresa May get a deal of some kind through?
---
Speaking to The Courier following the event, Sir John said the facts and figures show the country is "still very deeply polarised" adding the nation "may have just tilted into being slightly more pro-Remain than pro-Leave".
He said this was down to the near-30% of the population who didn't vote in the Brexit referendum in 2016 appearing to be "more pro-Remain than Leave".
---
Can Theresa May's government survive this?
---
Sir John added the research showed the two most popular options among British people are to either leave the EU without a deal or to hold a second referendum.
He said it is not clear what will happen come March 29, the date set for the UK to leave the EU.
---
How have the Brexit negotiations and the Brexit referendum debates impacted the Scottish independence question?
---
For more on the event, read Friday's Courier