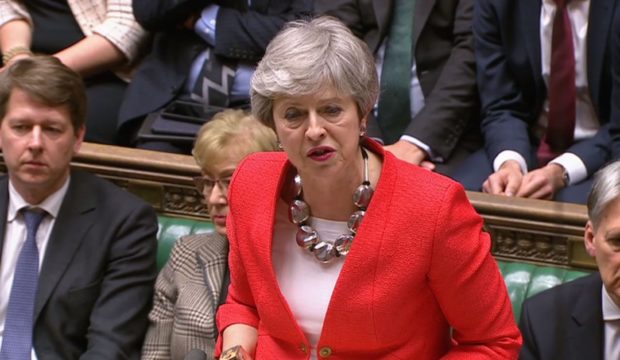 MPs have rejected Theresa May's revised EU Withdrawal Agreement, plunging the UK into fresh political crisis.
Despite the Prime Minister's impassioned pleas, members voted by 391-242 (majority 149) to turn down the proposals – making the prospect of either a No Deal Brexit or an extension beyond the planned March 29 date of departure ever more likely.
Mrs May said she "profoundly regrets the decision this House has taken tonight".
The Prime Minister made a statement after the result of the vote was read out, saying: "I continue to believe that by far the best outcome is the UK leaves the European Union in orderly fashion with a deal.
"And that the deal we have negotiated is the best and indeed only deal available."
Mrs May said that the choices facing the UK were "unenviable", but because of the rejection of her deal, "they are choices that must be faced".
She confirmed she will grant a free vote to Conservative MPs in a vote on Wednesday on whether the UK should leave the EU without a deal on March 29.
If the Commons declines to approve a no-deal Brexit, a vote on extending Article 50 will take place on Thursday.
Mrs May had made an 11th hour visit to Strasbourg on Monday night to try to secure legally-binding changes to plans for the Irish backstop.
However, her hopes of that being enough to win over sufficient numbers of MPs suffered a serious blow on Tuesday afternoon when Attorney General Geoffrey Cox told the House of Commons that the changes secured by Mrs May "reduce the risk" that the UK could be trapped indefinitely in the backstop, but do not remove it altogether.
Brexit deal rejected: Another crushing blow to Theresa May's authority
Tory eurosceptics then said they would not back it and her Democratic Unionist Party allies said they would vote against.
The Prime Minister, battling a croaky voice and with husband Philip watching from the Commons gallery, had warned MPs that "Brexit could be lost" if her deal was rejected again by MPs.
Labour leader Jeremy Corbyn, raising a point of order after the vote, said: "The Government has been defeated again by an enormous majority.
"They must now accept their deal is clearly dead and does not have the support of this House.
"Quite clearly, no-deal must be taken off the table."
Mr Corbyn said the Commons has to come together with a proposal that could be negotiated, adding Labour will put forward its plans again.
He suggested a general election should also be held.
---