The SNP's leader in Westminster labelled Boris Johnson "the last Prime Minister of the United Kingdom" in the House of Commons on Thursday.
There was a heated exchange between MP Ian Blackford and the Tory leader during Mr Johnson's first ever Prime Minister's Questions in parliament.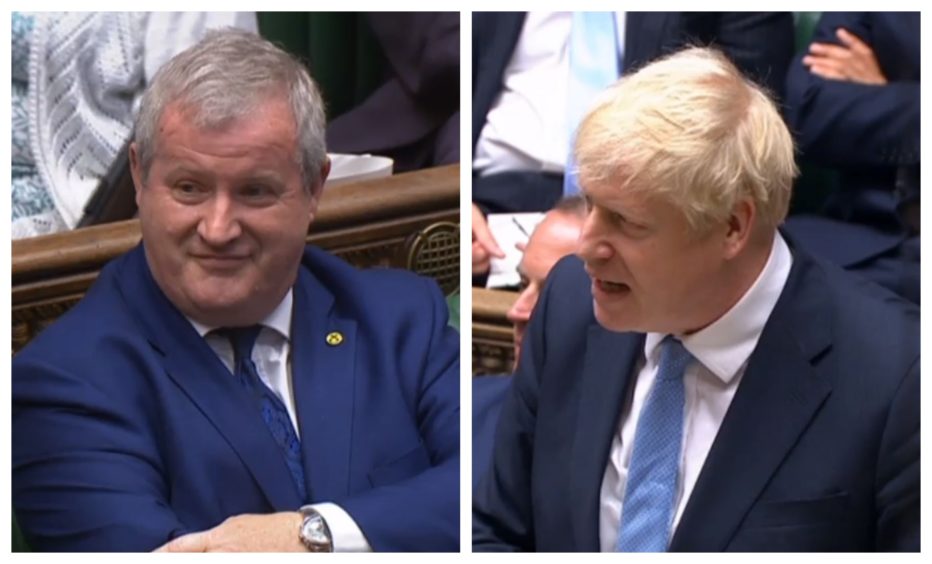 Speaking outside Number 10 Downing Street on Wednesday after meeting the Queen at Buckingham Palace, Mr Johnson vowed to deliver on the result of the 2016 Brexit referendum and take the UK out of the European Union (EU) by October 31.
However in the House of Commons on Thursday Mr Blackford pulled no punches.
On Mr Johnson's first full day in the job the MP for Ross, Skye and Lochaber told fellow politicians that Scotland "will not stand by and let decisions be made by charlatans".
Mr Blackford added: "I should welcome the Prime Minister to his place – the last Prime Minister of the United Kingdom.
The last PM of the UK has spoken in parliament, it was as bad as I feared. @BorisJohnson has shown he's dangerously deluded and deals regularly in falsehoods. He has been appointed not by this house, nor by the people, but by a hard right takeover of the Tories 📽️: My Response 👇 pic.twitter.com/VpSHO5Wjcu

— Ian Blackford (@Ianblackford_MP) July 25, 2019
"You know Mr Speaker it is often said that the Prime Minister lives in a parallel universe. Well, my goodness, that has been proven beyond any reasonable doubt this morning.
"In fact it looked as if he was about to launch himself into outer space.
"Mr Speaker, there are questions to be asked as to the mandate the Prime Minister has to the office he now occupies. He has been appointed not by this house, not by the people, but by the Tory party. What have they done?
"It horrifies me Mr Speaker that the new Prime Minister finds his position through such an undemocratic process. Indeed Mr Speaker it was the Prime Minister himself who called the system a gigantic fraud when Gordon Brown was parachuted into office, just like he was, 12 years ago.
"Scotland did not vote for Brexit, we did not vote for no deal and we most certainly did not vote for this Prime Minister."
Mr Blackford then asked Mr Johnson if he would agree – as First Minister Nicola Sturgeon has called for – to an "urgent meeting with the heads of government" to avoid a no-deal Brexit.
He claimed Mr Johnson had "no plan" for Brexit and that his approach to leaving Europe amounted to "economic madness" with "the Prime Minister supported by his new right-wing ideologs on the front bench".
He added that a "new deal from Europe" is the "stuff of fantasy" and that Mr Johnson is "deluded".
Mr Johnson retorted by saying that he would deliver "a fantastic and a sensible and a progressive Brexit".
He added: "I would point out that the people of this country have voted in 2015, they voted in 2016, they voted in 2017. What they want to see is this parliament delivering on the mandate that they gave us.
"I take no criticism about my election from the party whose leader Nicola Sturgeon replaced Alex Salmond without a vote. Did she not?"
Mrs Sturgeon assumed the office of First Minister from Mr Salmond in November 2014. However the SNP went on to win the 2016 Scottish Parliamentary Elections with 63 seats.
Mr Johnson said: "I tell you why I think the right honourable gentleman is wrong in his analysis, in his defeatism and his pessimism about our wonderful United Kingdom which he seeks to break up.
"Let me tell you Mr Speaker if we can deliver a fantastic and a sensible and a progressive Brexit, which I believe we can, and the whole United Kingdom comes out, as I know that it will, what happens then to the arguments of the Scottish Nationalist Party?
"Will they seriously continue to say that Scotland must join the Euro?
"Will they seriously suggest that Scotland should submit to the entire panoply of EU law? Will they join Schengen?
"Is it really their commitment Mr Speaker to hand back control of Scottish fisheries to Brussels just after this country, this great United Kingdom, has taken back this fantastic resource?
"May I respectfully suggest to the right honourable gentleman that is not the best basis in which to seek election in Scotland? We will win on a manifesto for the whole United Kingdom."
The SNP have previously proposed that an independent Scotland would look to introduce its own currency within the first few years of leaving the UK, keeping the pound throughout a "transition period".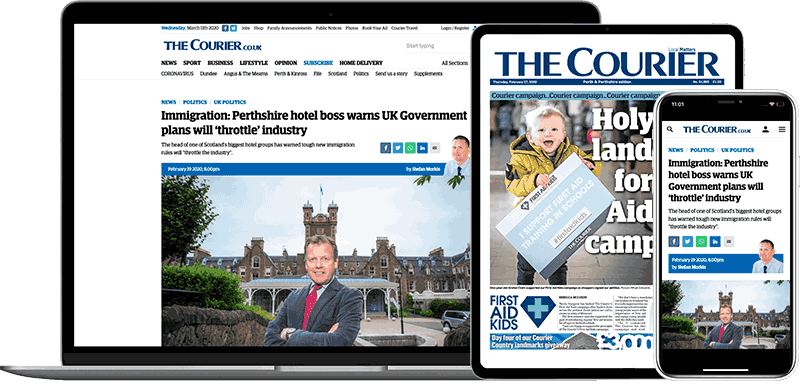 Help support quality local journalism … become a digital subscriber to The Courier
For as little as £5.99 a month you can access all of our content, including Premium articles.
Subscribe