Prime Minister Boris Johnson was booed by a crowd of protesters as he arrived for his first official meeting with First Minister Nicola Sturgeon yesterday.
Mr Johnson made his first visit north of the border in his new role – both as prime minister and minister for the union – arriving at HMNB Clyde early yesterday morning.
He enjoyed a tour of the UK's nuclear warhead-equipped submarines at the Faslane base, before being whisked away for a meeting with Ms Sturgeon in Edinburgh.
More than 100 protesters lined the streets outside Bute House, where they made their feelings for the Conservative leader known. A small number of pro-Boris demonstrators were also visible.
Things did not get much better for the prime minister in the confines of the Charlotte Square building, where Ms Sturgeon described the meeting as being full of "bluff and bluster".
VIDEO: Watch as Boris Johnson is booed by crowd on his arrival at Bute House in Edinburgh
Following the pair's near hour-long meeting, at which the First Minister challenged Mr Johnson to a televised debate, the Prime Minister avoided leaving through the front door, instead making his way out a back exit.
It is thought to be the first time a British prime minister has used a rear-escape to avoid crowds while visiting Bute House.
Speaking after her meeting with Mr Johnson, the First Minister said she was surprised he had not "had the guts" to interact with the Scottish people.
Boris Johnson heaps praise on Ruth Davidson despite differences over no-deal
"Behind all of the bluff and bluster this is a government which is dangerous and I think the path it is pursuing is a dangerous one, not just for Scotland but for the whole of the UK," she said.
"He said publicly to me again today he wants a deal with the EU but there's no clarity whatsoever. He has taken a hard-line saying the backstop must be taken off the table and the EU said it is not up for negotiation.
"I think this is a government which is pursuing a no-deal Brexit.
"I made clear Scotland's opposition to Brexit and my opposition to Brexit.
"As someone immersed in no-deal planning up until March 29 this year, I don't believe it was sanguine about the impact of that the prime minister obviously is."
The first minister said she and the SNP would do all they could to "thwart" a no-deal Brexit, but she had a duty to make sure the country was still as prepared as possible for no-deal.
As Mr Johnson made his way across the M8, several members of his "war cabinet" government announced plans on what minister Michael Gove called "the very real prospect" of no deal being achieved before the UK leaves the EU on October 31.
Subsequently, the pound fell heavily throughout the day, down 1.24% to 1.2228 dollars by the close of the European markets.
The pound was also down against the euro by 1.34% to 1.0981, despite the Eurozone having its own problems, with recent manufacturing data showing the sector is shrinking.
Since former PM Theresa May announced her resignation at the end of May to Monday, the pound has fallen nearly 4%.
The Prime Minister said Nicola Sturgeon and the SNP was the biggest threat to the union and the "global brand" of the UK.
He said: "We are not aiming for a no-deal Brexit at all, what we want is to get a deal and I have had some interesting conversations with our European partners, we are reaching out on Monday to Leo Varadkar, Emmanuel Macron.
"The feeling is there is no change in their position, but it is very, very positive."
The prime minister came under criticism from Sinn Fein MPs for not phoning Irish Taoiseach Leo Varadkar since becoming UK leader.
The last three prime ministers spoke to their Irish counterparts on the first day of office
Asked if he was ruling out a second independence referendum during his premiership, Mr Johnson said: "It was a once-in-a-generation consultation of the people, we did it in 2014 and the people were assured then that it was a once-in-a-generation consultation.
"I see no reason now for the politicians to go back on that promise.
"In 2014 there was a historic vote, I think it was the only one there has been in my lifetime that I can remember, the only vote on Scottish independence that I can remember in my lifetime, and I'm 55. It is the only time it has happened and it was decisive, there was I think at least a 10-point margin.
"Everybody made clear at the time in 2014, even the Scottish Nationalist Party, I seem to recollect, said that this was a once-in-a-generation vote and I think that the confidence of the public in politicians would be undermined yet further if we were to go back on that and hold another referendum."
pamalik@thecourier.co.uk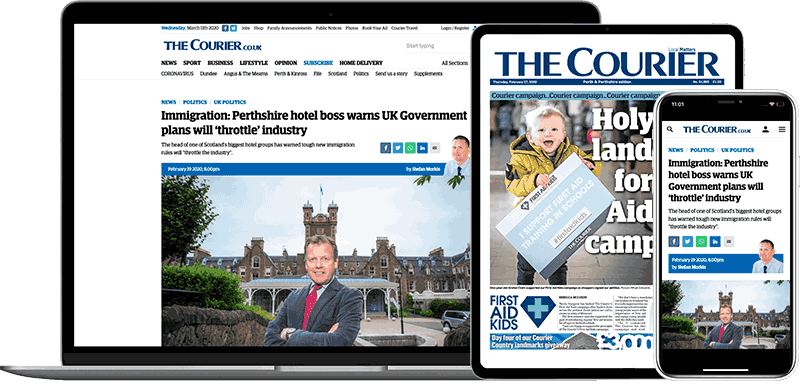 Help support quality local journalism … become a digital subscriber to The Courier
For as little as £5.99 a month you can access all of our content, including Premium articles.
Subscribe