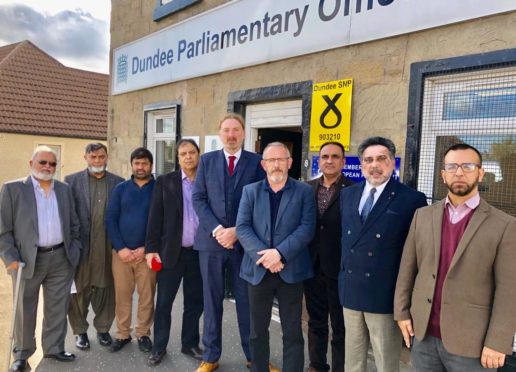 Dundee's MPs are demanding the UK Government do more to help protect vulnerable people in the Kashmir region.
Tensions between nuclear powers Pakistan and India continue to escalate in dispute over the partitioned province.
Both countries lay claim to control of the Muslim-majority region and have been in a state of unrest for more than six decades. Two wars have broken out between the countries in that time.
Kashmir is, in effect, split in two, with the north west being governed by Pakistan and the south and eastern region by India.
Several former districts from the state were ceded to China in the 20th century.
Members of the Dundee Islamic community with family and friends in Kashmir wrote to their MPs calling for the UK Government to help end the rising tide of violence.
Chris Law, who is the SNP's international development spokesman, said: "Some of the stories I have heard from constituents with close friends and family in the region are simply horrific.
"Many are unable to make any contact at all with their loved ones, and very little news has made it out of the region.
"As someone who has visited Kashmir on a number of occasions over the last thirty years, I know the area very well, and this is personally heartbreaking.
"The UK Government must urgently do more. The preservation of human rights is an issue for all of us.
"There are thousands of people personally affected here, not just in Dundee but across the UK and the UK Government must act for these people and work with other partners to put pressure on the Indian Government to bring a peaceful return to relations in Kashmir."
Mr Law and fellow SNP representative Stewart Hosie met with members of the Dura Street mosque, where constituents aired their concerns and voiced their hope something could be done.
Both have written to the Prime Minister calling on the government to "sensitively intervene".
Mr Hosie added: "During the meeting we heard some deeply personal stories from constituents with families adversely affected by the developments in the region."
"The reports of human rights abuses are disturbing, as is the communications blackout leaving so many families in the dark over the safety and whereabouts of their loved ones in Kashmir. Sensitive intervention from the UK Government is not only right, it is necessary."
A spokesperson for the Foreign Office said: "It is important human rights are fully respected in Kashmir and the way through the tensions is with a constructive political dialogue, the pace and scope of which is for India and Pakistan to determine.
"Any allegation of human rights abuses is concerning, and should be investigated promptly, thoroughly, transparently, and independently."