Four years ago Olivia Rowlands and husband Sam were given the devastating news she would never be able to carry a baby.
But today they are on cloud nine with their 10-month-old 'miracle' daughter Monica, thanks to a surrogate they describe as their guardian angel.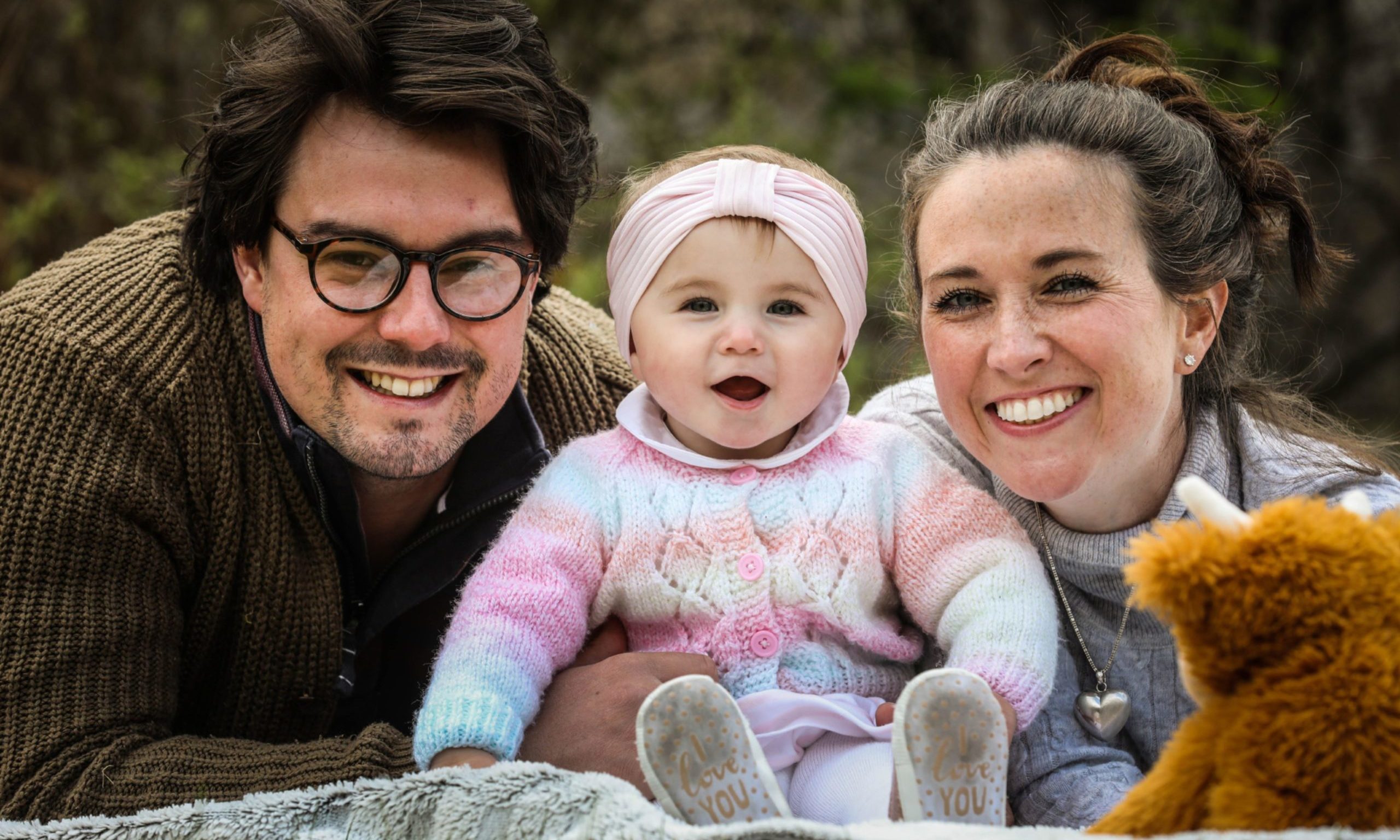 Before Olivia's womb was damaged by treatment for bowel cancer in 2017 the couple had a 10-day window to harvest eggs and had four embryos frozen at Ninewells Hospital, Dundee.
When they began looking for a surrogate to carry their baby, a cousin Olivia hadn't seen since she was a toddler 'came from nowhere' and volunteered.
And on July 13, last year, the couple from St Andrews, Fife, were by Ellie Hutchinson's side as she delivered their long-awaited daughter.
Olivia, 32, said: "We can't imagine life without Monica now – she is everything and more."
Ellie, 35, from Stirling, and husband Ryan, who have a six-year-old son Caleb, had decided they didn't want any more children themselves and she was determined she wanted to help her cousin become a mum.
Olivia said: "She's really good at being able to look at the fact that we couldn't do it and she could – she doesn't know why she wouldn't do it."
Sam said: "We were very lucky because I realise that surrogacy is a really complicated process and, I imagine, a really tough process for a lot of people that have been through it."
He admitted he was nervous when they began considering surrogacy about "reaching out to a random stranger" but said the dynamic changed when Ellie and Ryan got in touch, knowing there was a family connection.
We see them as our guardian angels really, they came out of nowhere."

Sam Rowlands
He said: "We see them as our guardian angels really, they came out of nowhere."
In the early months of pregnancy, Olivia and Sam spent lots of time with Ellie and their growing bump and accompanied her on medical appointments, but the pandemic changed that in the final stages.
Olivia said: "That was quite tough. We were able to go to a few of the scans but we missed things like hearing the heartbeat.
"Ellie, again, was just amazing and would send us everything that she heard in the appointments; video, listening to the heartbeat, things like that.
"We saw her a couple of times outside and every time we saw her and the bump was getting bigger and bigger… and I just got so emotional.
Every time we saw her and the bump was getting bigger and bigger… and I just got so emotional."
"I wasn't prepared when I saw her, I could not believe what she was doing and our little girl was in there."
Primary school teacher Olivia and Sam, a mental health adviser at Elmwood College, also feared Covid restrictions might make them miss the birth, which was by Caesarean section.
However, shortly before the big day Olivia was told she could accompany Ellie to theatre and just before they went in Sam, to his surprise, was told he could attend too.
He said: "We'd only been in the hospital for half an hour and I got a phone call from Liv saying 'you're allowed to come in, she's going into theatre'. It was such a shock. Emotionally, oh my goodness! I now can't imagine not having been there."
After Monica's birth, Olivia and Sam were allowed to stay the night at the hospital before bringing Monica home the next day.
Becoming parents at long last was "the best thing in the world", said Olivia.
"At the same time, there were moments when it was totally overwhelming. We couldn't believe we had this little person and we had to look after her.
"Normally, during a birth you have the nine months of feeling like you're a mum, I guess – I'm not really sure because I've never done it – and also the husband being able to see the bump growing and being able to talk to the bump.
"But we were, just one day we didn't have anything and the next day we had a baby. It was so surreal."
Auntie Ellie
Sam said: "It was something we had both dreamed about for a long, long time. From when we were both young we have always wanted to be parents. For it to suddenly be a reality was crazy, overwhelming.
"But it wasn't long before she just fitted into the household."
The couple said Monica is "so much fun" and has a hilarious character which cheers them up when they feel down about the pandemic.
Olivia said: "She is a total miracle. You have moments when you think if it wasn't for Ellie and her family we wouldn't have her. I can't imagine life without her."
The family remain in regular contact with Ellie and her family, and intend to have a special name for 'Auntie Ellie' for Monica, who will learn all about their special bond when she gets older.
Surrogacy in the UK: When and how do people have a baby with a surrogate?
St Andrews couple fear missing daughter's birth due to coronavirus restrictions