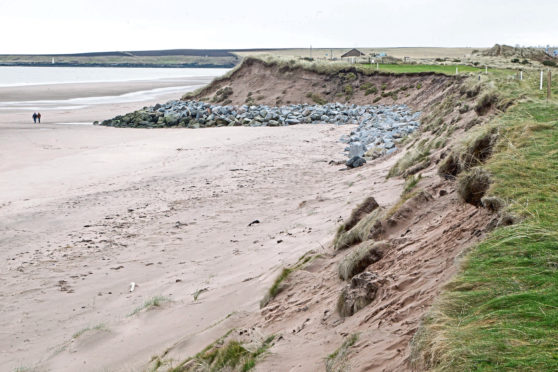 Speeding coastal erosion poses an "immediate" threat to homes, golf courses and transport links in the east of Scotland, an academic has warned.
Leading researcher Professor Jim Hansom has said rising sea levels are threatening Scotland's coastal towns such as Arbroath, Montrose and St Andrews.
Professor Hansom said: "There is an immediate problem that needs to be addressed now.
"Think about what is going to happen to your coastline."
He said policymakers have to think seriously about the "hundreds of small towns along the coast, such as Arbroath and Stonehaven.
"When you think where our sewage sites are they are close to sea level, where our railways and roads that hug the coast, they are going to be jeopardised, many are going to be under threat in 30 or 40 years."
Professor Hansom has led research on the Dynamic Coast Project, a study that three years ago predicted more than 20% of the coast was at risk of erosion through rising sea levels.
The study showed that a large number of properties, parts of the Edinburgh to Aberdeen to railway line, and a number of golf courses were particularly vulnerable.
'Existential threat' warning as Angus town's sea defences collapse
Professor Hansom, an honorary research fellow at Glasgow University's School of Geographical and Earth Sciences, said: "Are we dealing with the issue properly? The bottom line is no.
"The Dynamic Coast has demonstrated the recent period has seen an almost 40% increase in the extent of erosion and a doubling of the rate of erosion. Things are speeding up."
He said ongoing cuts to carbon emissions would not deliver results quickly enough to deal with the oncoming effects of coastal erosion.
He said: "The key thing is you hear a lot of things about climate change and reducing carbon emissions to tackle temperature increases and that is not going to help us for another 30 years.
"We have an adaptational problem now that needs to be addressed, before any of these carbon emission stabilisations or reductions actually produce any effect."
His comments come after details emerged on coast-saving projects near golf courses in the east of Scotland.
John Adams, Montrose Golf Links greens convener, has called for the creation of a sand 'island' off the coast to protect the course.