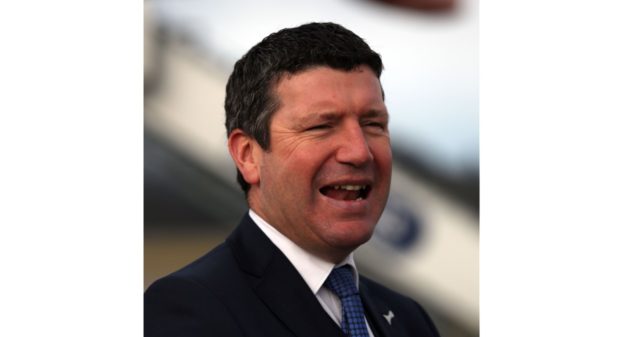 A cabbie who was charged following a confrontation with an airport boss has walked free from court after his lawyer blamed the chief executive's "bizarre" behaviour for the incident.
Iain Hunter, 60, was ordered to appear in court after an incident involving Edinburgh Airport chief executive Gordon Dewar in May.
Edinburgh Sheriff Court heard how Mr Dewar "sprinted" the entire length of an airport car park to confront Mr Hunter, who was allegedly parked in a prohibited area.
Mr Dewar did not have any identification with him and sat on the bonnet of Mr Hunter's car and started filming him.
Mr Hunter became so concerned he tried to get away from the scene.
His car struck Mr Dewar but did not injure him.
Police charged Mr Hunter, of Edinburgh, and he pled guilty to a breach of the peace charge yesterday.
However, Sheriff Roderick Flinn decided to grant the first offender an absolute discharge, meaning he does not have a criminal record and can continue to work as a taxi driver.
Defence solicitor Paul Dunne said: "This incident would not have occurred if it wasn't for the bizarre behaviour of Mr Dewar.
"His behaviour caused the entire incident to escalate out of control.
"His behaviour was, in my submission, unusual. Indeed, it could be described as being aggressive.
"He sprinted the full length of a car park at Edinburgh Airport. He doesn't have any identification on his person. He doesn't identify himself.
"He doesn't do anything until he is challenged by Mr Hunter and he says is chief executive of Edinburgh Airport.
"He is instantly very confrontational."
Mr Dunne told the court his client became concerned for his safety.
He added: "His vehicle has slight contact but not so much as to cause Mr Dewar to take a step back. It is the merest of touches."
Mr Dunne said that if Mr Dewar was concerned his client was parked in a prohibited area, he could have used surrounding CCTV cameras to establish the taxi driver's identity.
He said: "None of this would have taken place if it were not for a chief executive who it would appear has nothing better to do than to enforce taxi parking regulations."
Sheriff Flinn told Hunter he was free to leave court.