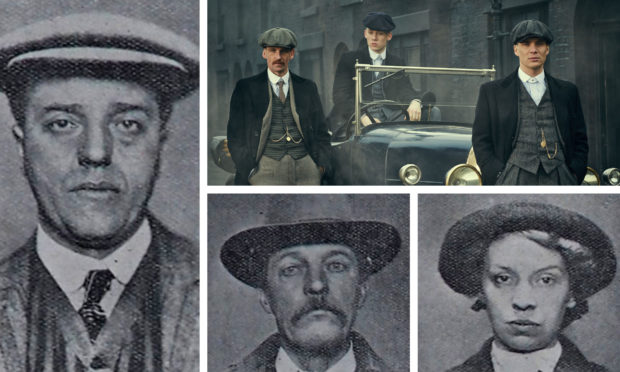 The story of how a Birmingham crime family dubbed the "real-life Peaky Blinders" was suspected of targeting shops from Kirkcaldy to Montrose is being highlighted more than a century after they carried out their Scotland-wide crime spree.
Mugshots showing four members of the "Williams" gang are to go on display this week as part of a crime festival in Aberdeen.
The posters, distributed around Scotland by the Edinburgh City Police on April 7 1911, ask Scots for information on John Chalk Sr, John Chalk Jr, Ellen Jane Pugh and Lily Hart.
At the time, the gang was behind bars in Birmingham on suspicion of "being concerned in the manufacture and circulation throughout the country of spurious coins".
The poster, issued by Edinburgh's Chief Constable Roderick Ross, details hundreds of items recovered from their homes that suggest the gang conned businesses up and down the country.

Items from the crime spree included playing cards, cosmetics, lozenges, ornaments and hundreds of picture postcards from around Courier Counry.
It reads: "Their modus operandi seems to have been to make a small purchase, tendering in payment a spurious four shilling piece, half-crown or florin, but having plenty of genuine gold and silver coins to offer instead if the Base Coin was detected, and thus throw shop assistants off their guard.
"They may have further convictions, or be wanted elsewhere on other charges than coining, and any information regarding them will be esteemed."
John Chalk Jr, alias Williams, is pictured in his mugshot wearing a cap just like those made famous in the BBC gangster family drama Peaky Blinders, set just a few years later in 1919.


The poster, found in a police station in Dufftown, Banffshire will be displayed in an exhibition titled Outcasts: Women, Crime And Society to be staged at the Lemon Tree in Aberdeen.
It is part of the fourth annual Granite Noir crime writing festival, which starts on Thursday and has appearances by Ian Rankin and Denise Mina.
The free exhibition will feature original records from Aberdeen City and Aberdeenshire Archives at both the Lemon Tree and the Music Hall venues.
It runs until Sunday.
Senior archivist Katy Kavanagh said the exhibition examines how "women who commit crime, particularly murder or violent crime, often become the subject of a morbid fascination, challenging society's notion of the 'nurturing sex'".
Objects from the haul discovered in the homes of the "Williams" gang, which can be identified as coming from Scotland include:
Packets of pictorial post and letter cards, one packet views of Helensburgh, Coatbridge and Melrose Abbey, the other packet views of St Andrews
Packet of epsom salts bearing the name Charles Stewart, Chemist, 231 High St, Kirkcaldy
One Swan ornament bearing coat of arms of Arbroath
One Swan ornament bearing coat of arms of Dunfermline
Two Swan ornaments bearing coat of arms of Peebles
One China ornament bearing coat of arms of Lanark
One China ornament bearing coat of arms of Culross
Other china ornaments bearing coats of arms of Montrose, Arbroath and Perth
37 postcard views of Lanark; 41 showing Arbroath; 42 Dunoon; 21 North Berwick; 51 St Andrews; 30 Dunfermline; four Haddington; 18 Montrose; 34 Rothesay; 14 Gourock; 22 Greenock; 54 Edinburgh; 12 Peebles; 22 Crieff; 16 Hamilton; three Dumbarton; 6 Dunbar
One bottle of skin cream bearing label J McMurray, Pharmacist, 37 West Clyde Street, Helensburgh
One box of Vesta matches bearing name James R Craig, The Steeple, Inverness
Two packets of playing cards, one packet bearing name Darie Brown and Co, Edinburgh
One box containing Wyllie's Lozenges and also a pill box from "David Wyllie, 1 College St, Edinburgh"
Two empty bottles, AC Martin, 132 Nicolson St, Edinburgh.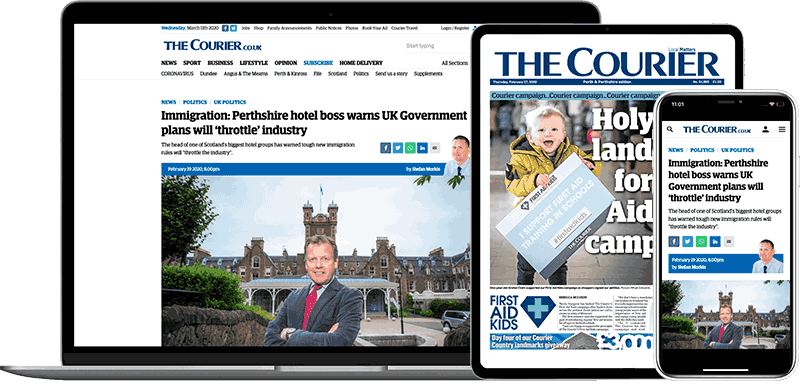 Help support quality local journalism … become a digital subscriber to The Courier
For as little as £5.99 a month you can access all of our content, including Premium articles.
Subscribe