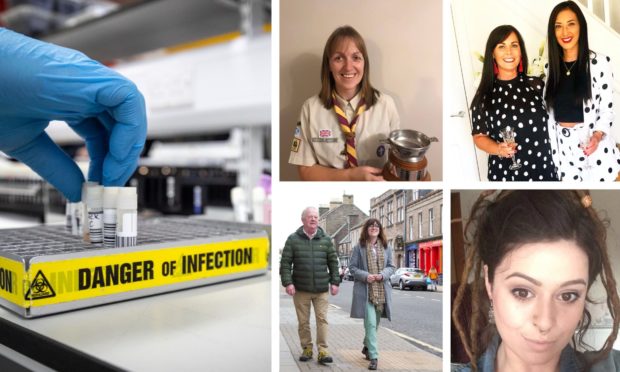 Volunteer groups, businesses and individuals are rallying to support vulnerable members of the community across Tayside and Fife as the coronavirus pandemic takes hold.
We spoke to some of the locals who have acted to support their local communities in the wake of the covid-19 outbreak.
Perth mum and daughter bring together thousands from across community
A mum and daughter have brought together thousands of people from across Perth and Kinross in a matter of days in the wake of the covid-19 pandemic.
Adele Frampton and mum Kelley Jane Whiteside set up the Coronavirus Support in Perthshire Facebook group on Sunday night after a shopping trip – and by Monday some 5,000 people had joined.
Miss Frampton, of Perth, said she hopes the group will help the most vulnerable in the area, as well as support local businesses.
She said: "I was driving to Costco yesterday. I messaged a few of my friends to ask if they needed anything. One of my friends is stuck indoors with their papa who has dementia.
"We thought there was going to be lots of people like that. That is why we just kind of started it. The group has extended out Fife way.
"It has kind of just captured lots of people willing to help. People are saying they can get things from shops. There's 5,000 people in the group just now. It has gone a bit big.
"A lot of business are hopefully going to benefit from it. Hopefully local businesses get involved."
She added that local taxi drivers have been among those offering to deliver items for free.
Miss Frampton added she hoped the group would show the best in people after shop shelves were emptied out by panic-buyers.
The 27-year-old said: "It has got everyone pulling together. It is the little things you need if you are stuck indoors for four months or something.
"There are so many people offering to give things – from themselves and their own families as well. It is quite nice especially with everything going on."
Elsewhere convenience store PriceKracker Plus, which has branches in Fintry and Blairgowrie, will deliver groceries free of charge.
Store manager Asif Sarwar said: "This store has been in my family for three generations and we care about the community. We have built great friendships with many customers so I feel it's our duty to help them."
Perth Radio Taxis will deliver groceries to vulnerable people for free.
And Perth takeaway China China has said it will hand out meals to elderly housebound residents.
Dundee Facebook group offers helping hand to city's most vulnerable
Georgia Grainger started the Dundee Covid-19 Mutual Aid Group at the weekend as a place for vulnerable people and those in self-isolation to request help from fellow city residents.
The 24-year-old Strathclyde University tutor and PhD student said: "I started it on Saturday. I'd seen something on Twitter people starting a group in their area in Brighton.
"I thought it was a really good idea. I knew there were other groups in Dundee but I thought it would be good to have one that is just for people that are self-isolated, or healthcare workers, being able to request little bits.
"Specifically food deliveries. Or if they need someone to walk the dog."

The group quickly attracted hundreds of members with Ms Grainger also creating a document which can be printed out and passed into the letterboxes of neighbours who may be in need of help.
She added: "Every time I open my Facebook there is lots more requested to join. At the moment we are not at the peak of everything yet but it is good to have it there. It is still early days.
"I think it is important to try and encourage people to build a community rather than everybody being scared.
"It is a place where people do help each other. It is really important people have a place where it is really easy to find offers of help if they need it."
Dundee wedding photographer Siobhan Diamond launched the Small business Covid-19 support group on Facebook last week following a number of cancellations. It has more than 300 members already.
And the Dundee Food Train asked locals to be considerate of their volunteers – who are shopping for, and delivering food on behalf of, older city residents who cannot make the journey to the shops.
Huge Angus volunteer army being mobilised for Covid-19 community battle
An Angus volunteer army 600 strong and growing has already signed up for service in the battle against coronavirus.
The response is a reaction to a plea for help from third sector group Voluntary Action Angus which has seen more than 32,000 hits to an online plea for help from within the community to support the vulnerable.
VAA officials have described the remarkable response as welcome – but not surprising – and say they are ready to take on the role of marshalling the volunteers to ensure focused help is delivered in the most effective way possible.
Community support groups have sprung up across the area and Mr Malone said VAA aims to work with them for as long as it takes, co-ordinating the effort from the body's HQ at The Cross in Forfar.
"This has to be about approved and co-ordinated volunteering, we can't just have people going out on their own devices into the homes of the vulnerable," he said.
"That's the darker end of the spectrum in a situation like this, but what we also don't want to happen is to have people falling over themselves – which could actually end up being counter-productive and spreading the virus.
"Since Friday, 633 people have confirmed their willingness through completed and the list of things that they have said they can do is very wide.
"We don't know how long this is going to go on for so there will be a role for everyone – we could be looking at things like grass-cutting in the summer because older people are proud of their gardens and even that sort of help could make a difference.
"There are many folk with a range of skills and qualifications which we will use – we have done mass mobilisation of volunteers before in different situations such as the baton relay, but the principle is the same of people giving their time to help others."
Telephone befriending is already underway in Angus, with other measures including food and prescription deliveries put in place.
"We're doing the stuff we need to straight away and have a co-ordinator in every locality area to support that," added Mr Malone.
"Local groups are setting up on the likes of Facebook and we are in the position to co-ordinate this and give them guidance if they get in touch.
He added: "This is going to be a lot of hard work, and unfortunately it is likely that as the situation develops there will be distressing situations which will upset people.
"The most important thing is for those who can volunteer is to be able to see it as a privilege that they are able to help.
"If that is done well it will make a real difference to people."
A Kirriemuir Community Help and Support Facebook page has also been set up to link people in need of assistance with volunteers.
Links Cabs in Carnoustie has offered to deliver prescriptions, food or other items to regular elderly or vulnerable customers for free.
Fifers join mutual aid movement
Across Fife, a number of communities have joined the Covid-19 Mutual Aid UK movement – a national network of volunteering groups – including in Cupar and St Andrews.
Among those taking action is the 77th Fife Scout Group in Kelty, who have reached out to those who are self-isolating and NHS workers in need of support.
Cub leader Claire Fernie, 40, said the outbreak had the potential to bring the community closer, even if people were physically having to distance themselves.
"Everybody is busy working and we live in a 24-seven environment, so it's important for us to help our neighbours and support each other in what could be a potentially difficult time.
"It's very much the ethos of scouting."
B&M at Riverside retail park in Leven will open its doors at 7am on Saturday and Sunday to allow people to shop at their own pace for an hour before it opens to the general public.
East Neuk bakery Barnett's is offering a free delivery service to customers who cannot visit its shops.
Vulnerable customers in Anstruther and Cellardyke can leave money in a pre-arranged safe place and bakery staff will drop their orders off.
A Newport cafe is offering a 'call and collect' service as well as dropping off orders to people who are self-isolating.
Kitschnbake will also provide 'afternoon tea in a box' for Mother's Day on Sunday.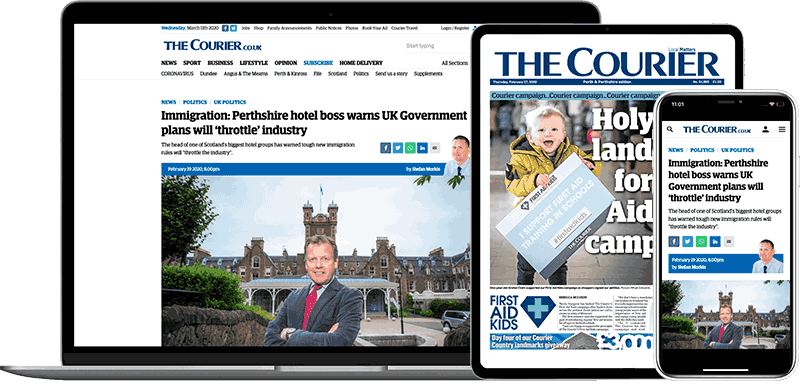 Help support quality local journalism … become a digital subscriber to The Courier
For as little as £5.99 a month you can access all of our content, including Premium articles.
Subscribe