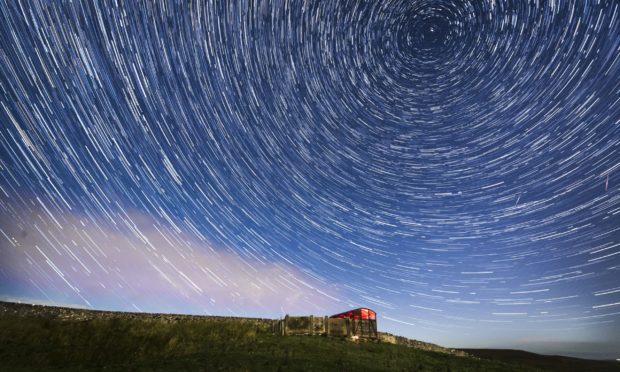 Stargazers across Tayside and Fife may be able to glimpse an epic shooting star display in the night sky overnight.
The Lyrid meteor shower is expected to peak above the UK at about 3am on Wednesday, April 22.
Up to 18 meteors per hour could be spotted in the sky during the astronomical event –  along with the odd fireball.
The meteoroids originate from the tail of the Comet Thatcher – which has not come near to the sun since 1861.
It takes more than four centuries to complete an orbit and will not near the earth again until the 23rd century.
The Lyrids get their name as they appear to come from an area of the night sky in the Lyra constellation.
Assuming the skies are clear, 3am on Wednesday is expected to be the best time to see the meteor display in the UK – when Lyra will be high overhead in the northern hemisphere.
However the Mills Observatory in Dundee suggested Wednesday night might be a better chance for locals to witness the display.
The Royal Astronomical Society says the best way to view a meteor shower is with the naked eye.
Tania de Sales Marques, an astronomer at the Royal Observatory Greenwich, said: "Comets are basically dirty iceballs that heat up as the comet approaches the sun, releasing dust and gases into space, and if the Earth, as it moves along its orbit around the sun, encounters these clouds of dust, then we get a meteor shower.
"In order to see a meteor shower one must be somewhere shielded from city lights.
"The moon will be in its waning crescent phase which means that we will have a nice dark sky.
"We might see up to 18 meteors per hour and maybe even the occasional fireball."
Tayside and Fife stargazers on alert for red supergiant star on brink of 'spectacular' supernova
The Lyrids occur between April 16 and 25 every year.