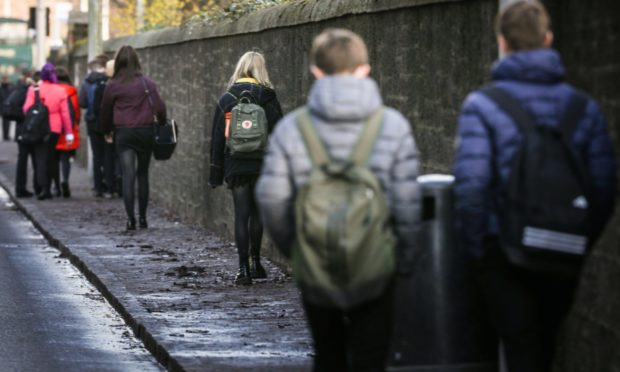 Children across Tayside and Fife will face a new reality when they return to school from August 11, with councils taking different approaches related to local circumstances.
Dundee City Council is working to ensure schools will be able to reopen with a mixture of classroom and at-home learning.
Some children and young people will be entering school buildings over what would have been the last two weeks of term towards the end of June for key transition stages including entry to P1, S1 and some of the senior years.
Schools in Angus will reopen on August 12, although not all pupils will return on this date, the council has said.
Under the plans, in the early stages, primary children will play and learn together in small groups called "bubbles".
Other measures include staggered starts, breaks, lunch and finishing times and schools will try to have siblings attending on the same days.
Some schools may be able to accommodate children attending "much more frequently" than others.
Extra support for councils and relaxing social distancing considered as Nicola Sturgeon faces grilling over schools
Fife Council has announced it will be developing a blended model of in-school and home learning which would see children attend school at different times.
Every school building will have had a full risk assessment carried out before it reopens and staff will have received training on the new physical distancing measures.
Supermarket-style queues and 'comfy' clothes…Perthshire school reveals radical post-lockdown plan
The aim is for all primary schools to be working on a basic principle of two days in school for all pupils, with 50% of pupils in school at any one time. In secondary schools "a more bespoke model" will be in place.
In Perth and Kinross, the strategy is likely to include a blend of in-school and at-home learning for almost all children.
A spokesman said parents and carers will be advised of arrangements before the end of the current term.
It comes after Children's Commissioner Bruce Adamson said children and parents need more support to cope with "blended learning" as he warned school closures risk psychological damage to pupils.