Prime Minister Boris Johnson said it is time to examine the effect of extreme weather on the UK's infrastructure amid fears a landslip contributed to yesterday's rail crash at Stonehaven.
Train driver and conductor killed in Stonehaven derailment named
Stating his thoughts are with those who have lost their lives, he said: "One of the reasons this accident is so shocking is of course that this type of accident on our railways is thankfully so rare.
"But our thoughts are very much with those who've lost their lives, their families and of course those who've been injured in the derailment.
"I've talked to First Minister Nicola Sturgeon about what has happened and clearly the most important thing now is that the British Transport Police, who are in charge of the investigation, find out exactly what happened, and that we all work together with Network Rail, with everybody else who's responsible to make sure… that nothing like this happens again."
He told Sky News it would be a good idea to look at the impact of substantial rainfall on vulnerable infrastructure.
"I do think it's probably a very good idea to look at the effect of substantial rainfall on all our vulnerable infrastructure everywhere.
"And as I understand there was about a month's worth of rainfall in a very short period which undoubtedly aggravated the problem there.
"But I think what we'll have to do is wait and see what the British Transport Police come up with, what exactly they identify as the cause of this derailment and working with Network Rail, with everybody, make sure that nothing like this happens again."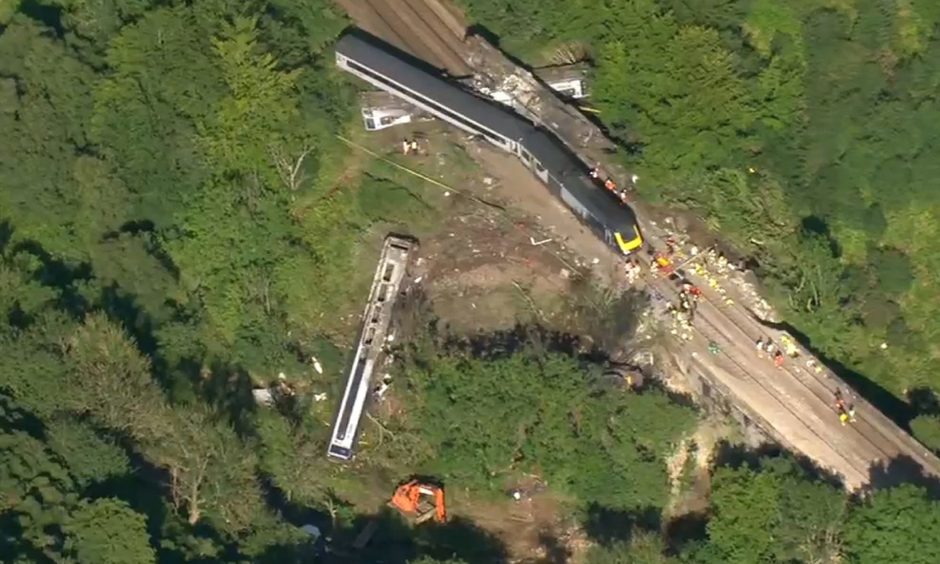 Scotland's First Minister Nicola Sturgeon tweeted: "My deepest condolences are with the loved ones of those who lost their lives in this tragic incident.
"I have just been updated by Network Rail and the emergency services on the ongoing operation.
"My thanks go to them, and my thoughts remain with everyone affected."
Transport Secretary Grant Shapps said he will visit Stonehaven today.
"My department is in close contact with all relevant parties, including our counterparts in the Scottish Government, to provide any support that is required.
"The safety of passengers and staff is and has always been our utmost priority and we will ensure that lessons are learned from this tragic incident once the Rail Accident Investigation Branch has carried out its investigation."
Scotland's Transport Secretary Michael Matheson said he plans to meet with some of the emergency responders this morning, adding: "I would like to thank all the engineers and emergency services who are responding to this incident and the challenging conditions they are dealing with at this time."
Scottish Secretary Alister Jack said: "My heart goes out to the families and friends of those who have sadly died in the tragic derailment near Stonehaven and I wish those taken to hospital a speedy recovery.
"Our emergency services deserve enormous credit for their handling of this major incident and we now must wait for the results of the investigation."
Aberdeen Lord Provost Barney Crockett said: "On behalf of the city of Aberdeen, I extend my heartfelt sympathy and condolences to the families of those lost in this terrible accident.
"Our thoughts are also very much with those injured. The north-east of Scotland is a tight-knit community and the impact of today's derailment will be felt across the region.
"Hopefully we can draw strength from each other in the difficult days ahead, especially those most affected."