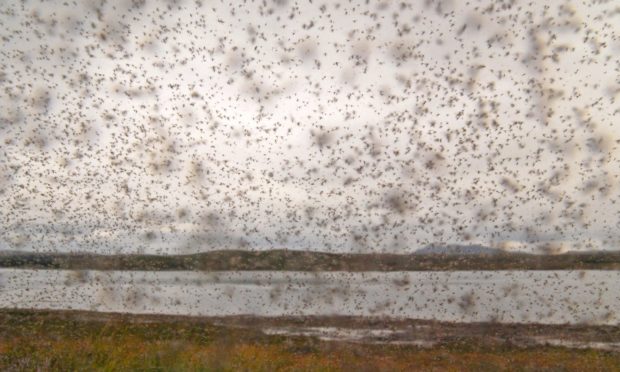 Scotland could be hit by a rare third wave of midges after a population boom of the dreaded insect became the scourge of campers and hillwalkers in 2020.
Dr Alison Blackwell of Dundee-based APS Biocontrol said this year has been one of the worst in recent memory for the bugs, huge swarms of which have been recorded in some parts of the Highlands in recent weeks.
Humid weather made prime conditions for the blood-thirsty midge, with a rise in hillwalking and staycationing in Scotland during lockdown providing plenty for the biting flies to feast on.
And Dr Blackwell said a third generation of midges could hatch in September if the weather conditions remain right for the creatures.
Only two waves of the flies are usually experienced in a year – the first and most significant being in spring and the second during the summer months.
It was a lovely sunset in Torridon last night but I just didn't feel like getting out of the tent to take photos.@BBCHighlands pic.twitter.com/O78kJUB2JJ

— Alex Nail Photography (@alexnail) August 19, 2020
However this year's July population boom showed higher than normal amounts of the flies, leading to what has been labelled a midges "explosion" in parts of the country.
Data for 2020 shows midge numbers are 25% higher than is normal for August.
APS Biocontrol runs the Scottish Midge Forecast and makes the insect repellent Smidge – a product which has seen a major sales increase in August as a result of the population boom.
Dr Blackwell added: "I don't think it's ever been this bad at this time of the year before. What we are seeing at the moment would be quite common at the beginning of the season when you have that first hatch of midges.
"Normally at this time of year we wouldn't expect to see these kinds of numbers and I have been working with midges for 30 years.
"We've been running the Midges Forecast for about 14 years. I would say that I, or the midges forecast, have never recorded these kinds of numbers at this time of year before."
Dr Blackwell said the weather is mostly to blame for the soaring numbers of the insects.
Epic midge year up Scotland's W Coast…
Before you run to cancel your holiday, I should say that this was just one part of a fantastic 3 days sea kayaking, foraging & camping. The midges are not ever-present. But do bring some skills, a midge net & a sense of humour! pic.twitter.com/lI0O21WC6R

— Mark Williams (@markwildfood) August 26, 2020
"Midges have a kind of two-generation season so at the end of May-beginning of June the numbers tend to build up; and that's the first generation of adult midges which have been overwintering as larvae," she added.
"Those females bite, they lay eggs, and then about six weeks later we get a second peak at the end of July.
"Normally that second peak is quite small, relatively small compared to the first one, because it's either hot and dry – which will kill off all the midges.
"Or the typical August weather in Scotland tends to be cool, windy, colder nights and that's not really particularly good for midges for their survival.
"But because we've had the kind of warm, damp, humid weather over the past few weeks; it's been ideal conditions for midges to survive effectively.
"So we're seeing large numbers of females swarming around looking for a 'blood meal'. They'll take a blood meal, lay eggs, and then we might, later in September, probably get a third generation of midges hatching – which doesn't always occur.
"That may be quite small depending on what the weather is by then. If it keeps up warm and wet (it could be) more significant."
However she said if the weather turns colder and windier "we won't see a huge third generation".
'A population of trillions'
Dr Blackwell added: "The population across Scotland is literally trillions of midges. The catch data we've got back suggests the numbers at the minute are at least 25% up on what we would normally expect in August.
"That has kind of been reflected in (sales). We make the Smidge insect repellent and the August sales are normally quite low, but literally it has been flying out the door these last few months.
"It's good for us, a small Dundee company, because we were hit quite bad at the beginning of lockdown. We have pretty much caught up thanks to our friends the midges.
"There is no shortage of them."
She said the worst affected areas for midges are boggy places in the West Coast of Scotland.
There have also been increased reports of midges on the islands, with parts of Perthshire and the Angus Glens also prone to the odd swarm.
The science of midges – from larvae to blood-hungry mums
Through autumn and winter midges remain underground in larvae form, where they play a key role in the Scottish ecosystem, before pupating and emerging as hungry adults around April.
The males tend to die off after mating, while the females linger on in search of "blood meals" from both humans and animals.
Dr Blackwell added: "From autumn into winter they are in the ground, a few centimetres below the ground, as juvenile stages called larvae – little wriggly worm type things.
"They go through four developmental stages and then during the really cold winter months, they effectively over winter don't do anything.
"Come the spring time, as the days get longer and warmer, quickly they pupate. They emerge as adult midges any time from the end of April onward really.
Dundee experts in thwarting midges send 5,000 cans of repellent to 'desperate' Icelanders
"We see our first peak at the beginning of June. The males emerge a little bit before the females, maybe a few days, and then as soon as the females emerge the males mate and they pretty much die off after their first mating.
"The female midges in Scotland is quite clever in that when she first emerges she has got two great big fat bodies which she can use to grow eggs – she doesn't need to take a blood meal.
"But after she's laid that first batch of eggs she'll go on to take one, two or even three blood meals to make new eggs.
"And for those blood meals they'll feed off of cows, sheep, horses and also obviously people."
She added: "The female lays eggs on the surface of the soil. Those eggs hatch into larvae. They burrow down a little bit. They develop over the next four to six weeks to give rise to a second generation.
"Then, as I said, we might get a third generation in September. If it is too cold in September the larvae just stay in the soil and they form the adults for the next year."
Dr Blackwell added: "The larvae are quite important to the ecosystem. Effectively they work a little bit like earthworms in the fact that they breakdown decaying organic matter.
"The larvae are very beneficial to the ecosystem in that they help regenerate organic matter whereas the adults are perhaps less important to us."
Adult midges are eaten by bats and some types of birds.
Where will I find midges? And how can I avoid them?
Midges are most prevalent in sheltered, moist or boggy areas along the West Coast of Scotland. They can be found anywhere inland from the coast
Check the weather. If it's wet and humid you can bet they will be about. Wind also keeps them at bay
Wear a suitable insect repellent
Check the Scottish Midges Forecast before heading out. The website uses data to create "weather forecasts" of midge hotspots in Scotland
Cover up! Avoid wearing shorts and T-shirts, especially at dawn and dusk when midges are most prevalent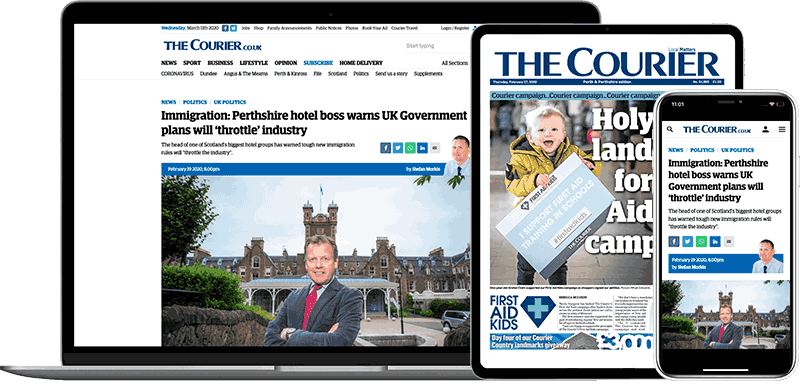 Help support quality local journalism … become a digital subscriber to The Courier
For as little as £5.99 a month you can access all of our content, including Premium articles.
Subscribe