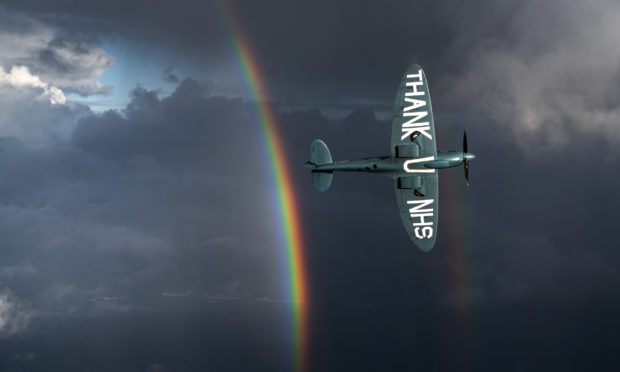 A Spitfire is expected to fly over a series of hospitals in Tayside and Fife this morning, in a show of thanks to medical professionals for their work throughout the coronavirus pandemic.
The Second World War fighter plane, which is owned by the Aircraft Restoration Company based in Cambridgeshire, has been soaring over medical sites across the UK.
The project was inspired by the Clap For Carers movement earlier in the year, and bosses at Duxford Airfield, where the plane is based, have been organising flights every Thursday.
A Just Giving campaign was launched to raise money, offering 80,000 spaces on the aircraft's chassis for supporters' names in exchange for donations.
Today, the aeroplane, which also bears a "Thank U NHS" message on its underside, is due to fly over 25 Scottish hospitals including seven in Tayside and Fife.
Blue Spitfire PL983, nicknamed "L" is expected to fly over Lynebank Hospital in Dunfermline at 10.16am, passing over Queen Margaret Hospital a minute later.
Spotters in Perthshire should be able to catch sight of the vintage aircraft passing over Perth Royal Infirmary at 10.24am and Murray Royal around 60 seconds after that.
It is then expected to head along the Tay to Ninewells, arriving over Dundee for around 10.30am and swinging by Royal Victoria Hospital on its way up to Angus.
Stracathro Hospital is the last scheduled checkpoint in this area at 10.39am before the pilot heads into Aberdeenshire.
It's hoped the weather won't disrupt the schedule. Organisers of the mission, which has raised more than £80,000 for NHS Charities Together, had to postpone plans to fly over Durham and Teeside on Wednesday.
A spokesperson for the project said: "It began with an idea, why don't we fly our beloved blue Spitfire around the local villages for the #clapforourcarers this evening?
"We just weren't prepared for the emotionally charged messages of support and gratitude that we received for that first flight, it was what paved the way for the development of the NHS Spitfire project."