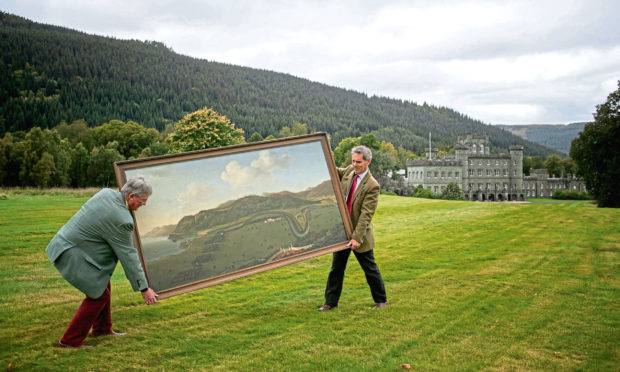 Paintings spanning more than 250 years by some of Scotland's leading artists and other important Scottish objects could fetch more than £1.25 million at an auction in Edinburgh tomorrow.
Bonhams' Scottish Sale is led by a painting of tulips by the Scottish Colourist artist George Leslie Hunter, estimated to fetch £120,000-£150,000.
The artist completed the still life Purple Tulips in the mid 1920s when he was based between Fife and Glasgow, depicting the flowers in a vase alongside bananas and oranges.
Further works by the Scottish Colourists offered in the sale include 1908 painting Paris Street Scene by JD Fergusson, estimated at £40,000-£60,000; and a 15 x 18in painting of Barcaldine Castle in Argyll, by FCB Cadell, which could fetch £25,000-£35,000.
John Sanger's oil painting of Taymouth From The South, commissioned in 1757 for John Campbell, the 3rd Earl of Breadalbane, could fetch £80,000-£120,000; while a William IV carved oak table from Taymouth Castle, bearing the Breadalbane motto Follow Me, could make £3,000-£4,000.
A pair of Lochaber axes made for the visit of Queen Victoria and Prince Albert in 1842 and a Victorian ram's head snuff mull, also from the castle, could each fetch £2,000-£3,000.
More recent artworks offered by Bonhams include a pastel sketch of a Grinning Girl by Joan Eardley that could make £8,000-£12,000, and two paintings by Jack Vettriano.
Fife-born Vettriano painted Ae Fond Kiss, valued at £15,000-£20,000, in 2010 after being commissioned to design a Christmas card to be sent by then First Minister Alex Salmond and his wife Moira, although another design was eventually chosen.
Another Vettriano work, Scarlet Ribbons, Lovely Ribbons, is valued at £50,000-£70,000.
Other objects include a three-legged "creepie" stool said to have been sat upon by Bonnie Prince Charlie while he was on the run in Skye in 1746, which is estimated at £3,000-£4,000; and a snuff box given by Charles to his secretary the previous year, valued at £4,000-£6,000.
Of nearly 300 lots included in the sale, Hunter's 20 x 16in oil painting on panel, Purple Tulips – which is unusually signed twice by the artist – is expected to fetch the highest sum, however.
Born in 1877 in Rothesay on the Isle of Bute, the artist, the son of a chemist, was one of the four stars of the Scottish Colourist school, along with Fergusson, Cadell and SJ Peploe.
Primarily self-taught, Hunter's work is often considered as "the most natural" of the group.
After spells living in California and in Paris before the outbreak of the First World War, he settled in Fife and painted still life and landscapes in his later years.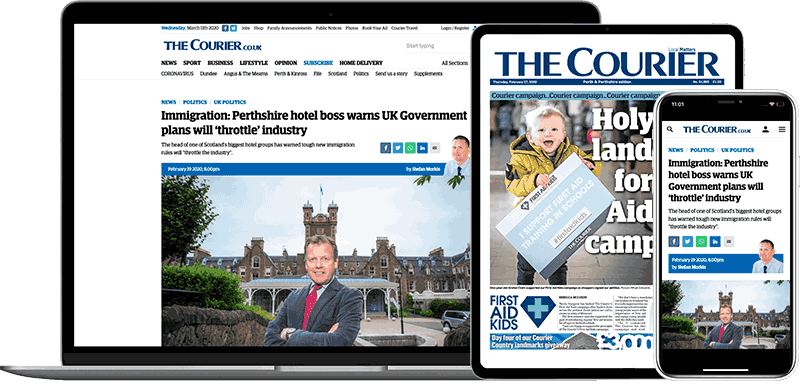 Help support quality local journalism … become a digital subscriber to The Courier
For as little as £5.99 a month you can access all of our content, including Premium articles.
Subscribe