 NHS Tayside must cut spending by up to £175 million in just five years, a new report has revealed.
PricewaterhouseCoopers have said that the health board faces having to save an average of £35m a year from its budget in order to stay "financially sustainable".
NHS Tayside previously told how it would have to save £33m this year alone — down from initial predictions of nearly £60m — with cuts set to come in workforce, drugs and prescribing and procurement.
The £175m would affect budgets between now and 2021.
Dr Jean Turner former chairwoman of the Scotland Patients' Association, said that regardless of where cuts came from, it was "always the patients who suffer".
She said: "Decisions are being made from a financial, rather than clinical, point of view, which can damage patient care.
"If you want to see a doctor for a diagnosis, you should be able to but often doctors are being substituted for nurses and nurses in turn are being substituted for care assistants, to save money. That dilutes the level of service.
"The board has patient targets it's expected to meet, regarding seeing patients within a certain time period.
"They will throw money in these areas to hit these targets and that's when they suddenly find they are in debt and need to save money.
"But if services need to be cut, it's always the patient who suffers."
The report, which scrutinised NHS finances, said: "The board
recognises its historical shortfalls in delivering a high level of recurring savings on an annual basis.
"NHS Tayside's Transformation Board has a key role directing the long-term sustainable change that delivers savings in the context of challenging demographic changes.
"The board acknowledges the significant challenges it faces."
John McAllion, an executive member of the Dundee Pensioners' Forum, said older people were not being given the service they needed.
Mr McAllion, who served as both an MP and MSP in Dundee, said: "The cuts NHS Tayside has to make are being passed on to the health and social care partnerships, which are jointly run by NHS Tayside and the local authorities.
"Because of this, the type of care simply isn't being delivered to many of our older people.
"We have an ageing population, with more complex needs, so NHS Tayside is being asked to look after more people with less money from the Scottish and UK Governments.
"It's not the fault of NHS Tayside and it's certainly not the fault of the doctors or nurses who provide the
service either.
"But, however savings are made, it's going to be to the detriment of patient health somewhere."
A spokeswoman for NHS Tayside said that all health boards in Scotland tried to "drive out waste" in its spending every year to ensure that frontline services are protected.
She added: "We know there will be increasing demand for all health and care services and, therefore, to address this, NHS Tayside has ambitious plans over the next five years to transform healthcare, both in our hospitals and in our communities, which means we will be able to continue to deliver sustainable, safe and high-quality care to thousands of people across Tayside.
"The redesign of services is being clinically-led, which means our doctors, nurses and other healthcare professionals look at all the evidence and best practice before making decisions and implementing changes to our health and care services.
"The areas where we will be focusing our attention to make savings include tackling our nursing agency and locum doctor spending through new initiatives and looking at how we can get the best value from the equipment we buy.
"We know that prescribing expenditure across NHS Tayside has been increasing gradually over the last few years resulting in an overspend month-on-month.
"Through a range of initiatives, which include encouraging patients to have medication reviews and only ordering medication when they need it, we aim to improve the quality of prescribing, reduce waste and increase patient safety in the use of medicines, while reducing our spend on medicines.
"NHS Tayside also has the largest property footprint in the whole of the country. By reducing the number of older, not fit-for-purpose properties that are costly to maintain, we can provide better patient care facilities and improve the quality and location of our services."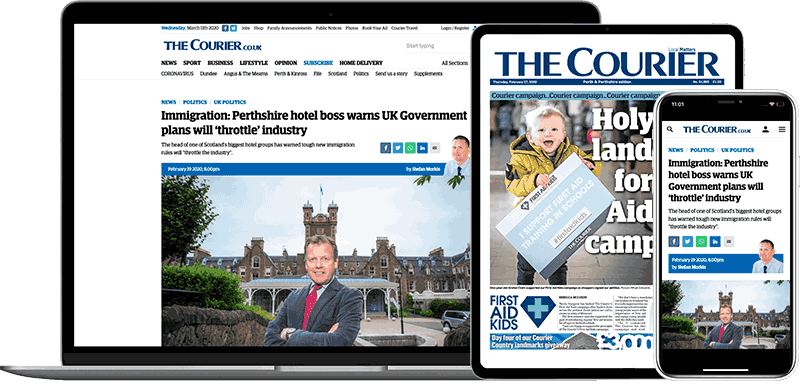 Help support quality local journalism … become a digital subscriber to The Courier
For as little as £5.99 a month you can access all of our content, including Premium articles.
Subscribe