Michael Alexander visited 7th Battalion The Royal Regiment of Scotland – 7 Scots  – on Exercise Sava Star in Croatia. The British Army Reservists, including volunteers from Tayside and Fife, have spent the last fortnight working with the Croatian Army to brush up and learn new infantry skills – as efforts to recruit new reservists continue.
The green smoke bomb arcs through the sky before hitting the sun scorched gravel with a thud.
As the smoke starts to obliterate the landscape, the crack of gunfire fills the air as a group of Croatian regular army soldiers emerge from the undergrowth with weapons poised – throwing themselves to the ground to secure the perimeter of a maze of roofless passageways known as the Skills House.
They are closely followed by Army Reservists from 7th Battalion The Royal Regiment of Scotland – 7 Scots – wearing full camouflage and carrying SA80 rifles. Their mission?  To break in and seize the property as part of Exercise Sava Star – an annual two-week training exercise that gives the battalion a chance to train with NATO allies.
The specially designed building is used by the Croatian Army to practice close combat and patrolling skills.
Today, we are watching from a metal gangway suspended over the complex as members of 7 Scots' 1 Platoon – mainly from Dundee, Fife and Angus – move from room to room and practice how to clear enemy from the building.
They are firing blanks and using smoke bombs instead of grenades.
But it's a realistic way to simulate situations that could easily occur for real in the field.
They're using DTES kit, or the Deployable Tactical Engagement System – supplied by Saab – which works like Laser Quest with sensors on their weapons and clothing measuring their accuracy and every kill.
We watch at close range as the Scots volunteers move from room to room.
'Room clear! One enemy dead! No further access points!' goes the cry. The scenario ends when the whole building is secure.
Platoon commander, Lieutenant Rory Hand, 20, who studies marine biology at St Andrews University, explains that his men have been learning about patrolling, ambushes and operating in a built up area – more specifically house clearance.
It's an invaluable experience for the Scots volunteers taking part in Exercise Sava Star and useful to work with the Croatians as NATO partners who share tactics and mostly speak good English.
Private Terry Monaghan, 29, from Dundee, an unemployed factory worker and former Mill O'Mains Primary and Braeview Academy pupil, has been with 7 Scots for five years and now helps with Army Reserve recruitment, based at Oliver Barracks in Stobswell.
Relishing his first overseas camp for which he is paid £53 per day, he says: "Today this is the first time I've learned how to clear a house. The heat gets to you a bit but it's good."
Corporal William Smith, 42, from Kennoway, has been with 7 Scots, based in Kirkcaldy, for six years. The ex-regular soldier with the Army Air Corps was a gunner in Kosovo and Afghanistan.
Today he juggles life in the reserves with his day job – working as an operating department practitioner in the operating theatre at the Victoria Hospital in Kirkcaldy.
"It's the camaraderie. The running about keeps your level of fitness up. It's constant go all the time. And my wife thinks I'm on holiday!" he laughs.
With cuts to the size of the regular British Army, the country is having to rely more on part-time volunteer soldiers.
The Army is aiming to reach a target of 30,000 trained reservists by 2019.
Last year the Major Projects Authority watchdog said the Ministry of Defence's targets were "unachievable" as it launched its 'A Better You' recruitment campaign aimed at young people.
But the Commanding Officer of 7 Scots, Lieutenant Colonel Piers Strudwick, says that with 10, 841 regular soldiers currently in Scotland, the current tally of 3,944 reservists is increasing by 50 per month.
The Perth-based 7 Scots battalion with bases in Dundee, Kirkcaldy, Aberdeen, Inverness, Elgin and Stornoway has an establishment of 421 reservists. This dropped to 270 in February last year.
But the numbers today stand at 395 with recruitment to 7 Scots of around 10 per month.
"What we've tried to do at 7 Scots is demonstrate relevance and what we can give recruits in terms of employability, friendship, leadership and teamwork," says Lt Col Strudwick.
"People do have these misconceptions about military service. There's a myth, a stigma about being in the reserves. That the government is going to send you to Syria within weeks. That you'll step on a bomb and get your legs blown off. That you'll then come back and be an invalid. And then no one likes you in society and you are ostracised.
"The perception is it's all about hardships – doing what you are told, marching, that it's all about threat and danger. That you're going to get injured. With big boisterous people with lots of medals on their chest shouting at you. That's the perception.
"The reality, particularly in the reserves, is that it's the opportunity to experience something different, and take them to their limits in a safe environment. The message we are trying to get over is how transferable these skills then are to the workplace.
"We are car salesmen, window cleaners, builders –  whatever – all coming together as twice the citizens."
Major  Danny McCallum, MBE, executive officer with 7 Scots, said Exercise Sava Star, involving 100 members of 7 Scots including 40% new recruits, was only the beginning of a very different reserve force.
"If you go back 40 years in infantry, it was a case of 'there's your rifle, six week training, now you are an infantry soldier,' he says.
"It's not like that anymore. We need bright, intelligent, self-motivated people with selfless commitment. The weapons systems nowadays are all about high tech technology.
"Then there's the personal and specialist development. Today someone might join as a private but once we identify if they have the skills there are junior leadership and officer courses available, and we'll assess whether they have the intelligence and initiative to become an officer."
It's 7 Scots' first time in Croatia and for most of the  volunteer soldiers it's also their first time in the former Yugoslav state.
It's a two hour journey by minibus from Split International Airport to the sprawling 'Red Earth' military base, high in the arid mountains above the Croatian town of Knin.
Described to our small group of media visitors as "the Croatian Army's equivalent of Barry Buddon", we are warned during our final ascent up a twisting, dusty, dirt track that our salubrious accommodation resembles something like the "Wild West".
It's an apt description as we set our eyes on two rows of very basic wooden huts with corrugated iron roofs, each containing two bunks.
Here, air conditioning means leaving the door open. And going to the toilet means using mosquito-ridden porta-loos lined up at the rear.
A shower block at the top of the camp operates for a short period at the start and end of the day – when the Croatians switch on the generator.
There's also a small café where a Croatian catering firm brings in food for the troops every day. Good quality 24-hour ration packs are issued by the 7 Scots quartermaster when troops go out into the field.
But the main attraction of this vast remote site is its miles of training ground for soldiers.
There's no live firing on this exercise – blanks are being used instead – but the deliberately chosen austere environment gives soldiers invaluable experience of working in heat, and working with NATO partner Croatians, far from home.
"If you look at where the British Army is going in the next few years, it's probably going to be all round in the Middle East," adds Major  McCallum.
"We're already working in the Middle East. We've got guys still working in Kabul. We've got training teams in Syria. We're got Libya. We've got things happening in Nigeria with Boko Haram. So this training links into that and gives the guys experience of how to look after themselves in an austere environment."
Lt Col Strudwick, agrees that the austere environment is one of the main training attractions, and would be applicable to many potential future conflicts. The aim is to get a company ready for deployment within three years.
The conditions bring their own challenges and risks, however, with the recent deaths of soldiers in extreme heat during training exercises in the UK a reminder of the potential dangers of over exertion.
Safety is therefore paramount, and in the 34 degree heat of Croatia, we are shown the sensitive equipment used by the army to monitor temperature and gauge the risk of climatic injury.
But in his force health protection brief, Captain Chris Sweeney, medical officer (3 Medical Regiment) makes us aware of other threats in this austere mountain environment ranging from airborne and contact diseases to bites from feral and venomous animals.
We are advised to stay away from walls or mounds of rocks as these are the favoured hiding places of the Common European Viper, Hornbills Viper and the East European version of the Black Widow spider.
Wolves, wild boar and lynx are also known to wander these lands – and should be avoided.
We are advised to cover ourselves at dawn and dusk to reduce the risk of bites from mosquitoes and tick-borne encephalitis.
And we are warned of the risk from rabies and urged to seek urgent medical attention if we are bitten by a snake or one of the feral dogs and cats wandering the camp.
Hand hygiene – and regular use of hand sanitiser – is also essential in a camp environment, as communicable disease is the number one cause of days lost on deployment.
The most notable risk, however, is temperature and the risk of climatic injury through the body overheating. The period from midday to 3pm is worst and should be avoided.
Captain Sweeney and his colleagues also give us a presentation on the battlefield medical kit used to keep injured military alive in a war situation.
The pack, which in a war situation can keep five or six wounded soldiers alive in the field until they reach hospital, includes treatments for catastrophic haemorrhage and emergency tracheotomies for patients with a blocked airway.
The atmosphere at the camp is great, however, and everyone is clearly enjoying the adventure of being away from home whilst learning new skills.
For Captain Alan McEwen, Dundee-born Regimental Operations Support Officer for 7 Scots, the house clearances and section patrols bring back memories of his life as a Black Watch soldier stationed in Germany during the Cold War.
There he spent much of his training learning how to shore up buildings in Berlin against the threat of a Soviet attack.
As we meet another group of soldiers embarking upon training, he explains that when building clearance is done for real, it is "highly manpower intensive" – particularly when you are up against an enemy determined not to give in.
"Take Stalingrad," he says. "It was hugely physically challenging. It was hugely ammunition dependent. "The defending is probably even more physically draining because you are preparing a house to defend against an enemy determined to get in that house and kick you out the back door.
"You are either using whatever is naturally there.
"In this occasion, probably piles of earth piled up to protect you from ammunition coming through the wall to hit you. Sand bags if you are lucky. And timber to shore up your roof so that mortars artillery don't send the roof crashing down around you.
"It's a phase of infantry war that's totally different to open air fighting. It's an area of training that's got a whole book on training to itself."
More recently, the technique was used extensively in Afghanistan. And the consequences could be brutal.
"A lot of the time the Taliban would go in and hold the locals hostage as shields against the peacekeeping forces," he adds. "Sometimes an explosive entry would have to be made to get in and then work systematically to clear whatever your unit is expected to do. It's infantry soldiering at its most basic and can be very intensive."
Captain McEwen, a Dundee United supporter, also talks us through a section patrol involving infantry. It's all about the element of surprise, he tells us, as two soldiers crawl forward behind a wall then through a 'grenade' to neutralise an 'enemy' behind a busk.
"This is real soldiering, " he says. "Bread and butter stuff. And recruits become highly skilled in that too."
In Friday's Courier, part two of The Courier's coverage of Exercise Sava Star will  look at efforts being made to get employers onside and speak to more volunteers about their experiences – including their taste of adventure training.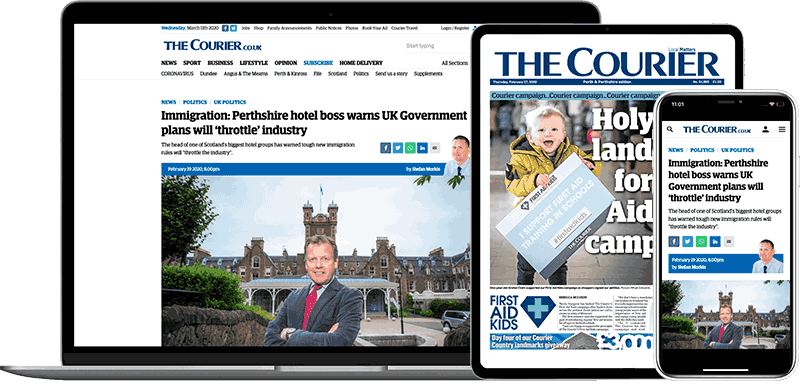 Help support quality local journalism … become a digital subscriber to The Courier
For as little as £5.99 a month you can access all of our content, including Premium articles.
Subscribe