Michael Alexander visited 7th Battalion The Royal Regiment of Scotland – 7 Scots  – volunteers on Exercise Sava Star in Croatia. In this second special report, the efforts being made by the Army Reserve to get employers onside are looked at along with a focus on the adventure activities enjoyed by reservists.
As the Army reduces regular soldier numbers and pursues its target of 30,000 trained reservists by 2019, its high profile 'become a better you' recruitment campaign has focused on how reservists can achieve their potential by learning new skills that can be transferred to the civilian work place.
In an interview with The Courier on Exercise Sava Star in Croatia, the Commanding Officer of 7th Battalion The Royal Regiment of Scotland, Lieutenant Colonel Piers Strudwick said that 7 Scots, currently recruiting around 10 new members per month, had to demonstrate "relevance" to potential recruits.
In addition to the best army training in the world, rewards for reservists, he said, include employability, friendship, teamwork and leadership.
But with reservists expected to commit to a minimum of 27 days training per year, go on annual camp for a fortnight – and face the possibility, at some point, of being mobilised for up to a year – what happens if reservists' employers do not recognise the benefits?
That's where former Royal Engineers reservist Dundee-based Major Ron Macgregor, 70, of the Highland Reserve Forces and Cadet Association (HRFCA) comes in.
With 16 years' experience working in HR for British Telecom and 14 years as a senior lecturer at Dundee College and Dundee University, Ron took on the role of regional employment engagement director lead for HRFCA 16 years ago.
Covering an area from Dundee to Inverkeithing and Dumbarton to Shetland, his task is to "enlighten" employers about the skills reservists bring to the civilian workplace.
It's a tough ask. But he is already seeing the benefits.
"The Chartered Management Institute did a survey some years ago and came up with a figure that on average every reservist is exposed to £8500 of transferable skills training every year," explains Ron.
"I taught management and there are very few companies in the world that make that kind of investment in continual professional development. These skills are there for the employer to use when the uniform comes off, but a lot of employers don't even know what reservists are doing."
Commanding officers have now been instructed to write to employers once a year and tell them what reservists, who are all volunteers, have been doing and what skills have been attained.
An employer can say no, adds Ron, but legislation says they are not allowed to discriminate against someone because they are in the reserve forces.
"Now because of the situation with less regulars," Ron continues, "there's a requirement for more well trained reservists. Make no mistake without the support of employers the reserves of all three services would wither on the vine."
Ron says that for the bigger employers it's not really a problem because if staff are taken out there's probably less impact. But for the smaller employer, problems can arise.
"During the mobilisation process there's latitude in there to compensate the employer both financially and to help find a replacement," Ron says.
"But if one person in a four man company is mobilised to go away for a year, you can see how the employer might get worried."
Ron has taken a selection of employers on five overseas trips, including this one to Croatia – and he said the feedback had been "very positive with amazement at what reservists actually do."
He adds: "In each case they've left with a sense of 'wow – I didn't realise reservists could do the things they are doing.'
"In one case an employer even said he was going to promote this person simply because of what she had seen out on the ground."
One of the employers visiting Exercise Sava Star in Croatia was John McHugh, 42, a partner in the Edinburgh-based Harper McLeod law firm.
John says the reason he came to be involved was one of his clients had a reservist who was 'called up'.
Since then his client has become closely involved in encouraging other employers.
Encouraged
John adds: "My aim has been to find out what exactly reservists do. I'd been told by other people what happens. It's nice to come and see it for yourself. Spending a few days working and living with the soldiers for a few days is quite educational.
"It's made me feel encouraged and quite impressed about what reservists do behaving like regular soldiers and involved in all the same activities and up to the same standards. I can see the benefits for employers thinking about taking on reservists in terms of the skills and quality of the people."
Of course, there's only so far the army can go in terms of being 'touchy feely'. After all, it's ultimately still training people to do a job that requires them to plunge a bayonet into an enemy's chest when required to do so.
But speaking to The Courier at the Red Earth army camp near Split, Glasgow-born Command Sergeant Major Jason Dickson, RSM for 7 Scots, explains how the British Army is trying to "move with the times" through the setting up last year of the army leadership code.
It aims to make the army more "inclusive" and a "modern employer" as it tries to recruit more women and ethnic minorities.
With women to be allowed to fight in all front line combat roles by 2018, some critics have raised concerns that the new code could make the army too concerned with political correctness.
But the code aims to crack down on a culture of bullying – something which Sergeant Major Dickson says is vital because, he admits, the army overall has been "getting it wrong".
He says: "We (the Army) have been quite open and honest about where things have gone wrong.
"You'll have seen stuff historically in the news – the  Deepcut training incidents – did people kill themselves or did they not?
"The hotel receptionist in Iraq who was taken away by soldiers and basically beaten to death and interrogated by soldiers.
"There's been prisoners interrogated and tortured. The British Army have been guilty of all that stuff.
"Although we never condoned any of it, we let it slide because we were too involved in operations.
"The army's got over sexualised bad language. Stuff that in any other employment wouldn't be accepted but we tolerate as banter.
"There was a study that came out recently that said something like 60% of females in the army had been sexually abused verbally or physically.
If my daughter turned round and said I'm joining army, I'd be like I don't think so.
"So the army leadership code is looking to change that culture."
As previously reported by The Courier, for the 100 or so Army Reservist members of 7 Scots taking part in Exercise Sava Star, the focus of their fortnight has been on learning and revising basic infantry skills at the Red Earth army base, high in the Croatian mountains north of Split.
It's also giving them an invaluable opportunity to work with members of the regular Croatian Army and build camaraderie amongst their own number, who include many recent recruits with minimal Army Reserve experience.
But built into their trip is the opportunity to visit one of the most beautiful parts of the Croatian coastline and have a go at learning new adventure training skills.
The Adriatic port city of Zadar is a city with a soul. Its irresistible Mediterranean charm has grown out of its city character, with a history entwining everyone from the Liburnians, Romans and Bizantines to the modern day Republic of Croatia.
So it's also the perfect place for members of 7 Scots to enjoy some rest and relaxation on a 48-hour break from their soldiering drills.
The village of Tisno can be found a few miles up the road from the historic centre of Zadar, which itself is a two hour drive from the Croatian army base at Red Earth.
Here, a dusty track winds its way through pantile-roofed houses and olive groves to reach a rocky beach where members of 7 Scots are taking turns to try scuba diving – sharing the waters with Croatian families who are cooling off amid sweltering 34 degree temperatures.
Others have taken the opportunity to go caving, mountain biking or hill walking.
As I was given the opportunity to try scuba diving for the first time – reaching a depth of 4.5 metres during a 19 minute dive – members of the reserve told me why they enjoyed the balance of soldiering and learning new activities.
WO2 Steve Lawrence,48, a born and bred Dundonian, is running the adventure training element of the exercise along with Major Jimmy Pearson and Captain Ken Scott.
WO2 Lawrence, a former Charleston Primary and Menzieshill High School pupil, has been in the army for 30 years where he spent most of his career in Germany.
He joined the regular army at 18 serving with the Royal Army Ordnance Corps then the Royal Logistics Corps. He then transferred five years ago to the Royal Regiment of Scotland and is based in Perth at Army Reserve HQ.
Highlighting the importance of adventure activities, the mountain bike enthusiast says: "We want the guys to go back from this and spread the word. Get more people to join up. 'Look you are getting two days in a four star hotel!'
"It's a bit of R&R. Whatever camp they go to they would get this. It's also important to integrate with foreign forces.
"We see how they work. This is the fourth one I've done now after Spain, Cyprus and Germany. It's fantastic. A great opportunity."
Major Ian Bunce, 50, OC HQ company in Perth, joined in 1985 and came up through the ranks as a 'late entry' officer, eventually commissioned in Dundee.
He learned to dive through the Army Reserve.
Ian's day job is a radio engineer for Ofcom, specialising in radio interference.
He's enthused however after his latest diving experience.
"I saw seahorses, fish, marine life. It was a great weekend opportunity to go down and experience that."
Ian said the benefits of R&R to the Reservists  – including the occasional night out on the town – are two-fold.
"It exposes people to opportunity, and it's a great bonding exercise," he says.
"There's no rank doing anything like this. It's good for the Jocks to just kick back, chill out, see us as human beings instead of someone that always tells them what to do."
Ian says he is lucky as he gets support from his wife and kids when he goes away. They have only ever known him to do this.
"I'm lucky I don't get much ear-ache!" he laughs. "A lot of the wives, girlfriends, boyfriends just see it as part of the relationship. If they buy into it it's much easier."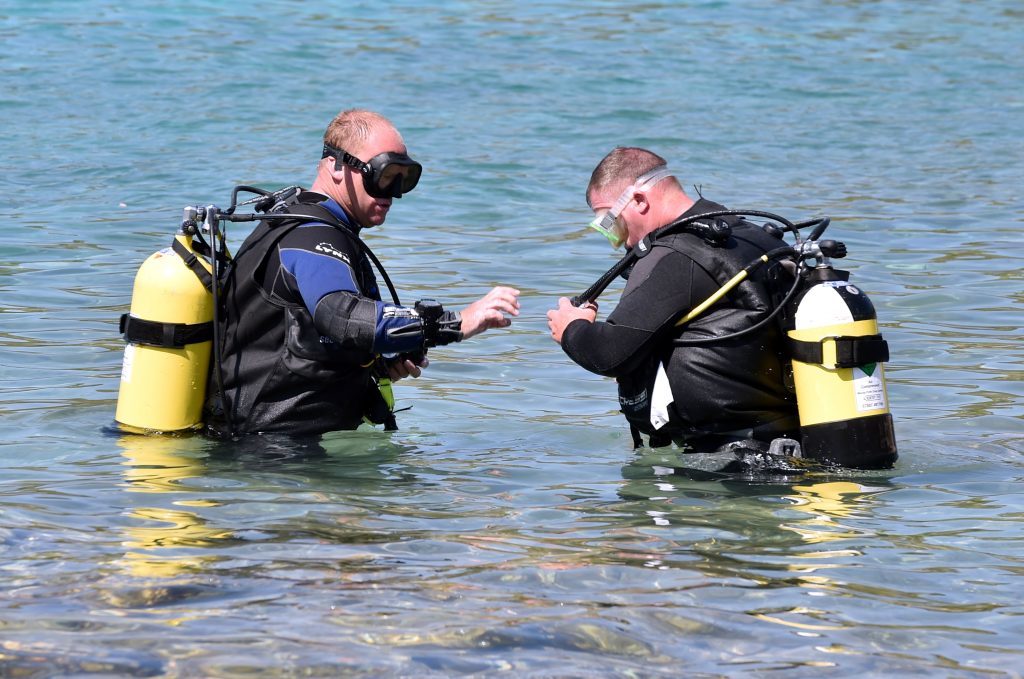 Captain Ken Scott, of Elgin, OC of 7 Scots regimental recruiting team, has been in the reserves for 18 months after 37 years in the regular army.
The owner of Moray Firth Diving Centre, he has been diving since 1985. He learned through the military in Belize.
Having gone from ocean diver to technical diver, he plans to dive on First World War wrecks at Scapa Flow in coming weeks.
He says: "Having dived all over the world, there's no real best. If I'm looking for wrecks then the likes of Indonesia and  Scapa Flow are perfect. If you are looking for marine life, the Maldives are great. I just dive wherever I can. Just get in the water and see what's there."
Captain Scott said the gritty seabed of the Croatian coast was ideal because when novices touch it, it doesn't throw up much silt.
"It's perfect visibility so you can actually see what the trainees and novices are doing", he adds. "I still say that if you learn in the UK you can dive anywhere. You have a wet suit which has more buoyancy issues."
The captain emphasises this was far from a 'jolly' for the reservists as it put them into an environment where they were "apprehensive, maybe nervous."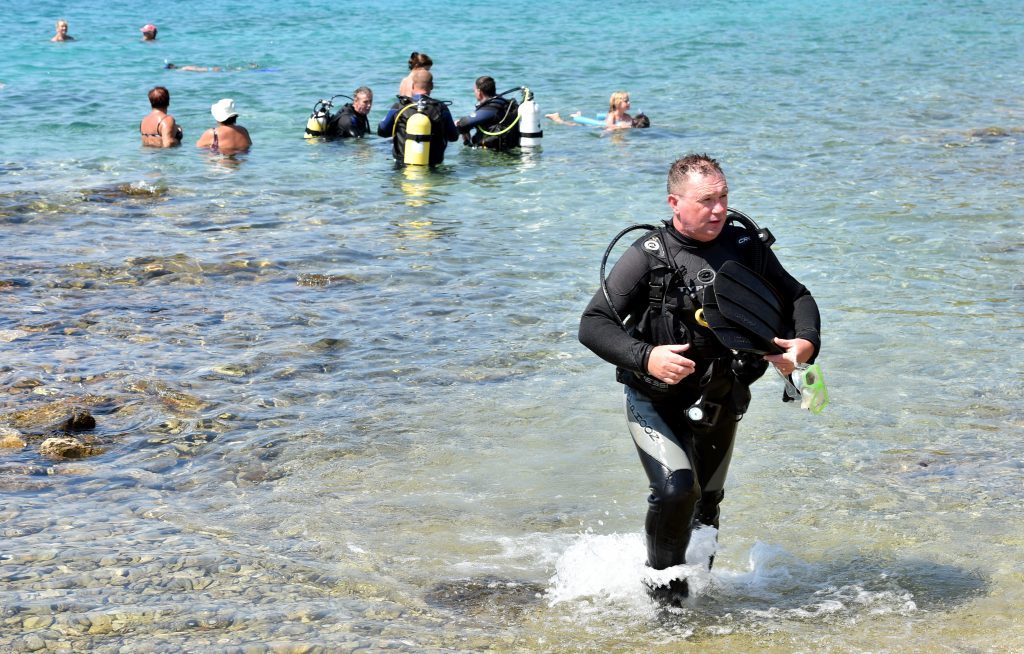 He adds: "It just shows them that with proper training, they gain that knowledge and experience, and can overcome that fear factor. It is also discipline. When people are diving they've got to know what they are doing. They've got to stick religiously to what they've been taught to deal with any incidents.
"It is a dangerous sport – there are a number of deaths each year unfortunately – but that is usually down to the individual. Very rare is it the equipment that is to blame. So the service individual is gaining confidence above everything else and able to deal with situations."
Two people having a great time together in the water are Perth husband and wife team Derek Jarvie of the Reserves MT Platoon and his 7 Scots chef wife Corporal Michelle Jarvie, 37.
The couple, married for seven years, met in the Reserves on camp in Romania and now have three children -Terri, 15, Natasha, 11 and Erin, 10.
Derek, a former Stagecoach worker who now works for Sidey windows is a driver with the Reserves MT platoon. Michelle is full time chef with HQ in Perth.
Michelle says: "We go away a lot but different times as well. We can be at same camp and not see each other. It's nice to be here together though. Both of us have been diving today. It was great. Taking away my fears! How many places can you go to work to do this and get paid for it?"
Private Colin 'Mitch'  Michelson, 31, from Kirkcaldy is looking forward to hill walking near Zadar after a morning of house clearances and section patrolling at Red Earth.
But he'd equally be at home talking politics and discussing his views on the European Union.
Mitch served eight years with the regular army including 5 Scots and has now spent six months with the reserves.
His day job is working for UKIP MEP David Coburn as executive assistant and office manager – and he says it's the skills he acquired through the army that he says got him the job.
Not everyone is such a fan of the heat, however.
Private Connor Nicholls, 27, of Perth, was serving in Afghanistan with 3 Scots the Black Watch when he was given the nickname Casper.
"It was Herrick 10 in 2009," he recalls. "The old issue sun cream from the army turns you really white. It's so thick, and because I'm ginger I had to lather it on. The sun doesn't agree with me! One guy said 'you're so white you look like Casper and that was it! It just stuck!"
Originally from Preston, Private Nicholls served almost six years with the Black Watch.
He  has been in the army reserve for 18 months, doing camps in Kenya, Cyprus and all over the UK.
"I moved up when I was 16. Joining the Black Watch, you always get the banter as an Englishman, but they accepted me!
"The regulars were full on,"he adds. "You live, breath, eat and sleep the army. But the reserve allows me to have the best of both worlds.  I had my youngest child and that pushed me to come out and become a reservist.
"I wanted to be a dad and still be part of the British Army. So here I am! It's great the opportunities that the Army Reserve give us."
To see more on Exercise Sava Star, click here.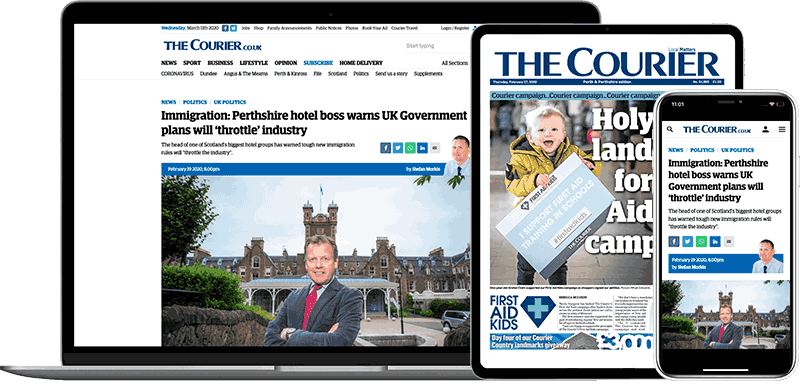 Help support quality local journalism … become a digital subscriber to The Courier
For as little as £5.99 a month you can access all of our content, including Premium articles.
Subscribe