An estimated 90,000 people in Scotland have dementia, and with an ageing population, that number is set to rise. MICHAEL ALEXANDER meets Dundee-raised Dr Maggie Ellis of St Andrews University who is leading a pioneering project to make the Fife town a 'Dementia Friendly Community'.
Picture the scene. An older man walks out of a shop without paying for his bread and milk.
The automatic reaction of the shop keeper might be to phone the police.
But what if the shopkeeper was a trained dementia friend and suspected the man may have  Alzheimer's Disease and subsequent memory problems? Would the response be different?
It's this very real kind of scenario that Dundee-raised psychologist Dr Maggie Ellis is exploring as part of a pioneering project recently launched in St Andrews.
The 44-year-old Fellow in Dementia Care at St Andrews University, is the driving force behind the new initiative aimed at making St Andrews a Dementia Friendly Town.
A collaboration between St Andrews University and Alzheimer Scotland, the aim is to develop a network of shop assistants, businesses, police, fire, and ambulance staff, bus drivers, school pupils, community leaders – people who are committed to working together and helping people with dementia to remain a part of their community.
These people with be trained by Dr Ellis using a tailored programme based on her research findings.
Various meetings have already been held to bring together volunteers and set up a steering group.
Now, with the "massive" support of St Andrews University and students, Dr Ellis has training lined up with others including St Andrews Links Trust – to have golf professionals take small groups of people with dementia out on to the links – and the Byre Theatre – to put on dementia-friendly movie-showings.
Businesses including local café Zest and Greybridge Design have also been "incredibly supportive".
"In the UK there are currently 850,000 people with a diagnosis of dementia and that is growing all the time," explains Dr Ellis in an interview at St Andrews University.
"Age is the biggest risk factor for dementia and we are all living longer. The longer we live the more chance we have of getting dementia.
"We really need to have ways of keeping people with dementia included in social life, because they can really miss out on that."
"People living with dementia tend to back away from social situations and those around them find it increasingly difficult to communicate with them .
"My research shows very clearly the benefits to all  in keeping social connections going. That's really the basic idea behind Dementia Friendly Communities. Keeping people connected to others and to the world around them."
Maggie was 25-years-old and working as assistant bar manager at Dundee's Breadalbane Arms when she realised she wanted to "do something else" with her life.
The former pupil of Powrie Primary and Craigie High School in Dundee was passionately interested in psychology and entered the degree course via the Dundee University access scheme.
With ambitions to become a clinical psychologist, working with patients, she knew she had to get voluntary work under her belt to have any chance at all of getting onto the highly competitive clinical course.
She began volunteering with Alzheimer Scotland's day care service at Whitfield Parish Church and she loved it right away.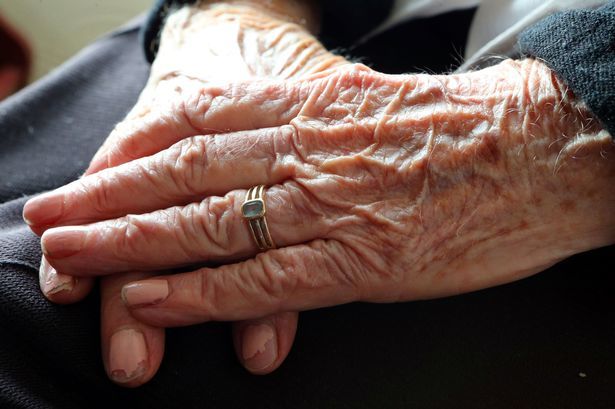 Graduating from Dundee University, her single honours degree in psychology and extensive voluntary experience secured her a job as a research assistant on a dementia-related project at St Andrews University.
Since then she has worked almost solely on applied dementia research – mainly on facilitating communication for people with very advanced dementia.
She also teaches a very popular senior honours module on the Psychology of Dementia and runs a distance learning Postgraduate Certificate Programme on the Psychology of Dementia Care.
With an ageing population and growing numbers of people with dementia, the courses are growing in popularity because of their clinical relevance.
And the Dementia Friendly St Andrews project – part of Alzheimer Scotland's wider programme –  has grown from her senior honours module as students, many of whom are already trained  to be dementia friends, look for new ways to apply their learning to real-life situations.
Now the focus is on fundraising and the possibility of recruiting a full-time post holder to move the initiative forward.
Other ideas being looked at include exhibitions for the artwork of people with dementia, photography, and craft sessions where people with dementia have the opportunity to teach younger generations.
There are also plans in place to teach children more about dementia so that there is greater understanding should something happen to an elderly relative.
North East Fife MP Stephen Gethins recently lodged an Early Day Motion at the Commons acknowledging the project, and support has also come from North East Fife MSP Willie Rennie and new Principal of the St Andrews University, Professor Sally Mapstone.
Awareness is also being raised through a Dementia Friendly St Andrews Facebook campaign whereby people take a photo of themselves giving a thumbs-up in front of a brick wall.
"The thumbs-up signifies support for people living with dementia," adds Dr Ellis, "and the brick wall represents the issues that people with dementia face. The idea is that we are trying to break down those barriers through what we are doing with Dementia Friendly St Andrews."
Scientists do not yet know exactly what causes dementia. Medical researchers all over the world are working to find causes and develop treatments.
But as a cure is a long way off, Maggie says it simply underlines the importance of  the Dementia Friendly Community  approach .
Social life
She adds: "Until there is a cure – if there is a cure – we need to find ways of helping people in the here and now. There is a lot of emphasis on a cure but I think there should be more attention paid to what happens to people who have the illness now.
"What are we doing to keep them included in their social life? What are we doing to keep them occupied? What are we doing to help them now?
"The more people know about it the less scary it becomes. Family care givers might be more likely to care longer for someone at home if they know more about it, given more coping strategies, more information, more support.
"Then people with dementia could stay at home for longer. There are of course situations where people are no longer able to be cared for at home.
"Then a care home or hospital does become inevitable – but we need to look at how they are cared for in those places as well, because that's not 100% either."
Maggie is reluctant to comment on The Courier's award-winning Frank's Law campaign, which calls for financial support for those suffering with early dementia.
"That's not really my area," she says.
But she adds there is an issue whereby dementia isn't always picked up so quickly in younger people because they are not expected to have it.
"People who are younger aren't always diagnosed as early as they could be, "she adds, "because there are symptoms of dementia that can mimic things like depression.
"Again it's down to education and awareness, and there is certainly more work there to be done."
malexander@thecourier.co.uk