As Halloween approaches, Michael Alexander puts away the plastic pumpkin and investigates some of the pre-Christian pagan traditions still celebrated today.
Halloween's coming! Halloween's coming!
Skeletons will be after you!
Witches cats and big, black bats,
ghosts and goblins too!
Miaow, miaow, miaow go the witches cats,
Oo, oo, oo, oo,oo, ooo oo, ooo!
Flap, flap, flap, go the big, black bats,
Oo, oo, oo, oo, oo!
BOO!!
The arrival in the shops of pumpkins, plastic witch hats and scary masks can only mean one thing – it's almost Halloween.
But away from the commercial paraphernalia and the spooky songs sung in nursery school classrooms, the roots of the festival have been lost in the mists of more ancient times.
The name is a contraction of All Hallows' Evening – the night before the Christian feast of All Hallows' Day – and many of the modern traditions are believed to date back to old Celtic harvest festivals, which in turn may have had pagan origins.
However, some of those ancient pre-Christian customs are still celebrated in parts of Scotland, with several sacred sites to be found in Tayside and Fife.
One of the most mysterious locations still linked with pagan activity is Dunino Den near St Andrews in Fife.
The wooded hollow can be reached from Dunino Kirk, down a path which leads first to a rock-cut well and a carved footprint – thought to have been a Pictish-era ceremonial pool – before descending down steep stony steps into a secluded glen.
Here you find the den – a natural amphitheatre, flanked by natural stone "pulpits" and occasional caves along the river bed of the Kinaldy Burn.
A huge rock-cut Celtic cross on the cliff face is believed to date back to Victorian times, while other Celtic graffiti may also be more recent.
However, the sense of atmosphere and history is palpable and there is clear evidence of the modern day pagans who still make the pilgrimage to the site next to the gurgling burn in order to leave offerings of coins and "clooties" – strips of cloth representing wishes and prayers.
One beech tree is adorned with tokens such as a toy panda, a pink sock, ribbons, feathers and seashells, while a neighbouring sycamore is festooned with more ribbons, plastic jewellery and a small bag containing a spell.
Coloured pennants are strung next to the burn, including one which reads: "I connect with spirit, I invite sacred transformation, I embrace the unity of all beings".
Marianna Lines has been drawn to sites such as this since she emigrated to Scotland from the US in 1977.
The Atlanta, Georgia-born artist, writer and self-confessed "white  witch" has spent much of her life studying the carved stones of Scotland – including many in Fife, Angus and Perthshire. Co-founder of the Pictish Arts Society, she has visited significant sites with international pagans, wiccans and followers of the "white goddess" – those who believe in the divine power of the "mother goddess" – and believes strongly in their ancient powers.
It's a faith which has been put to the test recently following a diagnosis of lung cancer, however her commitment to positive thinking and meditation holds firm and she has been revisiting cherished locations as part of her own personal healing quest.
Marianna, a fellow of the Findhorn Foundation in Moray, where she stayed for seven years, is rattled by the modern day portrayal of "witches' as broom-stick riding hags with pointy hats" and believes our ancestors understood the significance of sites such as Dunino far more than we give them credit for.
"I think part of the attraction about places like Dunino, or the standing stones in today's world is the mystery behind them, and the fact we don't really know what rituals went on there," she says.
"Because the history is so remote, we don't really know what they, or the Pictish symbol stones elsewhere, mean. We can fabricate what could have happened. But really it is the whole concept of the sacred space that makes them special. It's the vibe of places – they carry their own energy."
It's little wonder that such sites attract "intuitive people" in search of "their own level of connection, inspiration and connection to the earth," she says. However she believes some clootie sites have become such eyesores that they run contrary to the pagan principle of earth, fire and water.
"The Clootie Well on the Black Isle is a good example," she says. "Hundreds of rags have been tied to trees to bring good luck to people – many who are ill. It's an ancient site dating back centuries. But there's a local superstition that you can't take anything away from it because if you do you take away the illness that people tried to leave there. It's ok up to a point but I feel it's gone completely over the top."
Parts of Angus have also become a magnet for modern-day seekers of spiritual enlightenment. Prominent sites include Aberlemno, between Forfar and Brechin,which is home to a notable collection of Pictish monuments. A few miles to the west, Hunter's Hill near Glamis boasts a mysterious ancient stone disguised as a larch, which features images of a four-winged angel, a bird-headed man and a wriggling serpent.
The area was popular for a time with so-called "New Age Picts", who travelled there to celebrate the anniversary of the famous Battle of Nechtansmere, in which the Picts secured their independence from the Northumbrians on May 20 in the year 685 AD. It was the scene of further angry clashes in 1996 when police performed a "military style raid" on a group of several hundred travellers who had spent three weeks camped on top of nearby Dunnichen Hill, amid complaints from residents about noise, mayhem and attacks on livestock and game.
Another notable site is the Crooked Glen of the Stones at Glen Lyon in Highland Perthshire. This ancient shrine deep within Glen Cailleach is made up of a collection of bell-shaped river stones in a rough built turf shelter, and is considered to be the oldest uninterrupted pagan ritual site in Britain, if not Europe.
Three principal stones represent the Cailleach (the old woman), the Bodach (the old man) and their daughter Nighean. For centuries this "family of stones" have been given ritual care, brought out of a turf house every spring at Beltane and put away every winter at Samhain.
It's locals who carry out the ritual. Yet according to retired history teacher Neil Hooper, 79, a past chairman of the Breadalbane Heritage Society, there remains considerable mystery about this tradition.
"We did our own research and discovered a reference to the stones in 1880," he explains. "It's been suggested it's an ancient site dating back thousands of years but the truth is no one really knows. It's very possible it had historic significance as the site encompasses the headwaters of the Tay and the Lyon and the land there was once the natural boundary between the Picts and the Scots."
Originally from Dundee, he has lived in Fortingall for 30 years, and has heard differing stories about the rituals around the "family".
"The owners of the estate once claimed the tradition had been made up in the 1950s – but that story itself might have been made up to keep people away," he says.
The Anstruther-based Pagan Federation (Scotland) must also remain shrouded in mystery after it failed to respond to repeated requests for an interview with The Courier.
However, according to the 2011 Census, there are 5,282 people calling themselves pagans in Scotland and 75,281 in England.
The group's website lists its principles as "love for and kinship with nature. Reverence for the life force and its ever-renewing cycles of life and death; a positive morality in which the individual is responsible for the discovery and development of their true nature in harmony with the outer world and community, and recognition of the divine which transcends gender, acknowledging both the female and male aspect of deity".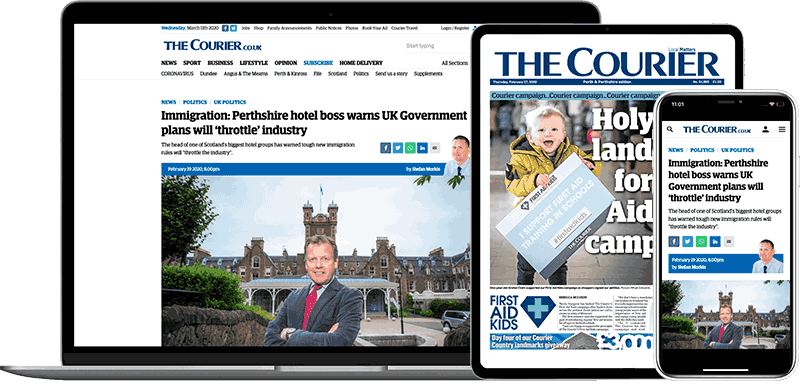 Help support quality local journalism … become a digital subscriber to The Courier
For as little as £5.99 a month you can access all of our content, including Premium articles.
Subscribe