Cancer Research UK wants sugar-laden drinks to be treated like smoking in the battle to prevent cancer. So with a sugar tax on the horizon, is more action required? Michael Alexander reports.
Walk into most supermarkets and you'll see them. Stacks of fizzy drinks on multi-buy offers – usually not far from chiller cabinets offering bottles as part of lunch time meal-deals.
There's no denying why fizzy drinks have become so popular. They are tasty, convenient, and relatively cheap thirst quenchers backed by high profile, multi-billion dollar advertising campaigns which have ingrained them into the fabric of modern life.
Everywhere from sports centre vending machines to cinemas offer them as pick-me-ups or special treats.
Yet with few nutritional benefits, they have been increasingly linked to weight gain, obesity, tooth decay, diabetes, osteoporosis, kidney damage, heart disease, increased blood pressure and other health problems.
In children, soft drinks have been linked to addict-like cravings, as well as twisting kids' appetites so they hunger for junk food.
So does a more robust approach need to be taken by the Scottish Government to combat the health implications, or is it just another case of the 'nanny state' trying to tell us what to do?
Cancer Research UK thinks tougher action is required. When the charity launched its Scale Down Cancer campaign last month, shock new figures revealed that more than a quarter of Scottish children (83,000) are overweight or obese when they start primary school – and many of these calories are coming from sugar-laden drinks.
The figures from the Scottish Health Survey were even higher for Scottish adults, with 36 % overweight and 29 % obese.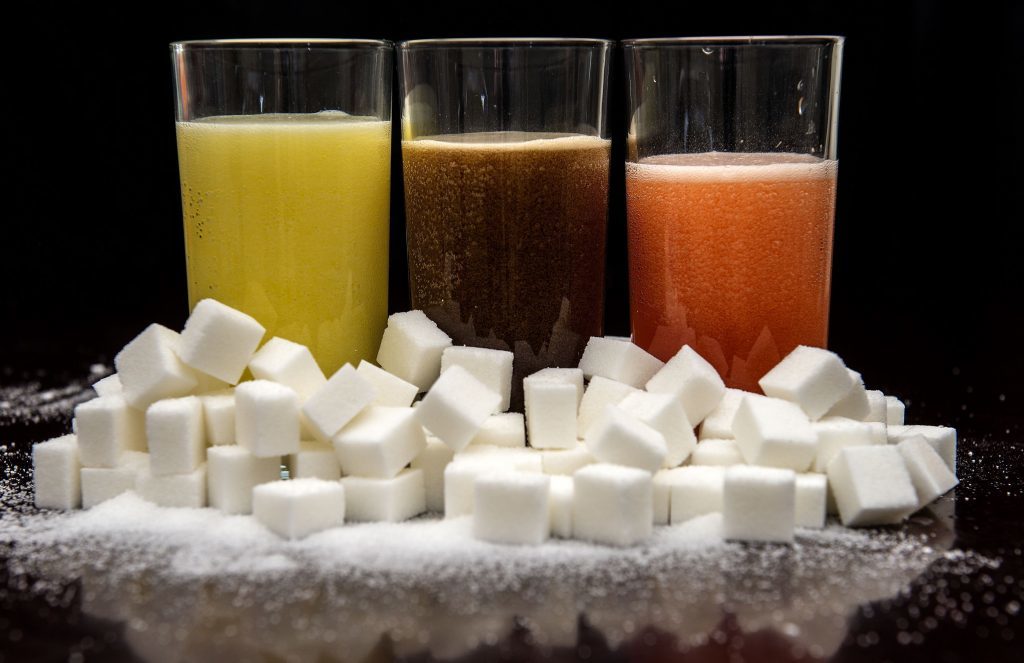 Now, as new statistics published this week reveal that young people aged between 11 and 18 drink the equivalent of almost a bathtub full of sugary drinks in an average a year, Cancer Research UK's prevention expert, Professor Linda Bauld, is calling for sugar-laden drinks to be treated like smoking in the battle to prevent cancer.
The health campaigner, of Stirling University, says obesity is the UK's second-largest single preventable cause of cancer after smoking, linked to an estimated 18,100 UK cases per year.
Yet worryingly, almost 75% of Scots are not aware of the association.
While Professor Bauld welcomes the UK Government's impending sugar tax due to be implemented in 2018 – a move that was welcomed at the time by celebrity chef Jamie Oliver – she says it does not go far enough.
Measures she would like to see at the heart of Scottish Government strategy to improve Scots' diets include restrictions on advertising of unhealthy food and drink and action towards fewer supermarket multi-buy discounts.
"It's shocking that teenagers are drinking the equivalent of a bathtub of sugary drinks a year," she says.
"Scotland is already sucking up the high cost of obesity and, unless action is taken, society and our health services will drown under the heavy weight of this UK epidemic.
"We know that Scots have a bigger thirst for fizzy drinks with households spending over a quarter more than other UK nations on soft drinks.
"And the nation has one of the heaviest populations in Europe with two in three adults in Scotland overweight or obese.
"The Scottish Government must do much more to give the next generation a better chance by protecting children from being bombarded by junk food marketing on TV, as well as the barrage of supermarket multi-buy offers on sugar laden food and drinks."
Several weeks ago NHS England said it is considering banning sale of all sugary drinks as part of efforts to combat obesity and make healthcare workers "practice what they preach".
Yet a sugar tax imposed on fizzy drinks in Mexico last year doesn't appear to have been as successful as first thought with sales now up, according to reports.
Minister for Public Health, Aileen Campbell said a sugar tax was welcome but should not be seen in isolation.
She says: "We have announced our intention to set out and consult on the development of our new Diet and Obesity Strategy in 2017, building on our wide range of activity to make it easier for people – including children and their families – to be more active, eat less, and eat better.
"Whilst we welcome the creation of a sugary drinks levy, it cannot in isolation address the levels of obesity in the country.
"We have consistently called on the UK Government to ban junk food advertising before the 9pm watershed and we are looking at what further effective actions we can take within the powers available to us, including the use of multi-buy promotions, as well as examining a range of actions to improve diet, physical activity and education.
"There are clear health benefits associated with reducing sugar consumption, as part of a healthy diet.
"The Scottish Government is already investing £12 million over five years to 2017 on a range of programmes to tackle the nation's poor diet.
"We are also engaging with the food and drink industry on action to offer healthier choices, rebalance promotions, and reformulate products, with a focus on reducing calories, salt, fats and added sugar."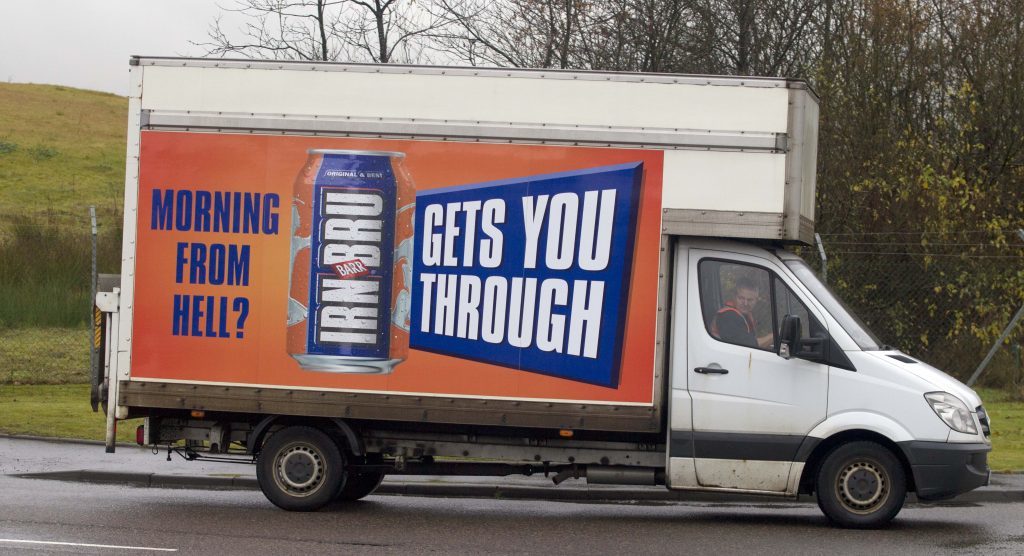 The Courier contacted Coca Cola – the UK's best-selling brand – for comment on what efforts, if any, they are taking to raise awareness of sugar levels in their popular drinks.
A spokesperson said the drinks industry was being represented by the British Soft Drinks Association (BSDA).
Gavin Partington, BSDA Director General, said: "It's best if consumers are guided by the evidence which, as Cancer Research UK acknowledges, shows that a balanced diet and regular physical exercise can have health benefits.
"Soft drinks companies are playing their part by reducing sugar levels in some drinks and offering a wider variety of no and low calorie products, which is obviously having an impact as sugar intake from soft drinks is down over 17% since 2012.
"In 2015 we became the only category to set a voluntary calorie reduction target of 20% by 2020.  We also voluntarily extended the advertising rules regarding under 16s to all online media."
In a week when it emerged sales of Irn Bru in the UK Parliament have increased by 60% since the SNP's sweeping gains last year, A.G. Barr, the makers of Scotland's most popular soft drink, said they had taken steps to reduce sugar content.
Consumer demand
A spokesperson from A.G. Barr said: "We have made significant progress in reducing sugar across our portfolio in recent years, increasing our lower and no sugar products from 30% to 40% through our ambitious reformulation programme, driven by consumer demand and changing tastes and preferences.
"Irn Bru Sugar Free already accounts for one in every three purchases of Irn Bru and this summer we also launched Irn Bru Xtra, a product that offers the same great taste as regular Irn Bru but without the sugar.
"We will continue to work towards further calorie reduction through reformulation and innovation, responsible advertising, pack size choice to assist with portion control and by providing clear nutritional information on all of our products to enable our consumers to make informed choices.  Through all of these actions we expect at least two thirds of our portfolio will be lower or no sugar by 2018."
*In June, The Courier launched 'Can It' – a campaign to encourage local secondary schools to ban caffeine-based fizzy drinks.
These so-called 'energy' drinks can lead to a host of problems in our classrooms including disruptive behaviour, cardiac problems, nervousness, insomnia, headaches and anxiety.
Nutritionists have also warned of the potentially devastating impacts of a diet rich in caffeine and sugar.
The Courier believes enough is enough and our campaign has been supported by everyone from secondary school head teachers to MPs.
As an incentive to participating schools, The Courier has been providing reusable water bottles to all S1 pupils joining since the summer break.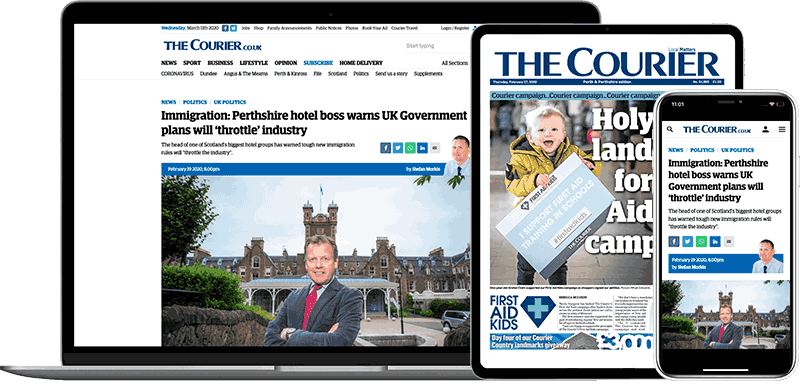 Help support quality local journalism … become a digital subscriber to The Courier
For as little as £5.99 a month you can access all of our content, including Premium articles.
Subscribe