Michael Alexander investigates the colours of gender stereotyping as a new study suggests boys are three times more likely than girls to be bought science and maths toys this Christmas.
Toys R Us at Kingsway West Retail Park in Dundee on Thursday afternoon, and the aisles are stacked with an impressive array of toys as shoppers gear up for Christmas.
In a world where there's a growing push for equal opportunities between males and females, it shouldn't really be out of the ordinary to see pink kitchen sets being bought for little Johnny or toy mechanic sets being purchased for little Josie.
But according to a survey published today by the Institution of Engineering and Technology (IET), traditional gender stereotypes are still being reinforced with boys almost three times as likely as girls to receive science and maths toys this Christmas.
The IET found that 31% of science, technology, engineering and maths (Stem) toys were listed for boys, compared with 11% listed for girls, after analysing 360 toys and images across the top 10 retailer websites as well as 594 search engine results.
Using the search terms "boys' toys" and "girls' toys", the study also found that 89% of toys listed for girls were pink compared with 1% for boys.
The report said Google, Yahoo, Bing and Amazon stood out as the "main culprits" for the high numbers of pink toys listed under "girls' toys".
The IET warned that societal stereotypes driving the gendered gift lists could be turning young girls away from careers in technology and engineering.
It said that while the onus was on parents to "think outside the pink and blue boxes" when shopping for their children, toy retailers and search engines also had a responsibility not to perpetuate gender stereotypes.
Dr Sheila Cunningham, senior lecturer in psychology from Abertay University in Dundee, is an expert in gender stereotyping and has a particular interest in the effect of colour on our thinking and behaviours.
She said colour stereotyping aimed at children was a relatively new cultural phenomenon.
In the 1970s, parents-to-be tended to choose neutral colours.
But with pre-natal scans now giving more parents early sight of their unborn child's sex, manufacturers now reflected this more in their consumer marketing campaigns aimed at parents, with blues for boys and pinks for girls.
"It's become normalised and so difficult for consumers to avoid the stereotypes now," added Dr Cunningham.
"Separate girls' Lego called Lego Friends is very recent for example. Little girls are convinced through exposure to advertising that that is what they should have, and even if the parents disagree with it, they buy it so not to upset the child and then perpetuate the stereotypes further."
Dr Cunningham said it was difficult to trace a direct causal route between gender stereotypes imposed on children and the career paths they ultimately choose to follow.
But she added: "At the moment we effectively teach them that as boys and girls they are separate species. But then when they reach 18 we are telling them, through equal opportunities, that it is illegal to be treated differently. It's definitely a confusing message."
At Toys R Us in Dundee on Thursday, stereotypical products for sale included blue-boxed construction sets adorned with pictures of boys and food sets carrying pictures of little girls next to pink girly make-up sets.
But none of the Christmas shoppers spoken to by The Courier coming out of the shop on Thursday afternoon were happy about the stereotypes.
Aileen Whitehead, 45, from Monikie, the mother of a 12-year-old girl and a nine-year-old boy, described the gender stereotypes on the shelves as "terrible".
She said: "I always try to avoid buying stereotypical colours but it's very hard now. There's a lot of external influences from a young age. I've always found that my son and daughter as brother and sister will play with each other's toys anyway."
Yvonne Southey, 67, from Tannadice, in Angus, was shopping for two of her 10 grandchildren.
The former toy shop worker said: "I was looking for something arty for our grandson in there, but they are all pink so I wouldn't buy it. Why should there be a message that only girls can do art? I've come to the conclusion that manufacturers don't understand what boys want to do."
Alison King, 48, from Forfar, has nine children aged between 30 and seven (six girls and three boys), plus three grandchildren.
She said: "There's definitely a problem with gender stereotyping of toys, but I used to buy my son dolls and shopping trolleys, and it didn't do him any harm!
"I also used to buy action men for the girls. At the end of the day they all played with each other's toys. It would be a real mix and match with stuff, and I think it made them more rounded."
The media centre for Toys R Us was contacted for comment but had not responded by the time of going to press.
If the latest figures from the IET's 2016 Skills and Demand in Industry survey are anything to go by, there's  still more work to be done if more girls are to be attracted into Stem career choices, with statistics showing that women account for just 9% of engineers in the UK.
However separate IET research conducted with parents and children found that 39% of primary school girls said they enjoy ICT and computing, 38% enjoy maths and 36% like science.
The same study found just 7% of parents think that engineering would appeal to their daughter as a career.
IET spokeswoman Mamta Singhal said: "The research shows girls clearly do have an interest in science, technology and engineering subjects at school so we need to find ways to help this to translate into a higher number of women entering the industry.
"The toy industry is changing slowly and over the years more gender neutral toys such as science kits have started appearing. Toys can really influence what a child does in later years. Therefore Stem toys are a natural move for the industry."
Jess Day, from the campaign Let Toys Be Toys, said: "We previously asked women engineers and scientists about the toys they played with as children and the most interesting finding was, not that they all played with construction or science toys, but they didn't recall being aware of a distinction between girls and boys toys at all.
"It's not just the toys which are the issue, but the whole idea that some things are just for boys or girls. If children learn that early, it's hardly surprising that they go on to apply this logic to their career choices too."
British Toy and Hobby Association spokeswoman Natasha Crookes said: "We all agree that we should be as ambitious to get girls into science as we are boys, but the solution is not a 'one size fits all'.
"If the price of getting more girls into science and engineering is to make some of the toys more 'girly' and sold in a pink box, let's swallow our pride and do that. Fact: girls are as good at maths and engineering as boys, they just need their interest to be kindled in the first place."
Meanwhile, 56%  of men would prefer to receive cash this Christmas over a gift, while women are more likely to favour receiving presents, a survey by Standard Life has found.
Gadgets such as smartphones and fitness bands are also easing out old favourites such as chocolate coins and satsumas when it comes to filling a traditional Christmas stocking, research from Barclaycard suggests.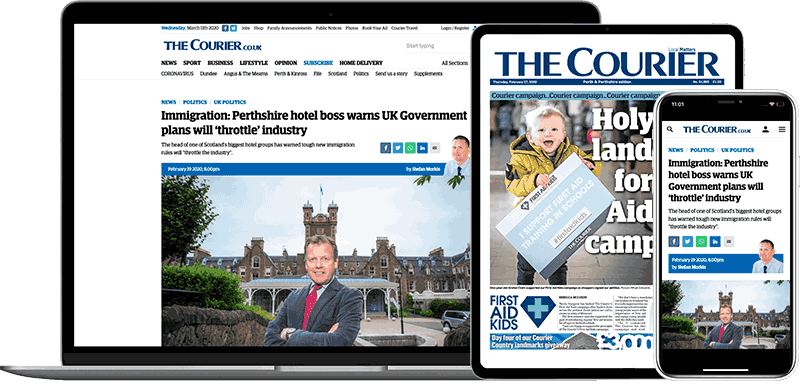 Help support quality local journalism … become a digital subscriber to The Courier
For as little as £5.99 a month you can access all of our content, including Premium articles.
Subscribe