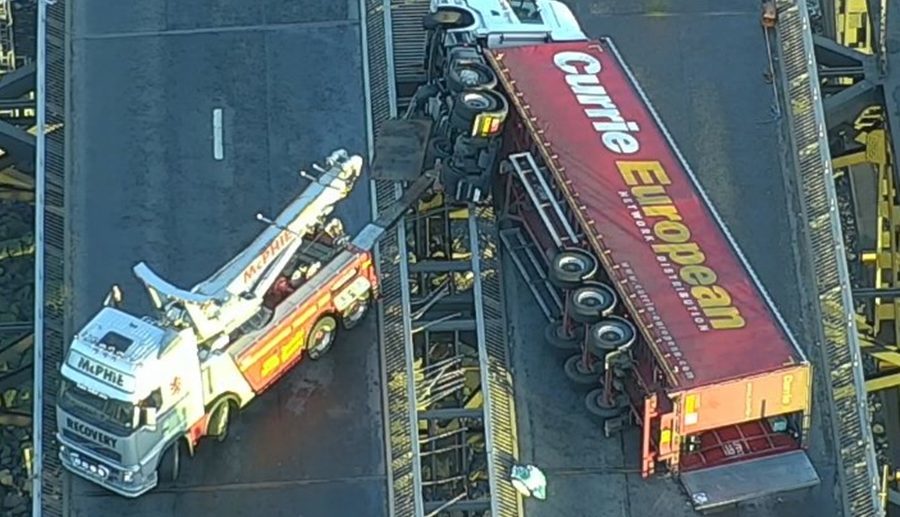 Engineers have completed temporary repairs on the Forth Road Bridge after a toppled lorry caused a day of transport chaos for the east of Scotland.
The bridge was closed in both directions after the 54-year-old driver apparently ignored warning signs and drove on to the bridge in high winds in the early hours of Wednesday.
While no-one was injured, the 2am incident caused significant damage to the structure's central reservation and traffic had to be diverted via Kincardine, causing congestion on roads across west Fife and beyond.
The effort to remove the stricken lorry was initially hampered by continuing high winds.
However, even when the lorry was righted and removed from the bridge, engineers still faced the task of repairing damage to the central reservation before the bridge could be returned to use by motorists.
The disruption continued into the evening, affecting many thousands of motorists.
Mark Arndt, of the bridge's operating company Amey, said around 40 metres of steelwork on the central grille had been damaged and the aim was to work through the night in the hope that the bridge could be reopened by 6am in time for the morning commute.
https://www.facebook.com/forthroadbridge1964/videos/1208670869167966/
However, the emergency repairs were completed ahead of schedule and bridge chiefs were able to confirm the bridge was fully reopened shortly after 9pm.
"Very challenging repairs"
Transport Minister Humza Yousaf had earlier said the incident was a consequence of ignoring travel advice during severe weather warnings.
"Luckily no-one was seriously injured, however a great deal of disruption has been caused and it is an extreme but timely reminder of the importance of listening to advice and checking travel bulletins and VMS messaging before travelling," he said.
"Once again, the engineers and Forth Road Bridge team find themselves in the spotlight and I am hopeful they will be able to get the bridge reopened to traffic as soon as possible, albeit with restrictions in both directions likely.
"They are carrying out very challenging repairs in difficult conditions and the damage to the central reservation is significant.
"We should therefore be prepared for delays and disruption over the next few days as engineers assess the damage."
"Total gridlock"
The closure caused significant congestion on surrounding roads and vehicles were nose to tail on the ten mile route between Rosyth and Kincardine.
Towns with a railway station were also affected as car parks filled up and commuters began abandoning their cars on grass verges at the side of the road.
Charlene Wilson from Alloa said the roads were at "total gridlock" as she tried to get to work in Fife.
"It took me 45 minutes to get between Alloa and Gartarry roundabout leading into Fife, a route that normally takes just five minutes," she said.
"Then there was another 10 minutes at the roundabout to get on to any of the connecting roads."
She added: "I could see over to the Clackmananshire Bridge and all traffic was at a total standstill.
"Heading towards Glenrothes on the A977 was very slow but traffic was moving and it was nothing like the oncoming traffic where the tailbacks looked about seven miles long.
"There were a lot of very angry looking motorists."
"Problems arrive like clockwork every winter"
Furious David Clinch, 42, a consultant from Fife who works in Edinburgh, said he had had no choice but to somehow get to work.
"I've lived here for 16 years and something like this happens every single December and January," he said.
"Whether it's an accident, somebody trying to drive through a clear warning sign or a structural failure…I may sound cynical but these problems arrive like clockwork every winter.
"I've been on the go since 8.30 trying to find a train station I could park at – every station in west Fife – before eventually dumping the car at the Asda in Dalgety Bay.
"I could see friends on Facebook complaining that they'd been jammed up in traffic en route to the bridge for three hours."
A commuter trying to get to South Queensferry described the chaos as "a major inconvenience".
"If the sign says it's open to cars only, the driver should have abided.
"The driver is an imbecile putting people's lives at risk.
"If he doesn't respect the law, he shouldn't have his licence."
Trains were also extremely busy but signal problems at Haymarket station in Edinburgh meant further frustration for commuters.
Terry Airlie from South Queensferry Community Council, said the incident should have been avoided.
"To a driver of an HGV, I would have thought the signs would have been obvious," he said.
"The weather was flagged up well in advance on mainstream and social media."
"Drivers must drive to the conditions"
Martin Reid of the Road Haulage Association urged all members to heed weather warnings.
He said an email had been issued to 800 hauliers in Scotland on Tuesday explaining the expected weather conditions.
"We put in links to various organisations to get regular updates, guidance for driving in high winds which above all else states you must pay attention to any police warnings," he said.
"Drivers must drive to the conditions."
Man charged
A Police Scotland spokesman said: "A 54-year-old man has been charged following a collision on the Forth Road Bridge at around 2am on Wednesday January 11.
"A report will be submitted to the Procurator Fiscal."
There is a yellow warning for wind and snow for much of Scotland today, with gusts of around 75mph forecast.