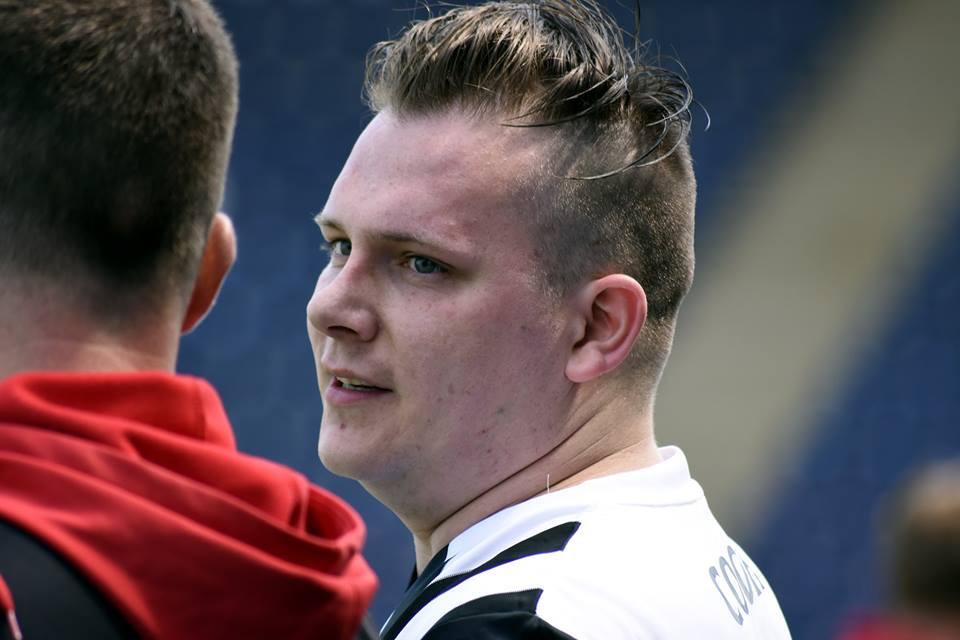 A long-running charity that specialises in organising derby football matches is set to pay tribute to a fan who realised his dream by donning a Dunfermline top and sending a few to the back of the net.
The first game of Rivals2gether's 2017 season between Falkirk and Dunfermline on Sunday January 22 has been given an added poignancy with plans to applaud one of their players who died unexpectedly last October.
Iain Cook, 29, was a lifelong Pars fan and played in last year's Rivals match where he scored two goals to help them win 4-3 against the Falkirk side.
"Since that last game, Iain passed away very suddenly and tragically. We thought it would be nice to make this game in dedication to him and his family," said Rivals2gether organiser Scott Moncrieff.
By day, the 42-year-old Mr Moncrieff is an IT manager for Edinburgh University, but in his spare time he helps give everyday football fans from the terraces the chance to live out their dream and play for the team they love against their bitter rivals.
"The main concept is simply to raise money for the clubs' foundations or chosen charities," said Mr Moncrieff. "We started back in 2006 with a game between Hearts fans and Hibs fans which took place at Tynecastle."
He continues: "Essentially it was meant to just be a one-off game. It raised just over £8,000 for the Royal Hospital for Sick Children. I played in that game as one of the Hearts players. It's a fantastic experience to be on the pitch in front of your family and friends and also raise that much for charity."
After that sizeable cheque was handed over to the hospital and two sides of players were left buzzing at the excitement of it all, Mr Moncrieff realised that the fan who initiated the match was on to something.
"He didn't want to do it again but I thought it was such a good event that I took over the organisation. We stuck to Edinburgh, alternating between Tynecastle and Easter Road until 2013. From that point we expanded to take on Dundee vs Dundee United matches, then last year we started with Falkirk vs Dunfermline."
He continues: "The idea is to allow a normal football fan who wouldn't get the opportunity to play in a stadium to have that footballing experience.
"They train and go to trials for the game. It gives them the full experience – they see the strip hung up in the dressing room on the day with their name and number on the back.
"The match is filmed for a highlights package and we have pro photographers. Beyond giving them this experience, it's about raising some money for the club foundations."
Of course, without the buy-in of the parent teams that these aspiring players give their lifelong allegiance to, the project might have struggled to get off the ground.
"The clubs have been fantastic to us and give us their stadiums and facilities for the day.
"All six clubs are fully behind it, they help with match day programmes and advertising to get as many people across to the games as possible.
"It's a chance to live out the dream. You can be a football fan all your life and never get a chance to put the shirt on."
With six teams to juggle, you might well imagine that Rivals is already up to capacity but Mr Moncrieff plans to cast the net wider.
"I'm talking to Kilmarnock and Ayr," he said. "St Mirren and Morton too, to hopefully expand to five games a year.
"When the first Falkirk vs Dunfermline game took place last year, it was the first time we'd done it and it was a big success. We hope to play East End Park in May."
What can attendees expect in terms of atmosphere and the standard of football on show?
"You get a lot of good chants and banter in the stands but on the pitch once the whistle blows charity goes out the window and it's a full-blooded derby game," he said.
"Full-blooded" but without the theatrics you might see from some of the big boys of a Saturday afternoon.
"We've been fortunate, there haven't been any over-the-top challenges. There's been one red card in the whole ten years. A Hearts player came on as a sub and I think the blood rushed to his head a few times and he was off in five minutes."
The upcoming Dunfermline match takes place at Falkirk Stadium, with a midday kick off. Entry is by donation, if people wish.
Training sessions for future games begin in March and prospective players are encouraged to contact the organisers here to express their interest.