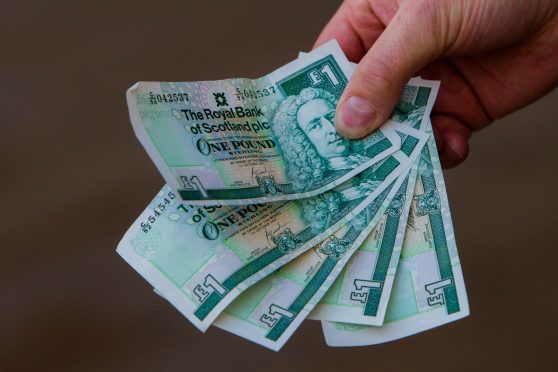 The humble £1 has been the subject of much discussion recently as the original pound coin was replaced by a new 12-sided version.
But while all of the attention has been on the metallic versions of the pound, an older — and still legal — version of the currency continues a quiet and seemingly inevitable decline towards extinction.
Once commonplace in wallets, purses and tills across the UK, sightings of the paper £1 are becoming rarer and rarer despite the note never being officially removed from circulation.
With inflation rising, and banking and payments becoming more and more digital-based, the denomination is becoming increasingly viewed with nostalgia as a quaint aspect of bygone Britain.
Many cashiers may even refuse to accept the £1 note, which is perfectly valid legal currency across the UK, assuming it to be worthless.
Royal Bank of Scotland issuance manager Jennifer Jack is an expert in UK currency and said the note, though never as popular as its golden counterpart, still has a place in the modern world.
The Scots financial giant is the only bank issuing the note and has "no plans" to stop doing so any time soon.
Edinburgh-based Mrs Jack said the trend away from £1 notes reflects that of many lower denominations – demand for which is "starting to drop away" as "value falls and inflation rises".
"Absolutely yes we still issue the £1 notes, they are still legal currency. We have 17.7 million in circulation today," she said.
"It fluctuates but not significantly. We have been issuing them more or less since the beginning and we have no plans to stop issuing them.
"While there is a demand it probably gives rise to a larger question about what is happening with cash trends across the UK.
"We have seen a big shift towards people using credit card and debit card payments. We are in a very, very interesting time for the general payment industry.
"We are seeing cash as a payment method starting to decline as people use Apple Pay and contactless. The £1 note may suffer as part of that. "
She added: "We don't have a huge demand for 'ones' any more. What we are starting to find is demand for something like a £1 note, but generally more denominations notes, is starting to drop away as value falls and inflation rises.
"Self-service machines aren't programmed to accept £1 notes. The reason for that is generally these machines have a fixed amount of memory and space."
The £1 note bears an image of Lord Ilay – one of the founders of the Royal Bank of Scotland.
Mrs Jack said there is no reason why a £1 note shouldn't be accepted anywhere in the UK.
The denomination has also found a place in wedding customs in Greece, Africa and India which plays a part in the bank's demand for them.
At these ceremonies they can be pinned to the clothes of the betrothed couple or thrown at the bride as she dances.
Mrs Jack said: "People are using it less often but in places where people use cash heavily anyway – places like the corner shop, bars and pubs (where there are regular) cash handovers – they are still very much in use.
"They absolutely can be accepted anywhere across the UK. We find a lot of our notes go outside the country. There are customs in Greek and Indian cultures where they pin bank notes to a wedding dress. £1 notes are really popular for that."
Another factor is the issue of preference. In the US people favour the $1 note above an equivalent coin; while in the UK the opposite is true.
"People tend to prefer one or the other. The US had a real problem accepting the coin. They tried to shift to a $1 for a long long time," said Mrs Jack.
"A low denomination like a £1 can be quite heavily used. Notes don't really stand that kind of use to the same duration as a coin.
"What we have seen is an economic policy where the coin has become the preferred method of having that denomination, probably because it is more hard-wearing."
So what does the future hold for the £1 note? Are its days numbered?
Mrs Jack doesn't think so.
"I think people want to use £1 notes well and continue to use £1 notes. It is becoming rapidly outdated," she said.
"Compared to the new £5 notes it probably looks quite big in comparison but I really love it. It has Edinburgh Castle on the back, they have Robert Louis Stevenson and Alexander Graham Bell on them, all really Scottish things. I do feel nostalgic towards it."
One pound notes can be collected from any RBS branch.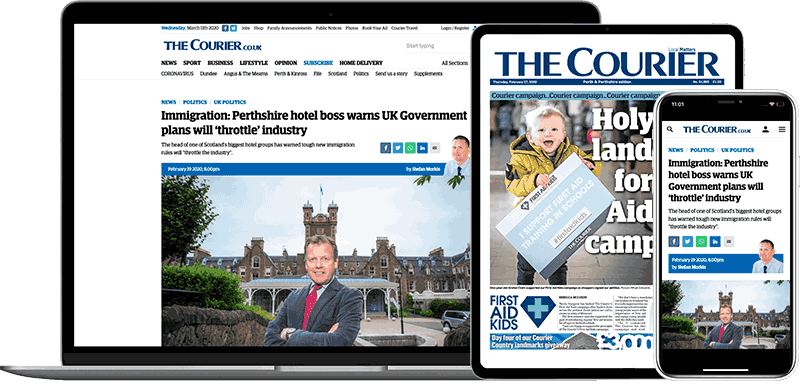 Help support quality local journalism … become a digital subscriber to The Courier
For as little as £5.99 a month you can access all of our content, including Premium articles.
Subscribe