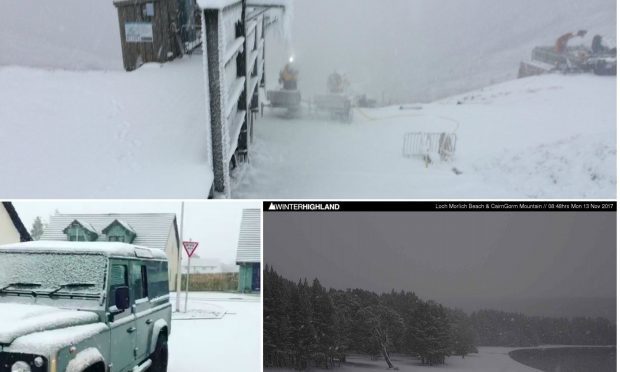 Winter landed in Courier Country this morning as freezing temperatures caused snow showers across Scotland.
Locals woke up to wintry scenes, with the white stuff even spotted across Dundee.
In the Highlands, the likes of Aviemore woke up to almost an inch of snow with the country's ski resorts filling in nicely.
It's snowing! ❄️ first snow of the winter in the Highlands #strathspey #boatofgarten #aviemore #cairngorms #scottishhighlands #cairngormnationalpark #scotland #autumn #scotspirit #landrover #landroverdefender #defender110 #landroverover pic.twitter.com/iACL5hha69

— Highland Defenders (@HDefenderHire) November 13, 2017
Locals posted photos of the snow in Dundee to social media.
The Tay Road Bridge warned motorists to take care on the crossing due to the "low temperature".
How's your #MondayMorning looking? We've snow here at Shielhill, by #Dundee. Have you woken to snow too? #wintermorning #november #scotland pic.twitter.com/y4amAOfWSC

— Rembrand Timber Ltd (@RembrandTimber) November 13, 2017
"Snow down to low levels", they said. ?#Dundee #Scotland @bbcweather @JudithRalston pic.twitter.com/8il9u0Ytao

— Dorothy Brown (@Brackens1) November 13, 2017
Last week the Met Office predicted temperatures would plummet to as low as -9C from Sunday night into Monday morning in the most remote parts of Scotland.
https://www.facebook.com/Winterhighland/photos/a.815820255158893.1073741847.190945080979750/1698725676868342/?type=3&theater
Traffic Scotland has also warned drivers across Grampian to take care on the roads, posting: "Road users are advised to drive with care due to low temperatures and the risk of ice currently affecting driving conditions on many roads throughout the region."
Waking up in a winter wonderland and banishing those Monday blues #snowdownlow ?❄️#Cairngorms #scotspirit pic.twitter.com/fcvcsYjt8y

— VisitCairngorms.com (@VisitCairngrms) November 13, 2017
RT BBCWthrWatchers: Happy Monday! There's #snow in parts of Scotland this morning. How's it looking where you are? pic.twitter.com/gW39dZvTrn.…

— trafficjamnetwork (@trafficjamnet) November 13, 2017